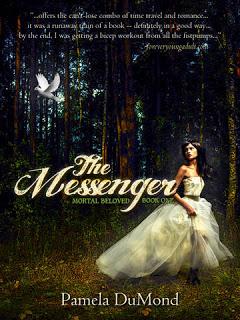 This week we welcome the gorgeous Pamela DuMond, talented writer and lady of many talents. In grade school Pamela stuttered and was bullied. Reading became her refuge. At age twenty she conquered stuttering and started talking. Her brother swears she hasn't shut up since.
Pamela discovered Erin Brockovich's life story, thought it would make a great movie and pitched it to a production company. Erin Brockovich the movie was nominated for four Academy Awards. Julia Roberts won an Oscar for portraying Erin.
Pamela writes romantic YA thrillers—The Messenger (Mortal Beloved, Book One)—and sexy comedic Cupcake mysteries. Cupcakes, Pies, and Hot Guys is the latest in the series.
Pamela is also a chiropractor, cranio-sacral therapist and cat wrangler. Besides writing, she loves reading, the beach, yoga, movies, animals, her family and friends. She lives in Venice, California with her furballs.
Thanks Alli Sinclair for having me on your fun blog!I'm a huge fan of YA novels. I'm also a huge fan of Last of the Mohicans, the 1992 movie featuring a young, very buff Daniel Day Lewis as Hawkeye, and the perennially gorgeous Madeline Stowe as Cora.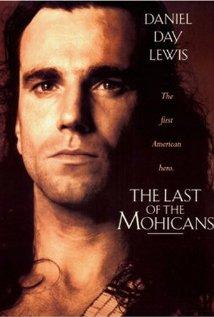 The IMDB description: "Three trappers protect a British Colonel's daughters in the midst of the French and Indian War."My description: "An epic romantic action-adventure historical fiction movie that makes every woman with half a heart break into goose bumps and pinch herself repeatedly when Daniel Day utters what is perhaps the most romantic line, ever."You be strong, you survive... You stay alive, no matter what occurs! I will find you. No matter how long it takes, no matter how far, I will find you."Ack! Kill me now. Instead of that, I decided to write my own version of that story.My book, The Messenger, (Mortal Beloved, Book One) is about Madeline (yes, named after you-know-who) who travels hundreds of years back in time to a bloody war between the Natives and the colonists.INFINITY. LIFE. DEATH. REBIRTH. Some souls are meant to be together. But pursuing true love can be not only dangerous but, deadly.Sixteen-year-old Madeline's cheated death once. She was but a baby in a booster seat in her mama's car when they were rammed off a tall, Chicago parking garage. She lived. Her mama disappeared. But when Madeline's shoved in front of a speeding commuter train she believes death has claimed her.Maybe. Maybe not.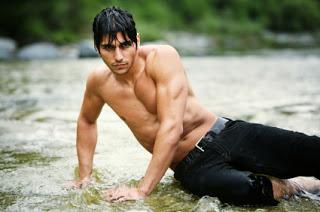 My Samuel
Madeline wakes in the warm, dead body of a girl who was slain moments earlier in a brutal raid on a colonial outpost in Rhode Island during King Philip's War in 1675. She quickly learns she has time traveled hundreds of years into the past to claim her birth right as a MESSENGER — a soul, who if properly trained, can slip through time's fabric at will, delivering messages that could change one life or many.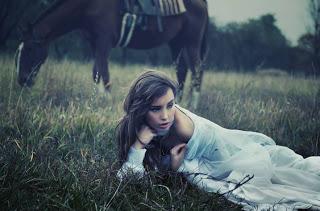 My Madeline
But falling into a forbidden love with her soul mate, Samuel, a Native boy, attracts the wrong kind of attention. 
Rumors of witchcraft and spying could get them killed. Worse - deadly HUNTERS, dark-souled predators as well as skilled time travelers, crave Madeline's powers. Can Madeline find the way back to the future in time to save herself and Samuel?
This book was a blast to write, but also tough, as I had to do so much research into a time period and a war I knew nothing about. I picked Rhode Island to be the location of the colonial garrison as the state has high bluffs overlooking the Atlantic. (Figured I could use that in a romantic scene!)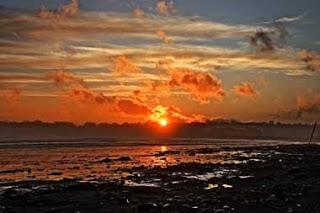 Rhode Island at sunrise
I chose King Philip's War as I didn't want to completely rip-off Last of the Mohicans. I discovered it is America's 'forgotten war'—very few people know about it. It's also considered America's bloodiest war in terms of casualties. The outcome stripped the East Coast Natives of pretty much all their land; their rights and many were even sold into slavery. The balance of power between the colonists and the Natives completely shifted at the end of this conflict.
I also learned more about the colonists. They left Europe to pursue religious freedom and be able to own land. In turn they religiously persecuted the Natives, even pitching Native babies into river waters to see who was pure and who was possessed by demons. The pure babies would float. The babies with demons would drown. Cruelty and stupidity are also 'international' and not practiced by one race or culture.
Years ago while traveling in Portugal with my BFF we stumbled across the churches, castles and the "Romeo-Juliet" story of Portugal. I decided to set book two in the MORTAL BELOVED series in 14th Century Portugal during the true historical story of Prince Pedro and his beloved, Inez. When his father the King and his advisors killed Inez, Pedro lost his mind in his quest to bring the traitors to justice. My characters, Madeline and Samuel, will play out their own romantic saga in medieval times filled of castles and kings, nobility and gypsies, intrigue and deception. Let the games begin!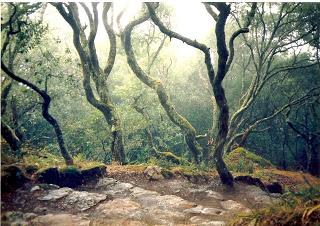 Bussaco Forest, Portugal
And if you're interested, here's a link to the book here.
If you'd like to watch a video of my mystery series,here.