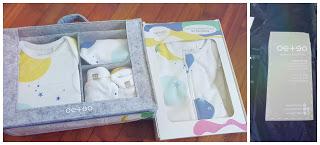 Baby finally got its first set of clothes from 

Oeteo

(pronounced as Ee-tay-o). If you surf the web long enough, you will notice that 

Oeteo is quite a popular brand among mothers and I think it is really because of the vibrant, rather gender netural designs. Oeteo is having an online sale now and a lot of its old collections (even the welcome set) are going at a good price.
Baby's first set is also a welcome set - Starry Gaze Welcome Set ($52.72) and Starry Gaze Easysuit Sleep Bag ($28.90). Personally, I find a set like this very reassuring because it has everything the baby needs for its first wear out, without having to worry if anything had been missed. If you open the welcome box, you will find a newborn baby romper, removable bib, beanie, mittens, booties and blanket.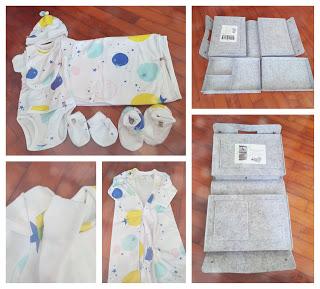 The welcome set is packed in a reusable felt box that can be used to stored baby's stuff, nice! When I opened the set, I can't help but gush on how adorable and tiny they were. The beanie in particular stood out to me. My Mum was telling me how not all babies like wearing things on their head, my brother would always pull it off even as a newborn. And a naughty thought crossed my mind, I will keep putting it on baby if it pulls it off just to disturb it...Muhaha.
The sleepbag seems slightly bigger and I might use it as a transition swaddle. I noticed that for Oeteo the design of the romper is a bit different as it comes with a rubberised bottom that would make dressing the baby fast (see video for more info). My fav. design hack was the removable bib. Instead of velcro, it uses a patch that can easily stick on and off without causing any thread runs. I also really like Baby's blanket cos it would make the framing of its future pictures so much easier. 

As mentioned earlier, Oeteo is having a huge online sale now. A few of the designs really caught my eye and I was one step away from paying for my cart. The only problem was my cult members told me that Oeteo's design were on the "smaller side" and the doc. just told me my baby was a little bigger than its peer. My friends were also telling me please don't go all crazy, at least wait till you know your size of your baby. T.T
If you are a parent already or is planning to get a gift for a friend, I would really encourage you to take a look at the sales, cos the prices are really good for such fancy pieces. If you are like me, Oeteo has kindly extended a 15% discount off for regular priced items. Just key in "Forfunk15" during check out! The coupon expires on 31 Dec 2020 and is not applicable in conjunction with other coupons, sale items or Little Sprout Box. I will probably be using it when baby arrives so that I can grab some X'mas and CNY clothes from the newer collection for it. 
P.S.: The girl's collection at Oeteo is so darn cute!