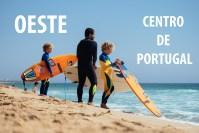 Oeste in Centro de Portugal video shows you its long golden coastline, its centers of profound historic importance, its enticing backstreet restaurants, and its enormous religious importance has many more attractions waiting to turn your head. At every crossroads, by every seaside village and in every corner of the rolling interior there is a lifetime of experiences waiting to be discovered. As in the other diverse regions of Centro de Portugal, this is no different and the advice is the same. Take your time, and let the region reveal itself to you one step at a time.
Standing by the sea at Santa Cruz, watching wave after wave, curl, break and sibilantly shush its way up on to the endless sandy beach, the words of the American poet, Sarah Kay, come to mind. "There's nothing more beautiful than the way the ocean refuses to stop kissing the shoreline, no matter how many times it's sent away."
You can discover more about the Oeste here:
and more about the Centro de Portugal here: /> Here are the links to the other videos featuring the 6 journeys we made within Centro de Portugal:
Serra da Estrela
Aveiro
Viseu and Historical Villages
Coimbra
Unesco Heritage in Centro de Portugal
Centro de Portugal
This project was made under the partnership between NelsonCarvalheiro.com and the Centro de Portugal Tourism Bureau (
Video Credits:
Edited by Nelson Carvalheiro
Images by Luis Graciano
Music: Champion Spirit by Good News Tunes
Cover Photo by Emanuele Siracusa:
The post Oeste in Centro de Portugal Video appeared first on Nelson Carvalheiro.