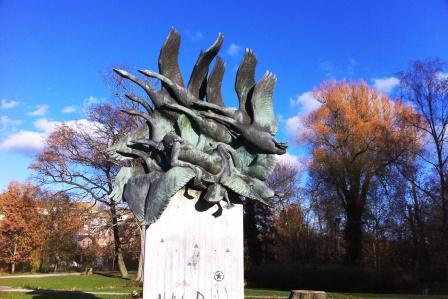 Statues from Hans Christian Andersen stories help keep his memory alive in Odense Denmark.
I had never heard of Odense until my first trip to Denmark in November 2010 for the TBEX Conference in Copenhagen.  I was fortunate enough to have a private tour with just @candacerardon.  It was just the two of us and our three local guides arranged from Wonderful Copenhagen.  We had a wonderful day exploring Odense, home to Hans Christian Andersen.  Although I enjoyed many things about Odense (see Top 10 Things to See in Odsense), one of my favorite parts of the day was seeing how passionate Odense locals are about keeping the spirit of Hans Christian Andersen alive and seeing how this community effort has resulted in strong community pride.
There is a Hans Christian Andersen Museum and right beside it, The Tinderbox, a cultural play center for children, one of the most interactive and imaginative places I've ever seen for children.  In addition, you can find statues, such as the one above from Hans Christian Andersen stories throughout Odense.  I hadn't realized that statue guessing could be so much fun!  Any idea which Hans Christian Andersen story the statue above is from?
This photo has been submitted as part of a weekly photography showcase organized by Nancie at Budget Travelers Sandbox where you can see more travel photos from around the world.