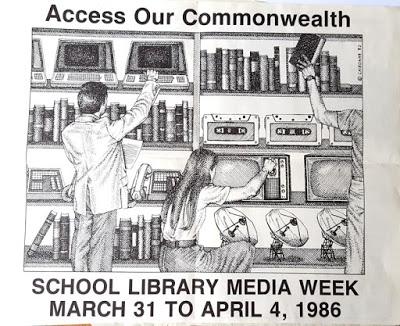 I was cleaning out my files recently and discovered this poster created by the Pennsylvania School Librarian"s Association for School Library Media Week, March 31 to April 4, 1986. Note the electronics filling the shelves--televisions, desktop computers, fax machines, tape recorders, and for some reason, fans!
Along with many other children's book authors, I was asked for a quote about what libraries mean to me. The Author quotes were printed on the back of the poster. Here is what I said:
Libraries are full of wonderful books, magazines, newspapers, encyclopedias and more; but, best of all, libraries are home to librarians, those helpful people who always seem to know how to find the exact book or periodical which has the information I need to know.