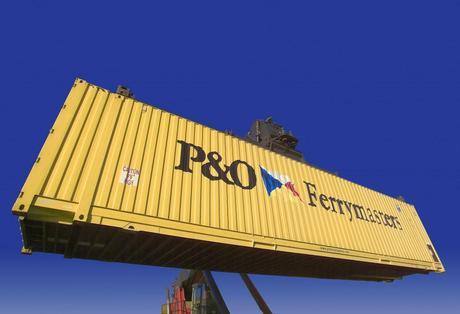 poferrymasters.com
I am writing today in praise of the humble shipping container. Anonymous and hopelessly boring, this simple metal box has transformed international trade and us with it. "Every day, over 15 million containers are moving around at sea or on land, or standing in yards waiting to be delivered. They account for about 90 percent of the world's traded cargo by value." The history of these incredible boxes, how they move across the world, and where they go demonstrate the implications of trade and the need for more open trade policies.
Step inside a modern-day shipping container and you'll find 8' by 8' by 20' of soulless corrugated steel. It is simply a wooden floor, a door on both sides, and a handful of rivets holding it all together. Technically known as the intermodal container, these boxes can be transported anywhere in the world on container ships, tractor trailers, and freight trains through an integrated system of ports, cranes, and warehouses.
A 2008 BBC documentary called The Box tracked the movement of a single intermodal container as it journeyed across the world. Over the course of a year, it was filled with 15,000 bottles of scotch straight from a Scottish distillery, tape measures in China to be sold at Big Lots stores in Los Angeles, auto parts in Singapore bound for Japan, and 95,000 cans of cat food for hungry kittens in Southampton.
A man named Malcolm McLean brought all of this about in 1955 when a simple thought dawned on him: What matters in trade is the cargo, not the transportation. If you want to transform trade, he thought, you had best start by packing goods as efficiently as possible and standardizing their transport across the world. Before what become known as containerization caught on, a quick glance into the hold of a ship would have revealed a vast array of goods in every shape and size, packed and loaded individually. Bulk cargo was a terribly inefficient way of transporting goods that hadn't changed much since the time of the Roman Empire.
Manufacturers soon realized how a more efficient transport system could drastically cut their costs. Within a few short years, new ports arose, rail lines were refigured, and trucks lengthened to accommodate these intermodal containers. By 2000, the price of bulk sea freight had plummeted by 65-70 percent since its 1950 peak. For less than the cost of a first-class ticket, a 35-ton shipping container can traverse the 11,000 mile distance from a coffee factory in Malaysia to a supermarket warehouse in Ohio.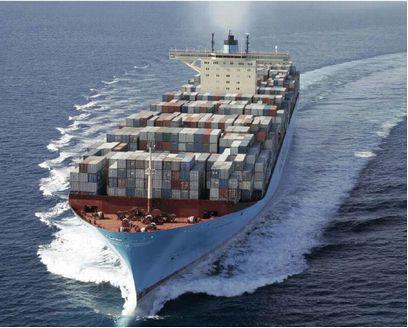 netpub.dk
Yet it's never smooth sailing for shipping containers. Ship a container from Mumbai to Los Angeles and you'll have to fight your way through some 25 different middle-men, from cargo brokers to financiers. Each set of goods in a container comes with about 30 to 40 different papers to sign, which multiply exponentially with each container and customer. 5 agents then spend 3 hours on average inspecting the container, which is a lot of time for a port receiving 330,000 containers a month. Once the container actually moves, different modes of shipping – by sea or land, rail or road – have their own body of regulations, which then differ at each at level of government – local, state, national, and international.
The sheer volume and opacity of container shipments is an opportunity for port administrators and inspectors to seek bribes or kickbacks, and also provides opportunities for illicit or black market trading, which has indeed skyrocketed over past few decades. A whole new network of smugglers has emerged, specializing in the movement of goods across borders rather than producing and selling specific goods. This network poses a major threat to democracy and human rights as documented in Illicit, a book by former Foreign Policy editor Moises Naim.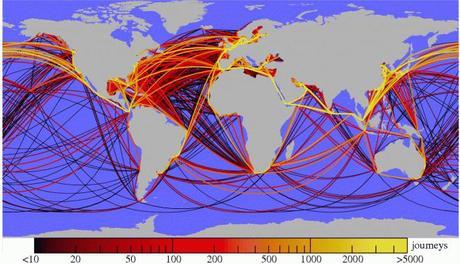 Wired.com
Yet the shipping container has delivered plenty of good news for human development. In Southeast Asia, Vietnam cut the percentage of its population living on less than a dollar per day from fifteen percent in 1993 to two percent in 2002 thanks to the shipping container. Vietnam is now a global leader in exporting everything from rice to pepper, while having less poverty than either China or The Philippines.
The effect is further pronounced in Nigeria. The industrial zone in northern Nigeria's capital, Kano, feels like a wasteland in the day and a gangster's paradise at night. Kano suffers no shortage of people or potential, not to mention rail lines running past the heart of its prosperous past, the Old City, straight to the sea. Yet it's choked by red tape and crony leaders who never saw the potential shipping had for the country. Contrast that with Onitsha, where the main bazaar buzzes with traders hawking the latest flat-screen televisions brought in on ship from across the world. While some in Onitsha have built fortunes off the dynamic port, the common man has seen no end of benefit either. Compared to elsewhere in Nigeria, living in Onitsha means 50 percent higher income, a two-thirds increase in literacy rates, and an independent banking system extending credit to entrepreneurs.
And then there's Santos, the largest port in Latin America both by size and cargo tonnage. Sugar and soya beans emanate from this port as well as the coffee exports that lend the docks an unmistakable aroma, while receiving imports of the fertilizer and natural gas needed to fuel Brazil's booming economy. The shipping container has provided a tremendous economic boost to Brazil, once the object of constant ridicule due to its consistent failure to fulfill its economic potential.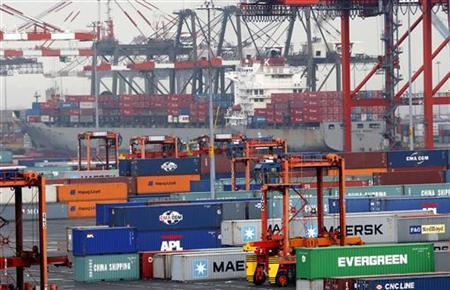 Shipping containers are seen at the Port Newark Container Terminal near New York City July 2, 2009. (Photo: REUTERS/Mike Segar)
Inventions like the telegraph first bridged the communication divide, but it wasn't until the advent of the shipping container that the cost of transportation plunged to a level that allowed the process of globalization to finally return to being the political and economic force it once was in the centuries between Christopher Columbus and the Great Depression.
The history, courses, and destinations of the humble shipping container have truly changed the world, casting a bright light on the real benefits and the real dangers of increased global trade, leaving plenty of suspense still to be found in the otherwise unglamorous world of shipping containers.