The finished
tetraptych
does look bright when photo-shopped together: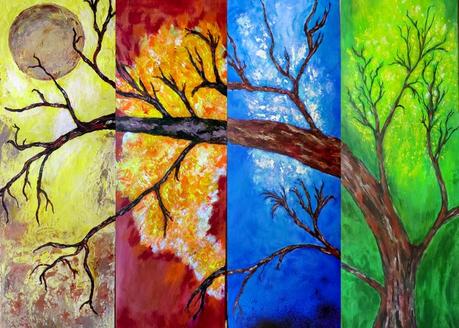 (panels 10"x 30", acrylics)
But this is how it looks on the walls, with northern light the sole illumination in the room: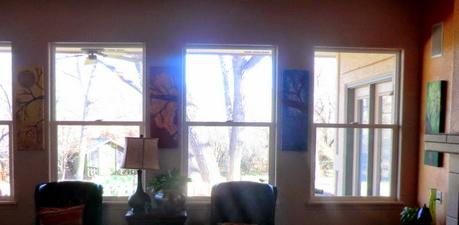 If the lamp between the chairs were lit, it would create even more of a glare in the photograph. Colors are still somewhat underplayed with help from natural lighting.
In the evening, after the sun has retired from its day duty, the colors on the panels are still somewhat subdued.  I like how the cottonwood trees living in the background of the glass mimic the painted tree branches with differing background colors.
"Spring" from Camille Gotera:
When the cold, harsh winter has given its last breath,
When the sky above shows life instead of death,
When the claws, reaching to the frozen sky becomes decorated with
leaves,
When the animals-long in hiding- scurry from trees,
We know winter has ended.
Source

Joining in with PaintPartyFriday!