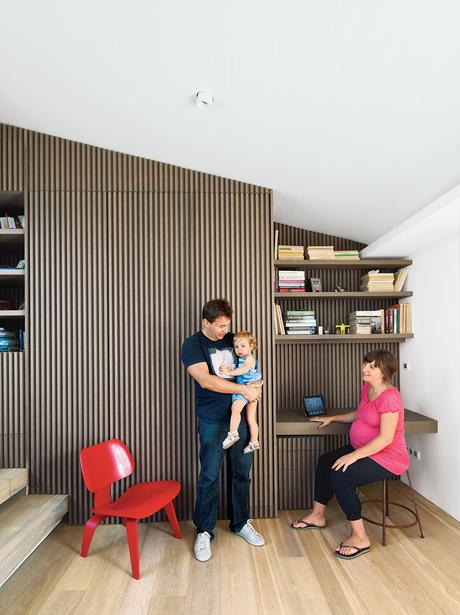 Iason Vassiliou, Maria Voutsina, and their daughter, Angeliki, relax in a landing-level office at their apartment in Athens, Greece. Project  Lycabettus Penthouse Architect 
Esé Studio
When Iason Vassiliou bought a two-story apartment in the center of Athens, Greece, in 2008, he wasn't troubled by its quirks, including an oddly angled wall in the living room and a master bedroom so small that he had to step over his girlfriend, Maria Voutsina, to get out of bed. An electrical engineer whose company makes semiconductor chips, Vassiliou is used to cramming lots of important material into a tiny space. Irregularly shaped rooms seemed like a worthy trade-off for what he was getting: incredible views of Mount Lycabettus, the highest point in Athens, with a whitewashed church at its peak and pine trees at its base.
Although the couple were enchanted with their views, the apartment itself didn't completely charm them. The original architect, who finished the building in 1995, built it with care—there was an airy atrium, and the floors were covered in costly Dionysso marble—but the interior of the 1,292-square-foot apartment felt awkward and closed off, despite the presence of four balconies.
After the pair wed and their daughter Angeliki was born in 2012, they made a list of planned changes. "We wanted better windows and insulation, and wood floors, just a few things," Vassiliou says. "But once we started, we decided, let's do it right." They contacted Aaron Ritenour, a cofounder of the Athens firm Esé Studio, and embarked on a six-month renovation.
Some areas, like the kitchen, Ritenour and his partner, Sotiris Mallas, hardly touched, beyond replacing the marble floor with waxed white oak and painting the cabinets olive green. But the living and dining areas, separated by a few steps, were completely remodeled, starting with a long, choppy wall that ran along one side of the space. "It was on a funky angle, with the fireplace hanging out of it, so we straightened it," Ritenour says. A smooth concrete wall now seamlessly connects the two rooms. "Everything that had been sticking out before—the heater, the AC, the fireplace—we put it all elegantly into one space, in and behind the wall," Ritenour says. "We created hidden doors, storage, and an inset library for Iason's electronics." That was a priority for Vassiliou, whose Harman Kardon sound system "is one of the few things I brought back with me when I returned to Greece after studying at Berkeley."
Taking a cue from the original apartment, Ritenour liberally used vertical lines as a design element. "The existing ceilings were painted concrete, and you could see the ridges in the formwork," Ritenour says. "That inspired us, so we added vertical lines around the dining room," both in the form of decorative elements, such as a classic Nelson lamp, and functional ones, like the slats of a white wooden box that covers the radiator.
To echo that theme in the living room, Ritenour had 300 wood strips glued to the wall behind the couch. He also moved the wall back a foot and a half for added space. On one end of that wall is a terrace; the other end bends around a 90-degree corner and leads to Angeliki's bedroom.
Vassiliou and Voutsina's second-floor bedroom is now much less claustrophobic. By cutting a corner window into the L-shaped wall facing the bed, Ritenour created sight lines to a landing that houses Vassiliou's office, and to the master bathroom—both of which have city and mountain views. And because a 16-by-16-inch structural beam jutted into the bedroom at the foot of the bed, Ritenour built a platform off of it to enclose a Coco-Mat mattress and a radiator, creating a chic and cozy Japanese-style sunken bed. Now the unbroken views "make the upstairs seem like a loft, and the bed feels like an extension of the terrace," Vassiliou says.
Ritenour's interventions, including the addition of windows in the upstairs atrium, made the apartment feel "a lot more open," Vassiliou says. "When you sit in the middle of the living room, you see the forest on one side and the sky on the other."
Their family has expanded along with the views; the couple's second daughter, Chloe, was born in 2013 and came home to a transformed apartment. "This place started out as a bachelor pad," Voutsina says, "but now it's a family home."
Log in or register to post comments