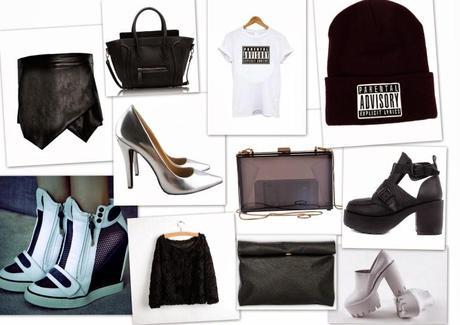 Black PVC Leather Skort , 

'Parental Advisory Explicit Lyrics' Black Beanie

'Parental Advisory Explicit Lyrics' Black Beanie, Black Celine Look-A-Like Tote BagChunky Thick Sole Cut Out Ankle Boots, Acrylic Perspex Clutch in BlackSoft Leather Popper Clutch in Black, American Apparel Look-A-Like Floral 3D Mesh Pullover Sweater in Black, Silver Pointed Court Shoes, 'Parental Advisory Explicit Lyrics' T-Shirt, Chunky Platform High Leather Creeper Shoes in White, Black & White Velcro High Top Wedge Sneakers
Since I've been having a major wardrobe overhaul I have spent a hell of a lot of time on eBay, both selling and buying (see my eBay account here). These are just a 'handful' of some of the items that took my fancy. A couple of years ago my wardrobe was pretty much a variation of black and white items with a few brightly coloured pieces which gradually grew. I've realised now a few years down the line that I'm far more comfortable in a mish mash of black and white pieces and a variation of textures, but that's not to say I don't like color. I just think black and white is such a super stylish combo that could possibly never go wrong or go out of fashion for that matter. As Alexander Wang's SS14 collection blew me away this year I had to order the beanie and tee, but I would of much rather preferred the real deal: the iconic sheer white sweat. I also snapped up the American Apparel look-a-like Floral 3D Mesh Flower Sweater in both black and white. The black & white wedge sneakers, bottom left and the chunky white platforms bottom right are very high on my wish list, as are the silver metallic courts which will be perfect for an ice cold winter. Now if I could even justify, or should I say afford, the Céline Tote Bag I would buy it straight out right but this eBay look-a-like, which also comes in a variety of colours and color combinations is a far cheaper alternative until I find my way to the city, own an upmarket apartment and bank a very healthy income. Have you found anything on eBay you can't live without?