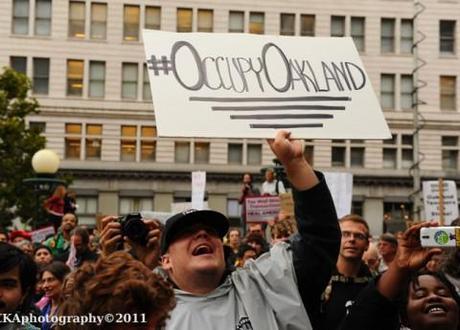 Occupy Oakland clashed yesterday with police. Photo Credit: Oakland Local, http://www.flickr.com/photos/oaklandlocal/6233565728/sizes/l/in/photostream/
The Occupy Oakland movement is fast spiraling into something more dangerous than the peaceful protest and occupation seen at its Occupy Wall Street and Occupy LSX cousins. The Oakland, Calif. camp opened shop on October 10 and at first, were not terribly different from their fellow Occupy brethren.
But that all changed last week after several violent clashes with Oakland police, starting when authorities attempted to dismantle their camping site on Frank Ogawa Plaza in front of City Hall on October 25. Protester tried to reoccupy the site, throwing paint on police; the police responded with batons and tear gas. Then, the movement called for a general strike on November 2, to shut down the port of Oakland, which prompted further clashes between police and activists.
So what happened? What are people saying? What do you need to know? Here's an overview of the key events so far in the battle to occupy Oakland:
The Marine. Iraq war veteran Scott Olsen had come in from neighbouring San Francisco, Ca. to support the protesters on October 25 and suffered a cracked skull from alleged police brutality. He has now become the poster child at Occupy protests around the nation — a popular rallying cry for the protesters has become "we are all Scott Olsen". On Tuesday, The Guardian reported that he was recovering and that the Oakland Police will be the subject of a "formal investigation" for their conduct.
The Mayor. Oakland Mayor Jean Quan was ridiculed by the Occupy movement after praising the police's management of the eviction; she then called for a "minimal police presence" on the day of the strike, which angered the police. Erin Sherbert for San Francisco newspaper SF Weekly's The Snitch blog opined: "Like a mother with rivaling children, Quan is stuck trying to balance the demands of both police and protesters." Added Sherbert: "[A]nd let's face it, she can't seem to win".
Peaceful protest. The Guardian's liveblog of the protest reported that police estimated around 3,000 people attended. Later, The Oakland Tribune reported that Mayor Quan estimated 7,000 people came out to protest and congratulated them for the peaceful nature of the protest — the port of Oakland, a major shipping hub, was severely disrupted, with reports indicating that it had indeed been shut down.
Whole Foods. Yesterday afternoon, it emerged that a "handful of anarchists" as they were labelled by Gawker, had attacked the Oakland Whole Foods grocery store after "false rumours" spread that managers were threatening employees with "termination" if they attended the strike. They weren't, according to Whole Foods' twitter account, and fellow demonstrators stopped the attacking anarchists from doing more damage than breaking a window, scaring the 75 shoppers inside and spray-painting "strike" across the front of the building, according to The Oakland Tribune.
"+65 arrests – Pepper balls, rubber bullets & tear gas again!" tweeted 'hacktivist' collective Anonymous.

Violence erupts. A Reuters report suggested that the protesters started clashing with police after midnight when cops started using tear gas and rubber bullets to disperse what they now termed an "unlawful assembly". The Oakland Tribune said he demonstrations only ended around 3:30 and that a man had been injured by rubber bullets.