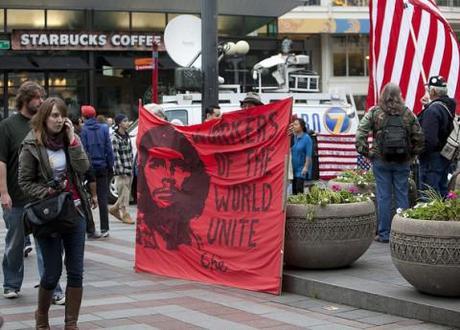 Occupy Seattle Protests — soon there will be similar protests in the UK. Photo credit: Bellvue Fine Art Repro http://www.flickr.com/photos/panacheart/6221743229/lightbox/
If you want to protest against the banks and the state of late capitalism, your chance is fast-approaching. The freshly-formed Occupy London Stock Exchange (OccupyLSX) collective has signalled their intention to protest in the City of London this weekend. The group's Facebook page, which has raced to over 12,000 followers by midday on Thursday, promises that the protest will start on Saturday the 15th of October at 12:00 outside St. Paul's Cathedral and will include "assemblies, workshops and discussions" according to the group's website. The group held its first general assembly on the 9th of October, closing Westminster Bridge; there, speakers called for action and spread the word about occupations in other countries.
The OccupyLSX movement follows hot on the heels of the growing Occupy Wall Street movement in the United States, Greece and the Middle East and the "indignants" movement in Spain that have seen tens of thousands of people occupying various public spaces to protest against risk-taking and monetary mismanagement by financial institutions.
The news comes as it was revealed that unemployment in the UK had reached a 17-year high, with 1 in 12 unemployed, although organisers for Occupy London insist that the groups' focus is global. The Facebook group booms: "The problems we face in the UK [echo] across the world. We are linked by the same root causes, so we cannot solve these problems in isolation. October 15th will be a global day of action calling for global change."
In a statement, Laura Taylor of Occupy LSX said the movement was in protest at financial institutions profiting during a recession they caused. "Why are we paying for a crisis the banks caused?" she said. "More than a million people have lost their jobs and tens of thousands of homes have been repossessed. Yet bankers continue to make billions in profit and pay themselves enormous bonuses, even after we bailed them out with £850 billion."
The news that the protest are coming has set the internet and Twitter abuzz, with 'hacktivist'  collective Anonymous tweeting, "Protesters plan to occupy London Stock Exchange … We love you London!" However, Not everyone is excited as the Anons.
It started with the Arab Spring. "The Arab Spring which wafted over the USA like a gentle breeze has now transmogrified into a hurricane, reaching Britain", declared Iranian political analyst Ismail Salami on Eurasia Review. On the other hand, Stephanie Darrall at The Daily Mail insisted that OWS is a US-grown movement.
Protest to save the NHS. Disrupt normal life as much as possible to save the NHS. That's one of the solutions Tim Hardy offered up on technology and social activism blog Beyond Clictivism: "Think of as many actions as possible, large and small, that will keep pressure up and keep reminding every one of how important this is", urged Hardy, who hoped Occupy LSX will come out in support of protests against NHS reform.
Nobody will notice — it's a Saturday, after all. This effort to bring down capitalism will find "all the capitalists have fled to play golf", sniped right-wing political blogger Guido Fawkes on Twitter.
Hipsters… William Kennedy for NBC's World Blog described the protesters' attire as "hipster-chic" before going on to quote a activist Matthew Slater as saying that his brethren aren't "just dirty hippies."
More on Occupy and the UK

Occupy Wall Street: Mass arrests
Britons work hard, play hard
Occupy Wall Street gathers pace
Occupy Wall Street: Five findings
More protest »