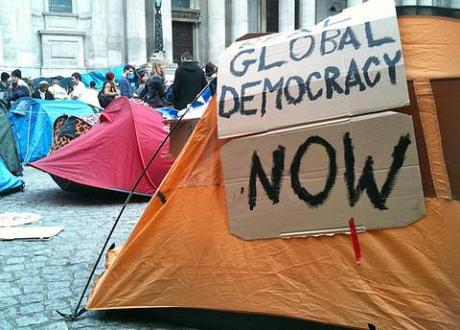 Occupy London. Photo credit: Neil Cummings, http://flic.kr/p/awim5Z
Legal action? The Guardian reported that cathedral officials are considering legal action to force protesters to disband the camp, which has been outside St Paul's for over a week. The dean of St Paul's said that the tents pose a fire, health and safety risk; the cathedral is currently closed to visitors.
Growing movement? The BBC reported that UK Uncut protesters plan to meet at the Occupy camp at St Paul's before marching on Whitehall: "A spokesman for UK Uncut said it was unsure how many people from its group would then stay on at the Occupy camp." Meanwhile, protesters have established a second camp at Finsbury Square.
'Spoiled children'. Writing in The Daily Mail, Melanie Phillips argued that OLSX protesters are behaving like "spoiled children" and abusing their freedom to protest: "Is it really a God-given right to turn the beautiful, historic space of St Paul's Churchyard enjoyed by millions into a squalid eyesore and a threat to public health?" she asked.
No information. Writing for The Guardian's Comment is Free, Naomi Colvin and Kai Wargalla insisted that protesters are willing to address health and safety concerns, but that St Paul's officials have not explained the issues that need to be resolved.
Part of London life. Colvin and Wargalla argued that the St Paul's camp has become "a centre for debate, education and the exploration of a new kind of social organisation" and "an integral part of the City".
'God is dead'. And in today's other big story, it appears God is dead – at least, according to The Independent's Peter Popham, who heavily criticised the cathedral's attitude towards OLSX protesters: "By turning them away, St Paul's has indicated that, whatever the church's spiritual message, for those who run the place its fabric is more important. That's a bureaucratic way of saying, yes, God is dead," he wrote.