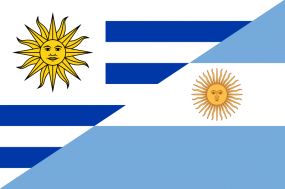 Before I start to say anything, I wanted to let you know that this was the best Copa América match I have ever seen as a fan of the Beautiful Game.  The way the two teams played were just reticent of the days of old where these two teams were on top of the football mountain.
There was a display of football that many people were able to appreciate.  A clash of styles added to intense emotion and an incredible rivalry led to this match being able to surpass the expectation that were in place.
Although there was history wherever you looked at there were some inevitable realities that hit both Argentina and Uruguay on Saturday night.
The Elephant Cemetery in Santa Fe buried its tenant after the performance they gave against their rivals from across the River Plate. The 110 years worth of history that this rivalry had were taken to a new level but the moment where the final penalty kick was taken it would be a Blaugrana that would get all the glory- former Barca defender Martín Cáceres.  That shot angled past Sergio Romero helped La Celeste reach the semifinals of the Copa América.  More importantly they broke a six-year drought against their souther rivals, they defeated Argentina when they hosted Copa América for a third time, and they celebrated the 61st of El Maracanazo by beating yet another big rival.
Belief
I know it sounds a little tacky to start out with this observation but leads up to my next point.  Coach Tabárez mentioned after the win that his team achieved the "minimum goal".   Uruguay came in with all the momentum in the world after their performance in South Africa, and there was a belief that they were going to get far in this tournament, regardless of who they played in quarters.  It wasn't just the lottery of penalties that sealed Argentina's fate prematurely.  It was a sequence of events that led up to the moment.  Argentina were still not fully believing how far they could get.  One thing is saying that they are getting to the finals, another thing is believing and having a plan in place.  Uruguay knew what they had and saw that it got them far.  This has been what has helped them out.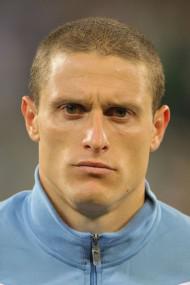 Intangibles
Uruguay demonstrated once again that they were the team in every sense of the word.  They fought for the 90 minutes and battled tooth and nail for every ball.  I always mention how Uruguay do not know what "easy" is.  As a squad, better yet, as a footballing nation they always tend to find the longest, most complicated manner to get a result possible.
They do not know simplicity.  They never have.
Uruguay taught us that accepting their limitations is their biggest strength.   They are not the team that will dominate you with possession.  They will not tear you up on the offensive end of the pitch with tiqui-taca. Their stats are not mind-blowing, as a matter of fact they are a rather common team- a prize fighter.   They are a squad that punch their way in and out of trouble.  They punch their way to goal and punch their way to near oblivion in a span of a match.   They are a roller coaster ride through every level of Dante's Inferno en route to the Paradiso.
They have experienced darkness on so many instances at the collective and individual levels
Their stats against Argentina would indicate that the Albiceleste should have handled them.  The two stats that just jump out at anyone looking to break down this game are successful passes (587-172)  and possession (59-41).
"The fighting spirit we have ingrained.  During the World Cup it was like that. We never had possession, but we had the defensive solution.  We have to work hard to to neutralize our rivals."

- Oscar Washington Tabárez on his defense
Uruguay played like Uruguay play.  Rough and tumble.  Physical.  Looking for the breakout.  Using their size and strength to impose a presence in various areas around the pitch.   Ángel Di Maria, a very talented player but is rather squeamish about contact was virtually erased especially after Uruguay went down to ten men.  Fernando Gago did not have the same performance he did earlier in the week.
This was a rather key moment losing a key figure Diego Pérez.  The Bologna midfielder is the heart and soul of the team.   His contributions were as valuable as his absence after seeing yellow for a second time.  His ability to press Lio Messi was good, but he could only do so much.
The emergence of  Álvaro González and Andrés Scotti were key in being able to obtain some sort of balance on the pitch although being a man down. Although these two players did not really touch the ball a whole lot, they were instrumental in disrupting the circuit of passing for Argentina, while their pressure helped to an extreme.
Although without a doubt, the man that made things happen was Fernando Muslera. His performance in Santa Fe could have been among the best in his career with La Celeste. This match confirmed Tabárez' faith in him despite having faltered on many occasions prior to. To have a goalkeeper that tuned in to a match gives you the confidence to be more aggressive.
Argentina proved one thing in this evening.  Lio Messi at his best is not enough.  Meanwhile Diego Forlán not being at his best level was enough as there were other protagonists that were willing to help carry the load.  There is not one player that would not want to make that load lighter.  Argentina always look  This was what Sergio Batista never truly addressed.  I guess I am sounding a bit unfair here, but Argentina's shortcomings are what  led to their downfall.
Messi turned the tables around in the past couple of matches. Batista saw that Messi could better benefit the team being a provider, or it could have been that the players already knew it. It is a blessing to have a player like that, but it is also a curse that could lead to overly depending on that weapon.
Tabárez even mentioned it in his press conference by saying that a great deal of their play "depended on Messi".
Despite all of this, they played one of their better matches outside of the Costa Rica encounter.   In the end, they are a different team when given space.
"Our defense didn't commit mistakes.  It was mostly due to the virtue of their forwards."  - Sergio Batista on his defensive backline
There had to be answers and Batista did not want to offer them or did not want to see what was in front of him.  The past few days he used the win against Costa Rica as a turning point instead of a building block.  It was a moment where Argentina were able to get out of their schneid, but they knew that there was still lots more to do in the long term to refine their game.
Lessons Learned
Children learn by making mistakes or seeing others make them.  Teams and coaches have to apply this usually with the mistakes they made.
There are still lessons unlearned from the Maradona fiasco- although let's be honest losing in PKs and losing the way they did in Cape Town last year are two different things.   Although I still believe there are lessons unlearned from the coaching staff as they looked to a result against an inferior team as a watershed moment in a tournament.  They were exactly right, but the final product was not the one that was originally scripted.
Was it a failure?  It was at home.  Batista ditched his original plans to field a more domestic side in an effort to bring all his big guns and make a run at the first title in 18 years.   Argentina went 1-3-0 in the tournament and showed a great deal of problems on the pitch although the bet performance was against a U-22 Costa Rica side.
When asked about the team's overall, Batista then said that "failure" was "too harsh a word" to describe Argentina's performance.  I will leave that answer to all of you.
This loss hit home much harder because- well it was at home.  Second of all, Uruguay might be en route to their 15th Copa América- surpassing Argentina.  There were also realizations that the drought will enter its second decade and Lionel Messi is still looking for his first title, although he now found his way.
The big question that lies is what does Argentina do next as they see Uruguay begin to pull away.