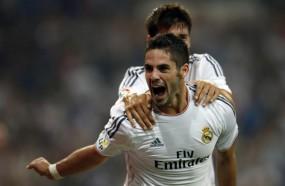 Real Madrid kick-off their La Liga season under new coach Carlo Ancelotti on Sunday night. They went up against a rather motivated Real Betis team that in the first 20 minutes constantly pressured los Merengues and was rightly rewarded with a goal in the 14th minute through Molina after some excellent work through the middle from Cedric and very weak and rather appalling defending from Sergio Ramos. Eventually after a few tries from Benzema, he finally pull the team level in the 24th minute after timing his run perfectly and latching on to Isco's lovely through ball. Benzema could have handed the whites the lead 16 minutes later but unfortunately his goal was ruled out for offside. The half would end with both teams levelled. After the break, Madrid recomposed and pressed more but not without threats from the visitors. After creating Benzema's goal in the first half, new signing Isco would go on to score his first header and the eventual game winner for the home side after getting on the end of a lovely cross from Marcelo.
Los Blancos came into the season opener off the back of an impressive pre-season where under Ancelotti the team was undefeated and looked strong going forward, defensively solid in most games and many players seemed to have turned the corner from their mediocre displays last season. However, some of those players looked less than impressive in yesterday's game.
Carvajal: The former Castilla man is certainly a better player than Arbeloa on his day and he proved that during the pre-season as well as, whilst in the Bundesliga last season with Leverkusen. He was voted right back of the year beating the likes of Lahm and Piszczek with his impressive performances. However, during yesterday's match, Dani gave an almost Arbeloa-esq performance and struggled for much of the game in defence– missing his tackles, losing his man and was very weak in defending set pieces.
Sergio Ramos: He was unbelievably weak in the first half and his defending at times seemed casual. However, in the second half he picked up his game somewhat. Nevertheless, Ramos is a strong defender and as the season goes on his form will get better again.
Pepe: The Portuguese had a good game. He was busy doing is job in conjunction with covering Carvajal's mistakes. He didn't do much wrong.
Marcelo: The Brazilian had a good game both defensively and offensively. Betis had more success going down the left than they did going down the right. Marcelo topped off his performance with assisting Isco for the game winner with an absolutely brilliant cross.
Diego López: His performances last night coupled with his spectacular displays last season leads me to believe it will be very difficult for club captain and [already] legend Iker Casillas to make the starting line up unless Ancelotti plans on rotating goalkeeper week in, week out to keep them happy. Which I think is unlikely but hopefully Iker will get his chance.
Khedira: This guy had an impressive pre-season and was certainly one of the best players. His pre-season form somewhat continued yesterday until he was forced off the pitch with a knee injury ten minutes into the second half. I had only one problem with Sami's general performance, which often I find with both he and Xabi. He pushes too high up the pitch during the attacks but lacks the speed to make it back to stifle the opposition's counter attacks and that was a huge reason Betis had space in the middle to exploit when counter attacking. For instance, he was behind the play when Cedric ran through the middle to set up Molina's goal in the 14th minute.
Modrić: Here is another player that had a strong pre-season and was surprisingly solid, but all that hope gained from the pre-season quickly vanished the longer the match went on and signs of his subpar performances from last season were visible in this game.
Özil: According to Ray Hudson,
"Maybe Isco is disco but there is only one John Travolta and that's little avatar eyes…"
Özil had a very good, active game and was visibly disappointed when he was substituted in the 68th minute for di María. He was a constant pest for the visitors with his killer passes and hardly did anything wrong.
Ángel di María: He got 22 minutes on the pitch adding a bit more speed and width to the team but his final passes were slightly poor for the most part. However, he did make good runs and found himself with a couple opportunities to give Madrid the lead but was denied brilliantly by the keeper on one occasion and on the other his shot went just wide.
Casemiro: The young Brazilian once again displayed he is Madrid's diamond in the rough and was a steal from São Paulo for six million euros. He came on in the 54th minute for the injured Khedira and was solid in his tackling and dispatching of the ball to his more creative team-mates. He stifled quite a bit of Betis' attack through the middle.
C. Ronaldo: The Portuguese captain had a solid game despite not getting on the score sheet, which will probably be disappointing for him as his "nemesis" got a head start in the Pichichi race with his two goals against Levante earlier in the day. Ronaldo was all over the pitch even getting back a few times to defend. Most importantly, he was passing the ball in tight situations a lot more and as usual his runs were good.
Benzema: The French man, despite scoring, proved with his performance that he is still not ruthless enough for a "#9 type" player. For instance, he had an absolutely glorious chance in the 22nd minute to pull his team level from a Marcelo cross, which normally a traditional number nine would have gone sliding in if there was even the slightest possibility he could get to the ball and redirect it in the net. However, Benzema stopped running– maybe because he thought he would not get to the ball or believed the ball would find the back of the net on its own. Whatever his reason, if you are striker, scoring is your main job and getting to the ball should be priority especially in the penalty box.
Morata: The man likened to Morientes came on late in the second half and had a very active game, even managing to score but had it ruled out for offside. He even had a similar opportunity to Benzema's and did indeed slid in to get a touch of the ball but the ball skipped over his outstretched leg.
Isco: Man of the Match. The young Spaniard had a hell of a league debut with los Blancos. His passing was excellent, vision is divine, dribbling was clever and he showed he can be Madrid's game winner. He ended the game with a great assist to Benzema and latched on to a beautiful Marcelo cross in the 85th minute to give his new team the win.
Generally, the first half display from the team was weak but that picked up considerably in the second half. The attack is very good but Benzema has to be more ruthless if he plans on being a club legend like his country man Zidane. On paper, Madrid has probably the strongest and most depth in midfield in the league. Ancelotti's headache will be finding the best combination. Defence is a bit shoddy, despite having the likes of Ramos and Pepe. Varane's presence in the back was certainly missed and set piece defending can be strengthened. Carvajal was the most disappointing and almost had me second guessing him as a better replacement for Arbeloa. However, it was only one bad game from him and if he wants to continue being the number one choice with the possibility of making Spain's World Cup squad, he needs to find his last season form. Perhaps, Madrid's display in the game was early season jitters.
If the club are thinking of bringing in another player, it certainly shouldn't be another attacker but rather a defender, especially if rumours are to be believed that Coentrão wants out.
Highlights