Bigen the "secret" that many women use religiously to keep there hair healthy, natural, and thick look to their hair.
being a hairdresser i have tried many brand of hair colors but Bigen my little extra secret i always used with other brands to make the color s last longer on my clients. I have used Bigen for years now and it is the only tint that lasts and covers everything from especially those uncanny gray hairs that you have at the temples to a whole head full of gray. My color has lasted months without fading much. I love Bigen
Bigen contains neither AMMONIA nor HYDROGEN PEROXIDE. Its beautiful and true-to-life color lasts longer than conventional colors. Bigen gives the hair a smooth silky and shiny look.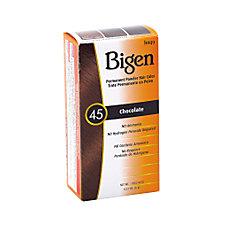 Bigen Hair Color #45 Chocolate
Price: $6.49
Bigen Powder Hair Color is designed to elegantly color all gray or partially gray hair, enrich your natural hair color without lift. Contains no ammonia and requires no hydrogen peroxide.