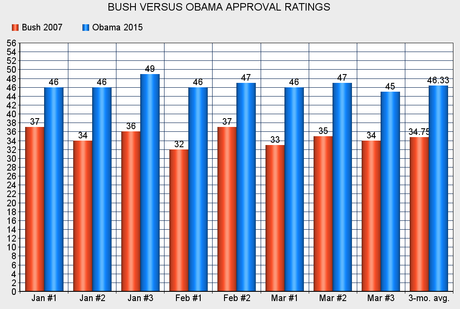 Congressional Republicans love to talk about how "unpopular" President Obama is these days (even though his job approval is at least 30 points higher than their own). But you won't hear them talk about the last Republican who inhabited the White House, because his job approval was significantly lower than that of President Obama.
The chart above was made from Gallup Polls in 2007 and 2015. They show the job approval of both Bush and Obama at the same point in their presidency. Note that Obama's approval is significantly higher than Bush's.
The Republicans know that. That's why they are trying to distance themselves from the Bush presidency. But they are only trying to distance themselves from the man, not his policies. They don't seem to realize that it was his policies that made him so unpopular -- policies that trashed the economy. They still follow those same policies today.