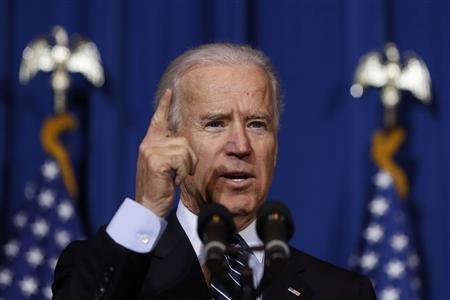 Reuters/Reuters - U.S. Vice President Joseph Biden talks before U.S. President Barack Obama signs the Violence Against Women Act while at the Department of Interior in Washington, March 7, 2013. REUTERS/Larry

Downing
Yahoo News
Vice President Joe Biden

said on Wednesday that the

Obama administration

would continue to press for an

assault weapons ban

as part of

gun control legislation

despite a serious setback on the issue earlier this week.


Senate Majority Leader Harry Reid

acknowledged on Tuesday that there was not enough support for the ban in

the Senate

, meaning it would fail when gun control legislation comes to the floor of the chamber next month.
Biden, who has led

President Barack Obama

's push for tighter gun regulations, said he was undeterred.
"We are still pushing that it pass," Biden told NPR in an interview, according to its website.
"I believe that the vast majority of the American people agree with us, the vast majority of gun owners agree with us, that military-style assault weapons are — these are weapons of war. They don't belong in the street," he said.
Wstch out. Maybe they're gonna pull one of those "Lincoln" things and surprise everybody.
What do you think?  Please leave a comment.