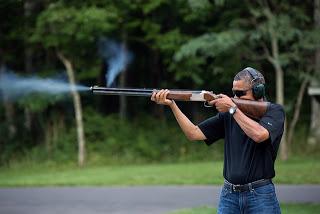 TPM

After President Barack Obama's recent claim that he goes skeet shooting "all the time" was met with a chorus of skepticism, the White House on Saturday released a photo of him doing just that. 
The photo, taken by White House photographer Pete Souza on Aug. 4, 2012, shows Obama shooting clay targets on the range at Camp David, Md. 
Update: Following the Saturday morning release of the photo, a pair of White House confidants took to Twitter to poke fun at the skeet skeptics.
What a bunch of crybabies. First they said the photo was a fake, now they say it doesn't matter compared to a lifetime of supporting gun control. Oh, and of course there'll be lots who question the meaning of "all the time."
This is what happens when inexplicable Obama hatred mixes with gun-rights fanaticism. Skeet birthers they're called.
What's your opinion?  Please leave a comment.