By Susan Duclos
According to the
latest IBD/TIPP poll numbers
, Barack Obama's approval numbers have hit a record low amidst a number of scandals rocking his administration, including the NSA scandal, the IRS targeting and now what even some of his supporters are calling Obama's "war on coal."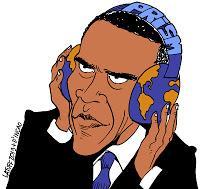 Findings
:
•  The Presidential Leadership Index fell to 43.2 from 48.9 a month earlier. The 11.7% slide was the worst since Obama took office. For the fourth straight month, the reading stood below 50, signaling disapproval.
•  A clear majority, 59%, said government surveillance invades innocent Americans' privacy, vs. 34% who disagreed. Among independents, the split was 72%-25%. Even 42% of Democrats agreed the surveillance invades privacy.
•  Obama's support among single women — a key part of his base — has tumbled 29% from 74.6 around Election Day to 52.9 now.
•  Obama fell to all-time lows among Republicans, independents, men and married women.
•  Overall, 41% approve of Obama's performance as president vs. 52% who disapprove. The net -11% is his lowest yet.
•  Shortly before Independence Day, Americans' see the country's standing in the world taking a sharp hit from the NSA fallout. That reading fell 12.4% in the latest month to 36.8, the lowest in nearly two years.
These findings are consistent with other polling organizations that show Obama underwater in approval to disapproval ratings, such as The Economist/YouGov, FOX News, Reuters/Ipsos, and
Rasmussen Reports
.
According to
Real Clear Politics
, only two polling organizations have found Obama not underwater.
Those are
Gallup
which has Obama at 46/46 approval/disapproval  from 6/30-7/2/13 and
Pew Research
, which is the only poll showing Obama's approval higher than his disapproval, but that poll was taken in mid-June before the latest NSA revelations were exposed about the extent of Obama's domestic spying on Americans.
With the promise by Guardian writer, Glenn Greenwald about another bombshell that the world "will be shocked over" to be revealed, Obama's approval numbers are likely to drop even more.
The GOP is planning to use these scandals and the damage they are doing to not only Obama but o the Democratic party, as the discussion in the video below, shows.