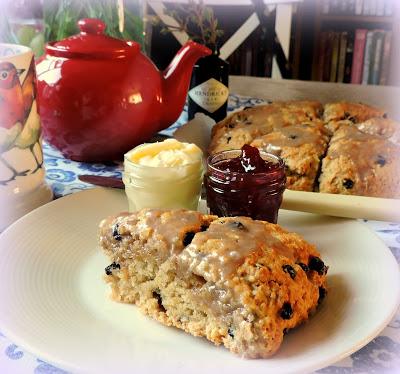 Ahh . . .  the weekend.  I love to spoil my husband a bit at the weekend by baking him something special, either for breakfast, teatime or dessert.  The fact that I also get a tiny bit spoiled by doing so is an added bonus.  This morning I decided to bake him some scones to greet him when he came downstairs after waking up.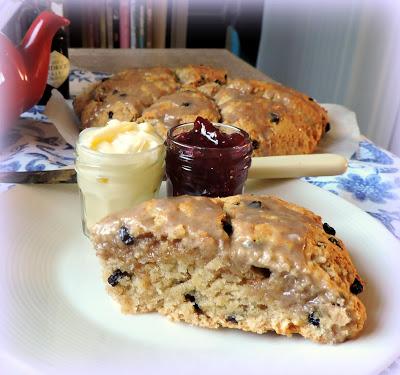 I am not sure if the smell of them baking helped him to wake up with a smile on his face or not, but he was really looking pretty happy when he opened the door to the lounge!  Oaty Cinnamon Scones . . .  they smell heavenly when they are baking.  Why is it that cinnamon anything smells sooooo good?  I don't know, but I maybe should dab some behind my ears the next time we are going out. What do you think?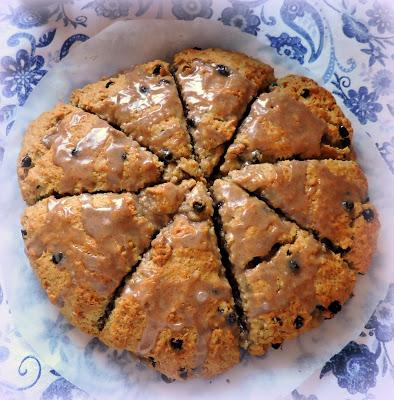 These scones are filled with the goodness of whole wheat and rolled oats, as well as the other ingredients.  They are flaky and delicious!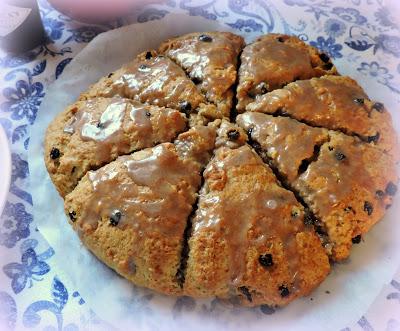 I like to stir some dried currants into them when I bake them.  Todd really enjoys that fruit extra. But you could leave them out if you wanted to, or use raisins, or chopped dried apricots or sour cherries, or even nuts.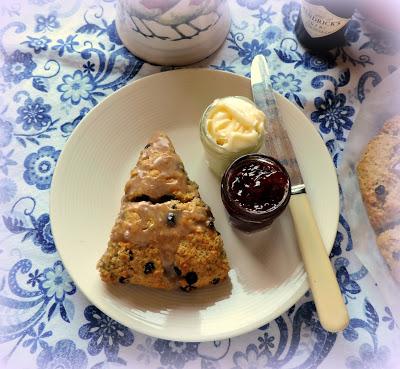 Just think to yourself, what goes with cinnamon and would be perfect in an oaty scone . . . .  hmmm . . .  I can hear your wheels turning.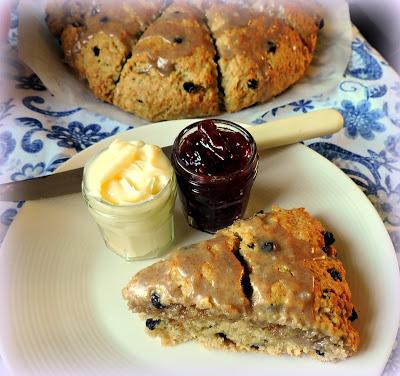 They are also glazed with a cinnamon glaze that you apply while the scones are warm and fresh from the oven.  Just pour it over.  Let it get into all of  the nooks and crannies . . .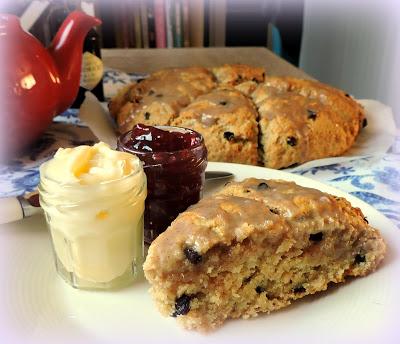 These are lovely served warm . . .  with some butter and jam and a hot cuppa  . . .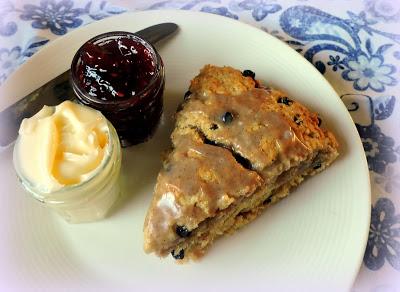 Today I used raspberry jam . . .  and soft butter . . .  raspberry jam and fruited scones are a beautiful combination  . . .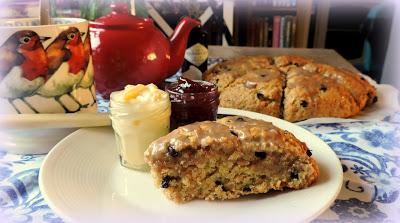 It also gave me an excuse to use my new little red tea pot, which I am right in love with!   Its so cute. Why is anything tiny automatically cuter?  I also used one of my Emma Bridgewater mugs . . .  Todd isn't normally allowed to touch them.  He is too rough with china.  Its a man-thing that they don't understand.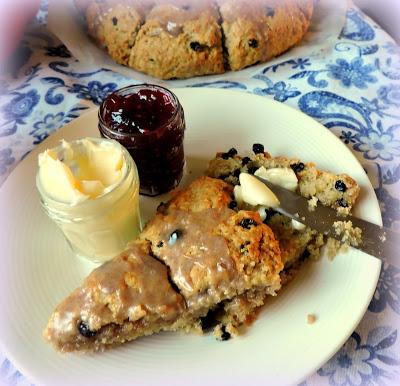 He puts them into the sink when he is done, which I suppose I should be happy about  . . . not so much the throwing the spoon into the sink when he is done though  . . . which really can cause injury to china and stuff . . .  that's why I usually only give him the old stuff to use.  The stuff I don't mind getting chipped etc.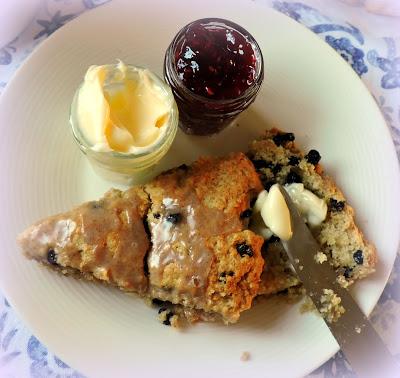 Oh, I know . . .  I am naughty to save the best things for other occasions, and for special photographs.  I just can't help myself.  I've seen too many things broken through the years by carelessness.  Its a man thing I know.  Just don't leave his monkey wrench out in the rain.  Chances are they'll be keeping company with the kitchen scissors he's been forbidden to use, but does anyways.  ☺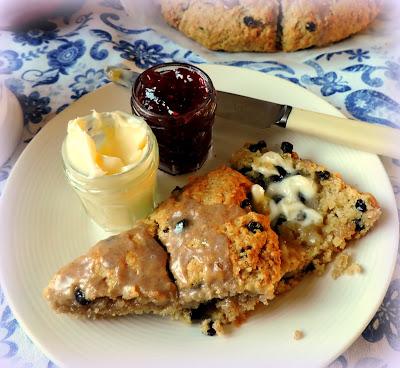 *Oaty Cinnamon Scones*Makes 8Printable Recipe  
Deliciously wholesome.  Serve warm with butter and jam for a breakfast treat! 
140g plain flour (1 cup)70g whole wheat flour (1/2 cup)60g rolled oats (3/4 cup)50g soft light brown sugar (1/4 cup)2 tsp baking powder1/2 tsp salt1/2 tsp ground cinnamon125g butter, cut into cubes (1/2 cup)120ml milk (1/2 cup)75g dried currants (1/2 cup)
For the finishing glaze:130g icing sugar2 TBS  milk1/2 tsp ground cinnamon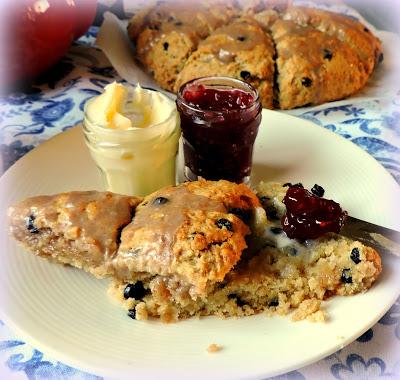 Preheat the oven to 190*C/375*F/ gas mark 5. Line a baking tray with baking paper. Set aside. 
Whisk the flours, sugar, baking powder, salt and cinnamon together in a bowl.  Drop in the butter.  Cut the butter into the dry ingredients using a pastry blender until crumbly.  Stir in the dried currants.  Stir in the milk to give you a soft dough.  Tip out onto a lightly floured surface and knead a couple of times.  Pat out into a six inch circle about 1 inch thick on the prepared baking tray.  Cut into 8 wedges using a sharp knife, but do not separate the wedges. (Leave in a circle.) 
Bake for 20 to 30 minutes until golden brown. 
Whisk the icing sugar, cinnamon and milk together to give you a drizzle glaze.  Drizzle over the scones while still warm.  Serve warm with butter. Best eaten on the day.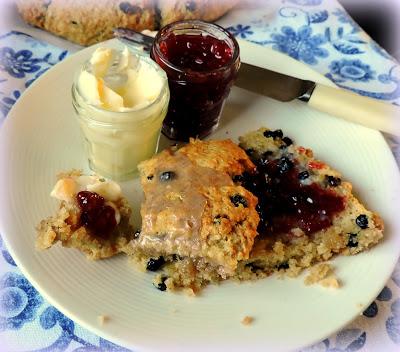 Seriously I do so love my husband, and I do love spoiling him.  But . . . the cost of a Pound store mug versus a £30 Emma Bridgewater mug . . . well, I am sure you totally understand!   Why risk the tears.  (He is worth more than the cost of any mug to me in all truth.)  Happy Canada Day to all my Canadian Readers!  Enjoy!