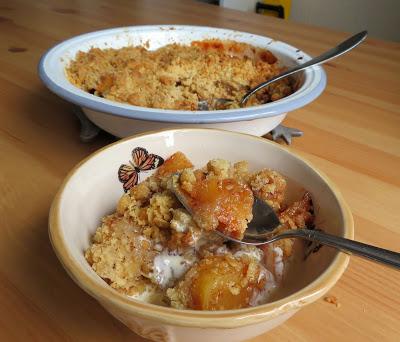 The other day my next door neighbor send me over some apples that she couldn't use. I already had a few apples of my own so I decided to combine the two and make a tasty dessert that both of us could share. (I broke it up into two baking dishes.)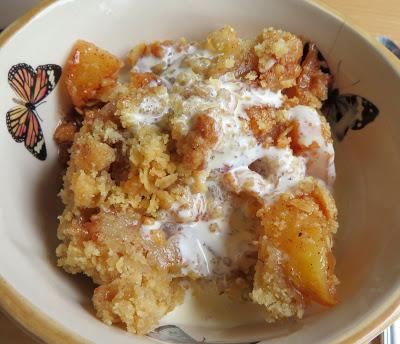 She was happy and Todd was happy so it was a win/win.  Apple desserts are Todd's favorite desserts of all time.  He just loves it when I make him an apple dessert.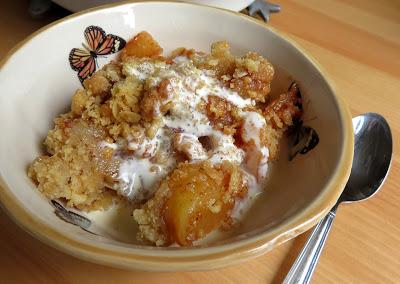 When it comes to an apple dessert you can't get much better than an apple crumble. I like the ones with the Oaty crumble most of all.  For some reason they seem more wholesome, and almost healthier . . .  although they really aren't.  Sugar is sugar.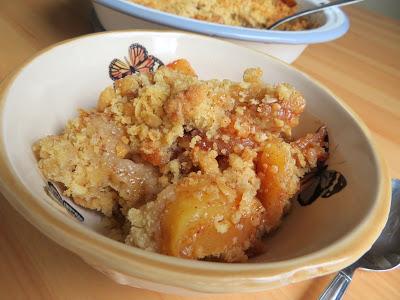 Ingredients are being rationed in our house at the moment.  Things like flour and sugar are in limited supply and I am not sure when I will be able to get more, so any dessert where I can cut the use of the flour down by mixing it with oats is a good choice for us.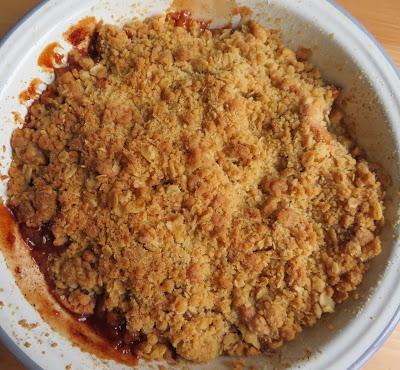 I don't know about you, but when it comes to a crumble its all about the topping! That streusel topping is what makes the whole dessert!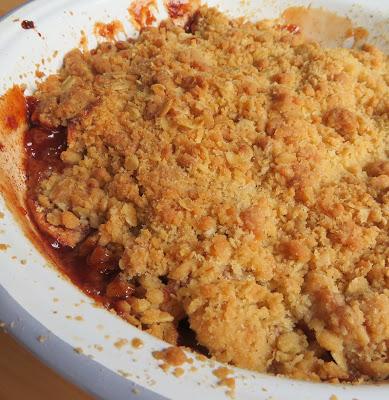 I have to say I prefer streusel toppings that contain oats more than the plain ones.  They are just more toothsome and have an almost nutty flavour!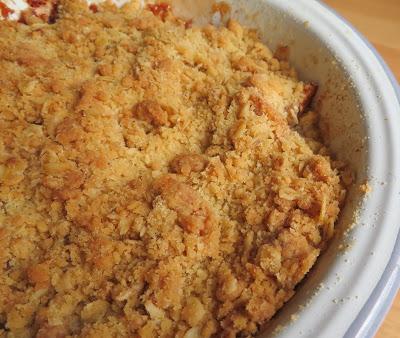 That's my story and I'm sticking to it!  To me its like having a tasty oatmeal cookie crumbled over a delicious fruit filling.  Today  . . .  with apples.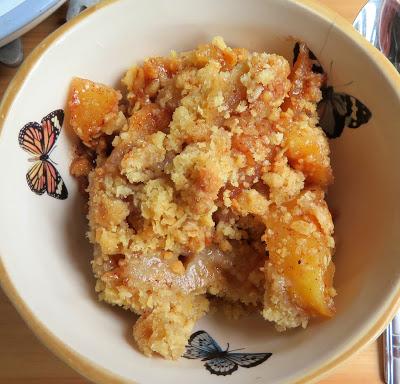 You want to use a really nice flavoured apple in this dessert.  Today I used a mixture of Pink Ladies, Granny Smiths and another eating apple.  They worked together beautifully!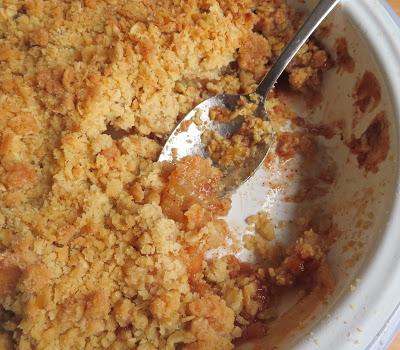 You want to use apples that are going to maintain their integrity in the bake. You don't want apples that are going to lose their texture completely, and yet at the same time you want apples that will cook through and not be hard.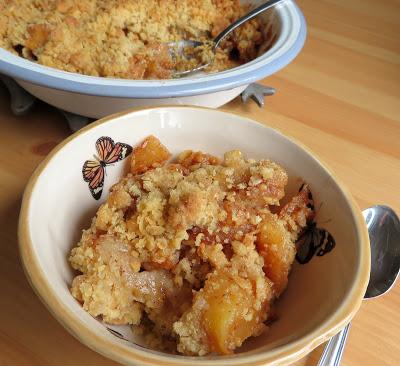 The use of orange and lemon zests add an additional layer of flavor to the filling along with the juices, which help to keep the color as well.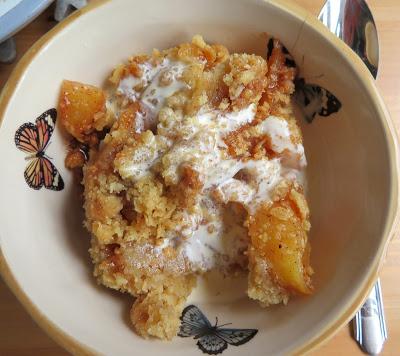 There is also some cinnamon and nutmeg for additional flavor.  All of these flavours go very well together.  They make for a very delicious filling indeed.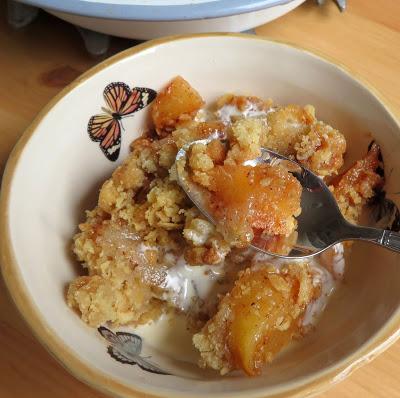 What you serve it with is up to you.  All we had on this particular day was cream.  You can also enjoy this wish warm custard sauce, or scoops of vanilla ice cream (my favourite!).
Yield:
6
Author:
Marie Rayner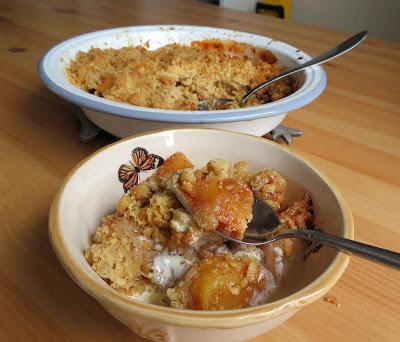 Oaty Apple Crumble
This is an amazingly delicious apple crumble.  With its crisp oaty topping and cinnamon apple filling, this crumble is everything a good apple crumble should be.
Ingredients:
For the topping:
105g plain flour (3/4 cup)
75g granulated sugar (1/3 cup)
80g soft light brown sugar (1/3 cup)
40g porridge oats (1/2 cup)
120g butter,  chilled and cut into cubes (1/2 cup)
pinch salt
For the filling:
2 1/2 pounds well flavoured apples
1 tsp lemon zest
1 TBS lemon juice
the zest of 1/2 orange
1 TBS orange juice
50g granulated sugar (1/4 cup)
1 tsp ground cinnamon
1/2 tsp ground nutmeg
To serve: (Optional)
pouring cream
custard
vanilla ice cream
Instructions:
How to cook Oaty Apple Crumble
First make the crumble topping. Measure the flour into a bowl along with both sugars and the oats.  Stir in the salt and drop in the butter.  Rub the butter into the flour mixture until you have a coarse crumbly mixture.  Alternately you can blitz in a food process until you have a crumbly mixture with bits the size of small peas.
Preheat the oven to 180*C/350*F/ gas mark 4.  Butter an 8 inch square deep baking dish.
Peel the apples, core and cut into wedges. Put them into a bowl along with the remaining filling ingredients. Toss together to coat well.  Pour into the buttered baking dish.  Sprinkle the crumble topping over top evenly.
Place on a baking sheet and bake in the preheated oven for 45 minutes to an hour, until the apples are soft and bubbling around the edges and the topping is golden brown.
Serve warm, spooned into bowls along with some cold ice cream, pouring cream or vanilla custard.
Did you make this recipe?
Tag @marierayner5530 on instagram and hashtag it #EnglishKitchenCreated using
The Recipes Generator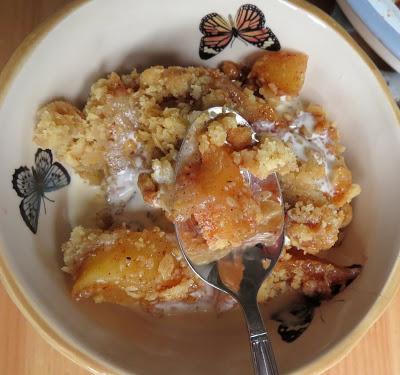 Well, this is a different Easter weekend than we all planned on having this year I reckon.  At least the weather is nice.  Don't let that tempt you to go out traveling however.  Lets all be reponsible and stay home so that we can help our Health Care System out.  I know that we are all a bit bored now with this staying home lark, but trust me, it will be worth it in the long run.  This won't last forever and before too long (God willing) it will be nothing more than a bad memory.  Stay home. Stay safe. Stay healthy and Happy Easter.