Oats Chilla - A very healthy ,delicious and easy to make savory pancake .
Oats Chilla is a quick ,easy and filling breakfast recipe. You can grind the oats and soak for few minutes and your healthy breakfast will be made in a jiffy. You can add gram flour,semolina,wheat flour ,rice flour for binding and to enhance the taste. Vegetable can be added as per your taste and availability.
Traditionally chilla's are made with either gram flour/ besan or moong daal but this oats chilla is very healthy and equally delicious. The method of making oats chilla is similar to the regular chilla's
How To Make Oats Chilla/ Oats Uttapam
Making oats cheela is very simple. First of all you need to soak the oats and sooji for 15 minutes .Then whisk the batter with a whisk,fork or use a hand blender ,both ways it work fine.
OR Grind the oats and semolina to make a powder and store in a jar and when ever you want to make cheela then just soak for few minutes. grinding oats and using the powder reduces the soaking time. Do which ever method suits you.
Add spices ,yogurt and water and make a medium thick batter like idli batter. Don't make the batter thin else it will take time to cook and the cheela become too soft. You can also make oats chilla with just tomato ,fresh coriander,green chilies only OR add some vegetables of your choice to make it more healthier.
How To Make Oats Vegetable Uttapam
If you add only coriander,green chili in the batter then its Oats cheela and if you add mixed vegetable in the batter or spread on top of the cheela then its oats vegetable uttapam so you can make 2 recipes with the same batter.
Addition of vegetables depend on your choice and availability. Chop them fine or use a vegetable chopper. Usually tomato,carrot ,capsicum taste good in oats uttapam.
Cook oats chilla from both the sides on medium to low heat till golden and crisp. Best served hot with mint chutney, Tamarind chutney ,tomato ketchup or any tangy sauce of your choice. It can also be packed in lunchboxes .
How To make Vegan Oats Cheela
To make it Vegan just skip adding yogurt and add 1.5 tsp of lemon juice in the batter. Or use any vegan yogurt or milk to make the batter.
You may also like these recipes-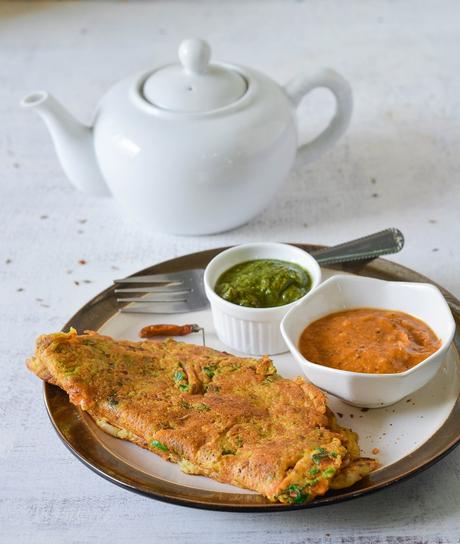 ★ Have you tried this recipe? Click on the stars ★ in the recipe card to let us know your feedback! If you tried it then You can also click the recipe pic and share on Instagram with hashtag #maayeka
Oats Chilla Uttapam
Course: Breakfast, Tiffin recipes
Take a bowl and add oats ,semolina and gram flour and mix.

Now add yogurt and water and make a medium thick batter like idli batter and keep covered for 15 minutes

Then blend the mixture either with a whisk or fork or use a hand blender

Add all the spices and the vegetables and mix.(check notes),add eno just before making the cheela.

Heat a non stick or iron tawa and grease with few drops of cooking oil or ghee.

Spread a ladle full of batter on the medium hot tawa and spread it gently with the back of the ladle to make a slight thin pancake.

let it cook on medium to low heat,when the top looked dry then drizzle a tsp of oil or butter around the chilla and let it cook till it the base become golden

Now flip it over gently and cook from other side,drizzle some oil around the edges so it get cooked from both the sides.

When chilla uttapam become golden from both the sides then remove from the pan and serve hot.

Serving suggestions- serve with mint chutney,tomato ketchup or any tangy sauce of your choice.
Keyword: oats chilla, oats recipe, Oats uttpam
NOTES-
You can either mix the chopped vegetables in the batter or top them over the chilla like uttapam.
You can grind the oats and semolina and store in a jar ,then you don't need to grind or whisk the batter before making cheela.
You can add rice flour and wheat flour instead of semolina and gram flour.
Can use any types of oats i.e instant or rolled
Add water according to the quality of oats you are using, make the batter semi thick else it will take time to cook and cheela may become too soft and soggy.
you can use sour buttermilk instead of yogurt and water.
If the yogurt is not sour then can add 1/2 ts of lemon juice in it.