For this month's #BreadBakers challenge, our host for the month
Rocio
picked 'breads with oats'. We are free to pick any form of oats -- steel cut, rolled or quick and it can be a sweet or savory bread.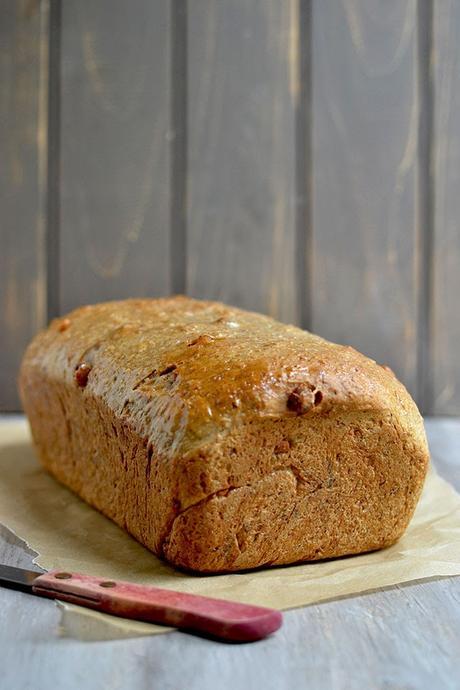 I chose to make Oats bread with maple syrup and walnuts from
King Arthur Whole Grains Baking
cookbook. Whole wheat and oats are the featured whole grains in this soft, high rising loaf. Original recipe used maple sugar, but since I don't have it, I just used light brown sugar. Maple syrup adds a hint of sweetness and the nuttiness of walnuts is a nice counterpoint. This bread is great as is or toasted with some butter, jam or my kids favorite Nutella.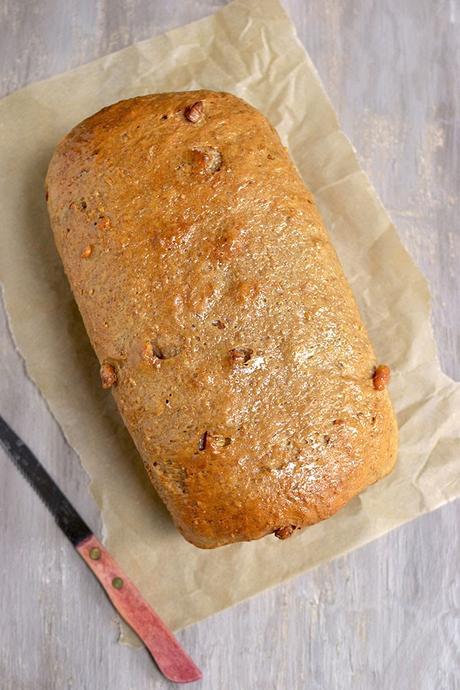 Though maple is a flavor beloved by many, it's a hard read in yeast bread; in order for any maple taste at all to come through, it's necessary to add maple flavor. In addition, brushing the top crust with butter and maple syrup as soon as the loaf comes out of the oven helps put the maple flavor right out front.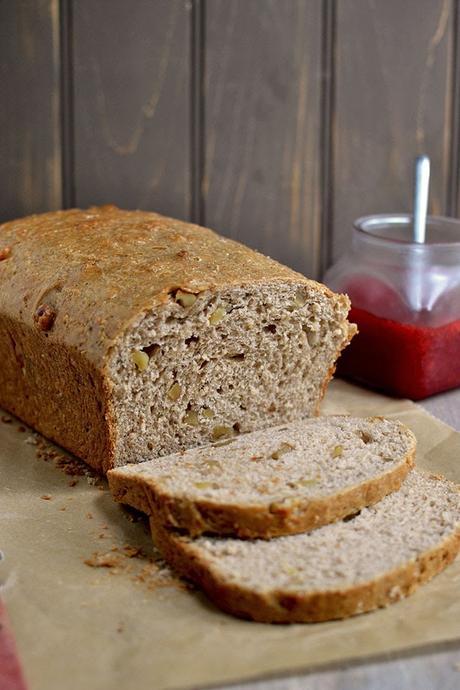 Ingredients
:
Makes 9"x5" loaf
For the dough
; Rolled Oats - 1½cups All purpose flour - 2cups
Whole wheat flour - ¾cup
Yeast - 2½tsp
Brown Sugar or Maple Sugar - 3tbsp
Salt - 1¼tsp
Unsalted butter - 4tbsp, at room temperature
Maple syrup - 2tbsp
Maple flavor - ¼~½tsp
Lukewarm Water - 1cup
For the glaze
:
Unsalted butter - 2tsp
Maple syrup - 1tbsp
Method
:
Grind the oats in a food processor for 30 seconds.
Combine oats with rest of the ingredients for the dough in the bowl of the stand mixer or a large mixing bowl. Mix and knead until a smooth, soft dough is formed.
Transfer to a greased bowl, cover and let rise for 1~2 hours or until doubled in volume.
Gently deflate the dough and roll it into a 9" log. Place it into a lightly greased 9"x5" loaf pan and press gently to fill the pan. Cover lightly and let rise for 1½~2½ hours.
Towards the end of the rising time, preheat the oven to 350°F.
Bake the bread for 40~45 minutes. Tent the bread loosely with foil after 15~20 minutes. Once done, bread should be golden brown and register 190°F internal temperature.
In the meantime, combine the melted butter and maple syrup in a small bowl.
Remove bread from the oven and let cool for 1~2minutes. Turn out onto a wire rack and brush with the glaze.
Cool completely before slicing.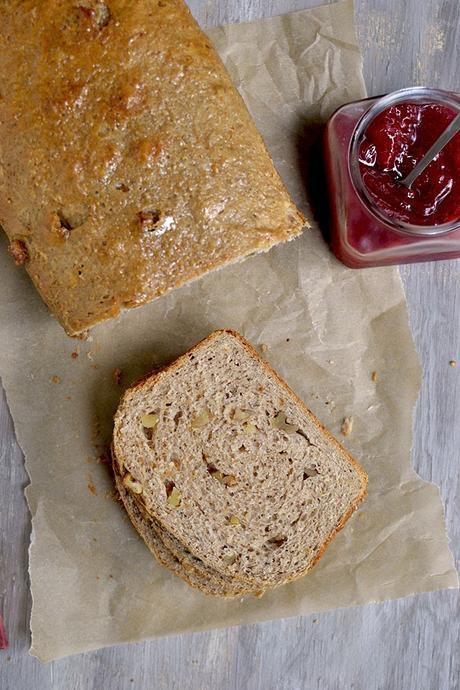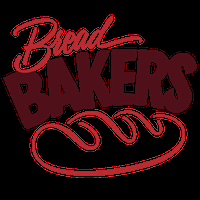 #BreadBakers is a group of bread loving bakers who get together once a month to bake bread with a common ingredient or theme. Follow our Pinterest board 
right here
. Links are also updated each month on this home page. We take turns hosting each month and choosing the theme/ingredient. If you are a food blogger and would like to join us, just send Stacy an email with your blog URL to 
[email protected]
Oatmeal Bread themed #BreadBakers: