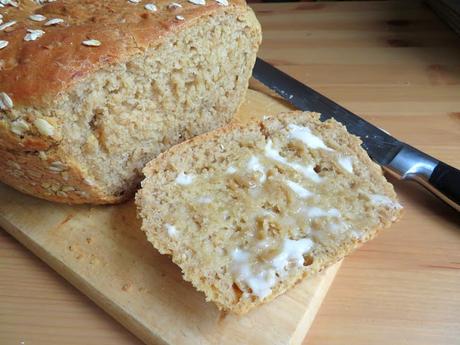 When it comes to baking yeast breads I will be the first one to confess that this is not a true skill of mine.  Some people can bake beautiful bread and some can't.  I am not sure what makes the difference, or creates the skill. 
My mother always made beautiful bread. My ex husband always made beautiful bread. My ex MIL always made beautiful bread. Me . . .  not so much.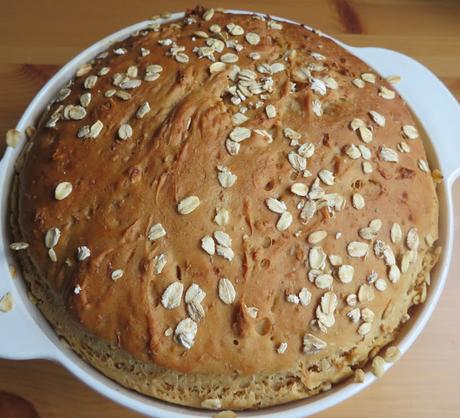 I have had some success with
Easy Bread
.  Easy Bread is a yeast bread that you make, let sit overnight and then bake in a hot iron casserole. Its almost like a sour dough bread.
I have also made
Quick and Easy French Bread
with some success. What I have always achieved the most success with however are batter breads and rolls.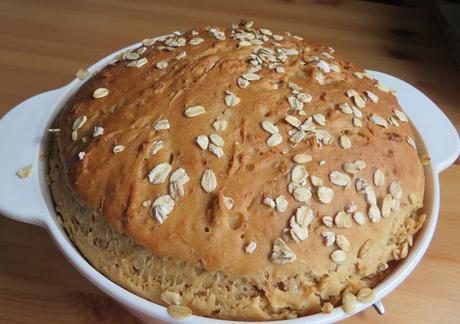 Batter Breads are yeasted breads, but they are mixed with an electric mixer. No kneading involved.  This Light Rye is a perfect example. And one that I love.
Today I decided to try a recipe for Oatmeal Casserole Bread. The recipe comes from a magazine leaflet from Robin Hood Flour and Baker's, published in 1991, Baking Festival recipes.  I always loved those little leaflets.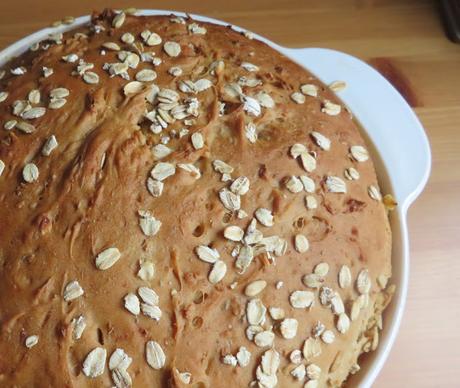 I don't know if they still put them out, the leaflets. They used to come inside some of the more popular ladies' magazines in Canada. Magazines like Chatelaine or Canadian Living. 
They usually had an assortment of baking recipes.  Recipes to co-incide with the holidays or harvest time. They are usually a mix of indulgent and healthy.  So,  a little bit to please everyone.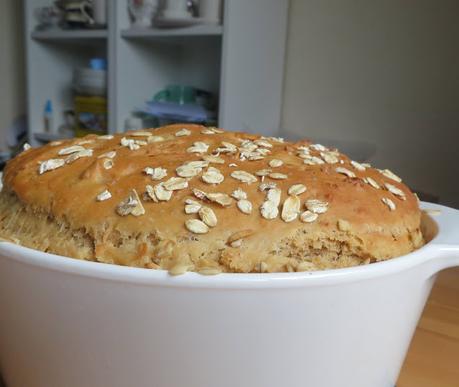 Its hard to believe I have had this little booklet for almost 30 years now! I would have only beenin my mid 30's when it came out. 
It is also very hard to believe that it has taken me thirty years to make it!  Today was the day!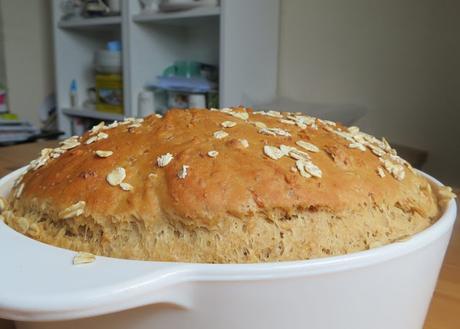 It requires the use of a 2 litre/quart casserole dish, or a large loaf pan. Today I baked it in a casserole dish and I think mine was a bit larger than the requested size. I could not find my regular one.
I was going to use my large souffle dish, but who knows where it is!  Everything is in a but of a jumble at the  moment while I try to decide what I can or cannot take. In the end I may have to leave it all, but I am trying to remain hopeful!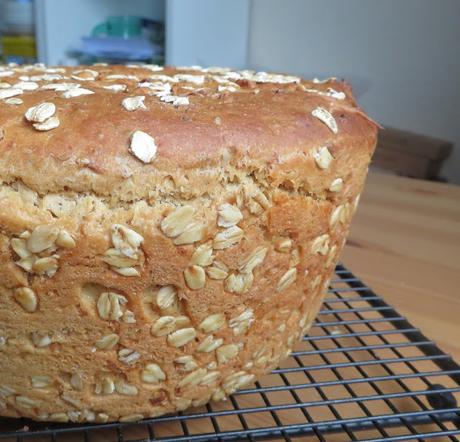 It was very easy to make. You just make a sponge using an electric mixer and then stir in the remaining flour to make a dough. It will be a sticky dough. 
It will rise first in a bowl and then later on in the casserole dish. I loved that it seemed to be a somewhat wholesome bread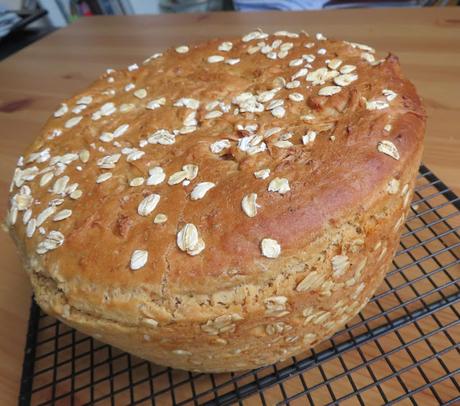 It is made with oatmeal and molasses. I adore oatmeal bread.  I used to always buy it when I was back home. It was lovely and rich and slightly sweet and went great with baked beans or as sandwiches.
I used old fashioned oats to make this. The large flaked oats. You could probably use regular oats as well, but I do not recommend using quick oats. You want an oat with substance.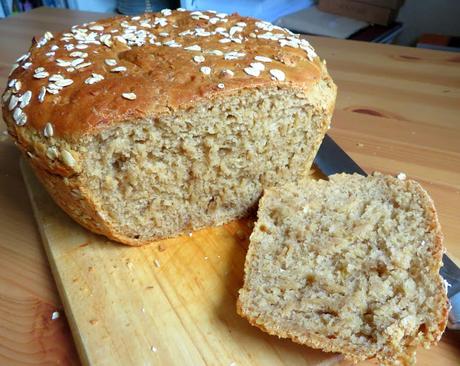 There is not a lot of sugar in it. One teaspoon to help activate the yeast, and only 1/4 cup (60ml) of molasses. In the UK I think you could get away with using dark treacle.  The strength of it will probably not matter in this.
Other than there you will only need water, a bit of oil, some flour and salt. The recipe only calls for 1 1/2 tsp of salt so it is fairly low sodium.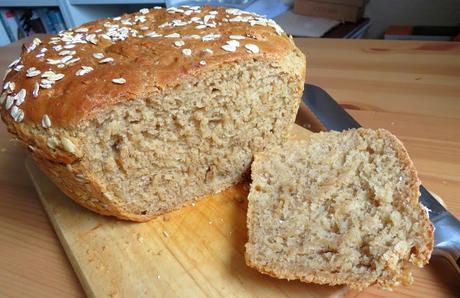 It has a lovely moist texture. I should have waited to cut it. It was still rather warm when I cut into it, but I was running out of daylight.
Can you believe that I spend a total of 4 1/2 hours on the phone today just trying to get myself a bank account. And at a bank where we already have a joint account. UNBELIEVABLE!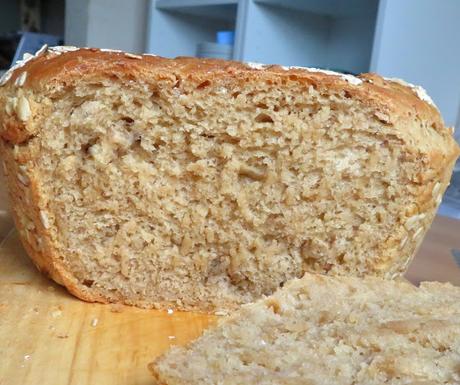 And I still don't have one.  I kept getting cut off. Pass the buck, pass the buck, pass the buck, then cut off.  Start again.  Music, music, music, pass the buck, pass the buck, pass the buck and then cut off. 
Four and a half hours of this. I finally gave up in tears. I will try again another day. It shouldn't be that hard. Especially when you have already had an account with them for over 15 years.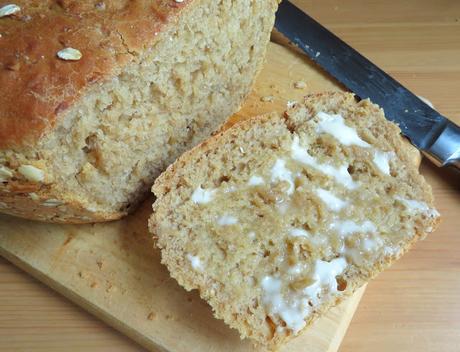 Anyways after all of that faffing around on the telephone, my light for taking photos was fading fast. I am afraid my photos today are not the best.
I hope that they do not put you off. This recipe creates a beautiful loaf of bread, but then again you should expect excellent results from Robin Hood. They are THE flour people in Canada. Them and Five Roses.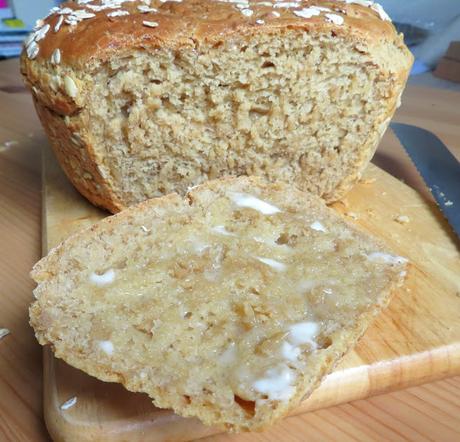 Of course I have not lived there in 20 years, so that might have changed since then. One thing I am looking forward to is the bigger bags of flour!  yay!  No more eensie peensie ones unless I choose eensie peensie ones! 
This bread has a beautiful texure. Not a lot of holes, which is good and it is lovely and moist.  I think it is a bit "fresh" as my mother would say, perhaps a smidge more salt could be used.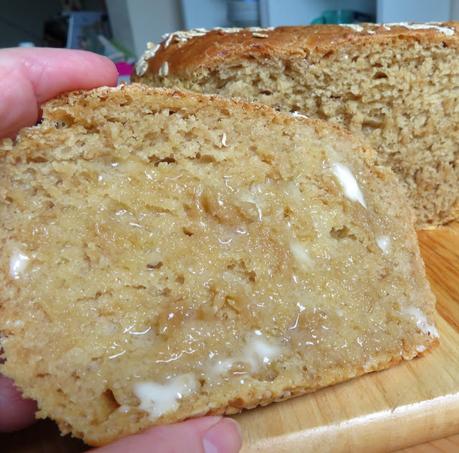 I was sorely tempted to have some jam on this, but I am really keeping an eye on my sugars. The bread alone will be bad enough, although the oats will help with the GI.
Don't look at the butter and judge me!  LOL That was not my slice!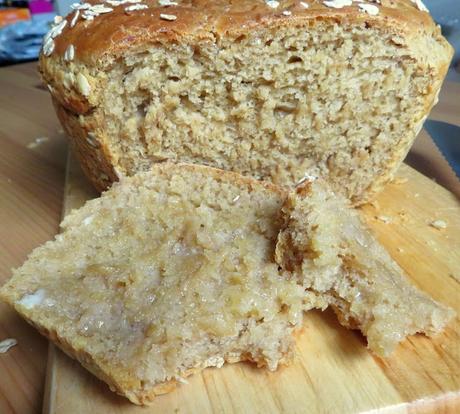 Personally, I am looking forward to having a slice this evening toasted in the toaster.  Perhaps with a thin slice of strong cheddar cheese. 
Mmm . . .  my mouth is watering already just thinking about it! I bet it will be fabulous toasted with baked beans ladled over top!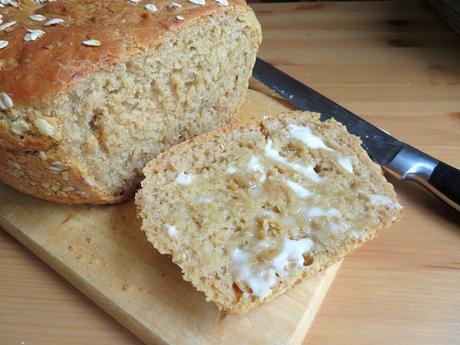 Print
Oatmeal Casserole Bread
Yield:
Makes one large loaf
Author:
Marie Rayner
prep time: 15 Min
cook time: 45 Min
inactive time: 1 H & 30 M
total time: 2 H & 30 M
There is no kneading required to make this delicious bread which gets baked in a casserole dish. You can also bake it in a large loaf tin.
Ingredients
1 3/4 cups (425ml) boiling water
3/4 cup (60g) oatmeal (not quick oats)
1/4 cup (60ml) molasses
1 1/2 tsp salt
3 TBS oil
1 tsp sugar
1/2 cup (120ml) warm water
1 package of active dry yeast (about 2 1/4 tsp)
4 cups (560g) all purpose flour
extra oats to sprinkle
Instructions
Measure the oats into a large mixing bowl. Pour the boiling water over it and add the molasses, salt and oil. Stir to combine. Leave to cool to lukewarm.
Dissolve the sugar in the warm water. Sprinkle the yeast over top. Leave to proof for 10 minutes, then stir well.  Add along with 1 1/2 cups (210g) of the flour to the oat mixture. Beat on low with an electric mixer  for about half a minute, then increase the speed to high and beat for 3  minutes. Scrape the sides of the bowl often.
Stir the remaining flour into the mixture by hand, until well blended.  Cover the bowl with a buttered piece of wax paper and a tea towel.  Leave in a warm place to rise until it doubles in size. It should take about 45 to 60 minutes.
Butter a 2 quart (2 litre)casserole dish and scatter some extra oats lightly on the bottom and up the sides. (Alternately use a 9 by 5 inch loaf tin and do the same.)
Beat the dough for 25 strokes with a wooden spoon. Scrap into the prepared dish. Sprinkle the top lightly with more oats.  Cover with a tea towel and leave to rise for a further half an hour or so in a warm place, until the dough has risen about 1 inch above the edge of the casserole/pan.
Preheat the oven to 375*F/190*C/ gas mark 5.
Bake the bread on a lower oven rac for 35 to 45 minutes until golden brown and the bread sounds hollow when tapped on the bottom. If necessary you can cover it with a sheet of foil loosely if you think it is browning too quickly, or becoming too dark.
This bread stays moist, makes beautiful toast and can be frozen.
Did you make this recipe?
Tag @marierayner5530 on instagram and hashtag it #EnglishKitchenCreated using
The Recipes Generator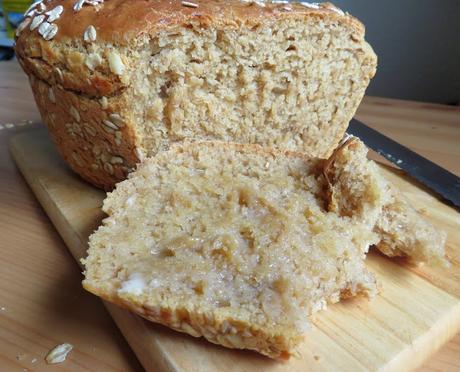 How do you rate yourself as a bread baker? Have you any skill at it? A favorite recipe? Any hints and tips to pass on. Lets share!! 
This content (written and photography) is the sole property of The English Kitchen. Any reposting or misuse is not permitted. If you are reading this elsewhere, please know that it is stolen content and you may report it to me at: mariealicejoan at aol dot com Thanks so much for visiting. Do come again!