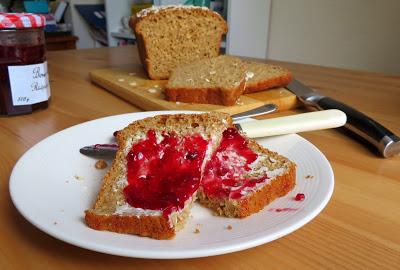 The recipe I am sharing with you today is for an Oatmeal Batter Bread and it is one I adapted from Better Homes and Gardens: 365 Comfort Foods, and I will tell you up front, this is a real winner of a recipe!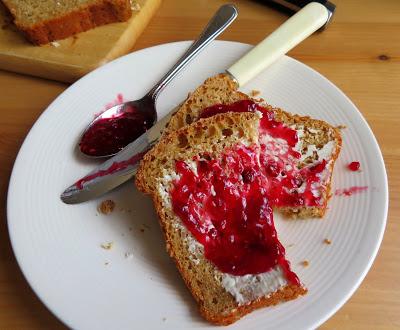 I have always had a fondness for batter breads.  They are so much easier to make than regular breads. You can make them simply with a mixer and a bowl.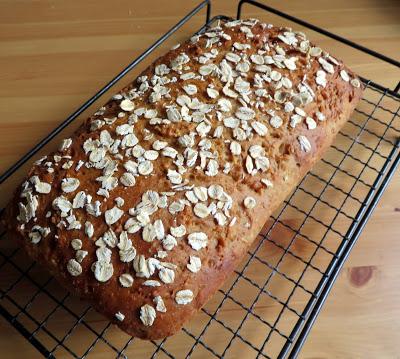 The mixer does all of the hard work of kneading and helps to create a bread that is both light in weight and in texture. Because these breads are not kneaded it is important to beat the initial batter with a mixer until it comes away from the sides of the bowl and appears stringy.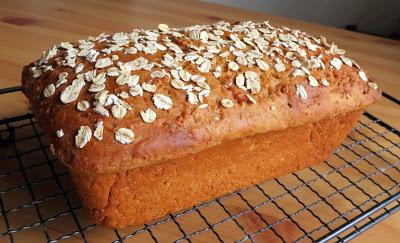 The remainder of the dry ingredients is mixed in by hand with a wooden spoon and it can be a real work out getting it all incorporated, but do persevere!  Its worth the effort!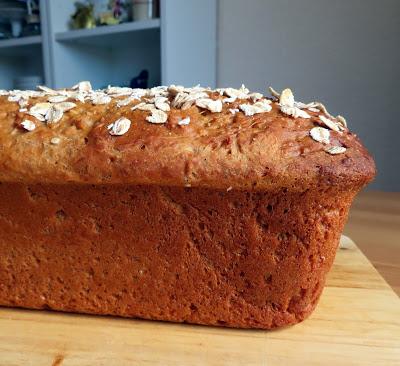 Since batter breads use less flour than regular breads, they form a batter rather than a dough and it can be a rather sticky batter!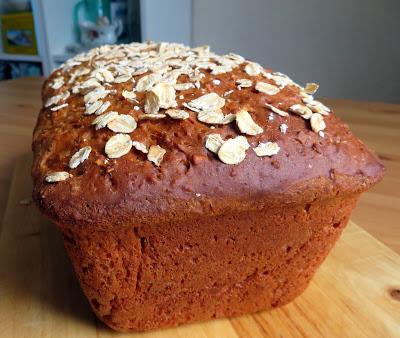 One thing I really have missed over here in the UK is the Oatmeal Bread from back home.  I adore Oatmeal Bread.  Slightly sweet, and tasting of molasses and oats, it is one of my favorite yeast breads.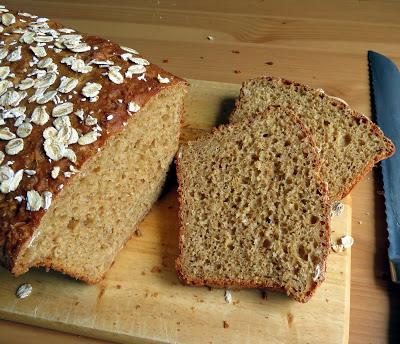 When I saw this recipe for Oatmeal Batter Bread I just had to try it!  The one kind of bread that I can make that has always turned out for me is batter bread!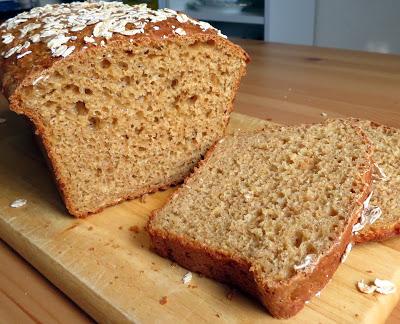 One reason I love batter breads is that it doesn't take a lot of faffing about to have success with them! I do a
Brown Batter Bread
that is pretty amazing . . . we like it with baked beans  . . .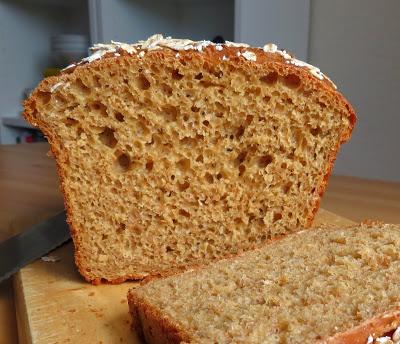 I also make some
White Batter Rolls
that are pretty darned good . . .  but I have to tell you, this Oatmeal Batter Bread bats a homerun right out of the ball park!  It is amazing! Look at the beautiful texture of it.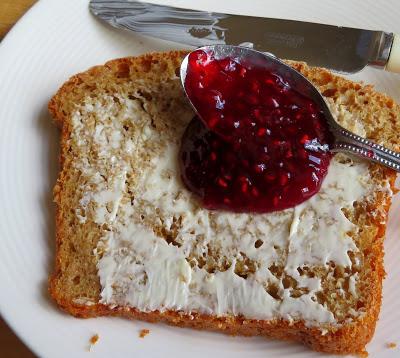 It also only requires one rising.  It rises right in the loaf tin, so it is also very quick to make.  I had this stirred together and rising in the loaf tin before Todd even got up this morning  . . .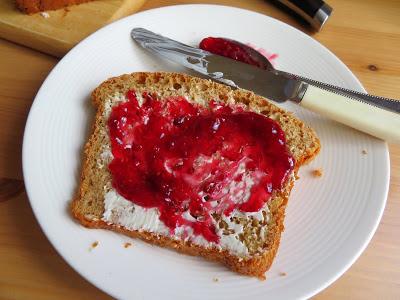 Of course the child in me cannot help but enjoy a slice of fresh homemade bread with just butter and jam on it  . . .  tis pure bliss to me and I know I will suffer the rest of the day for this small indulgence . . .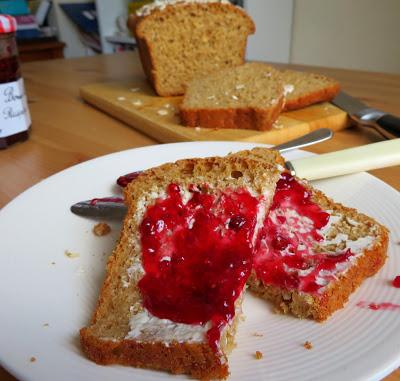 Diabetics and jam don't go together very well and I will confess . . . I do not care much for the taste of artificial sweeteners . . .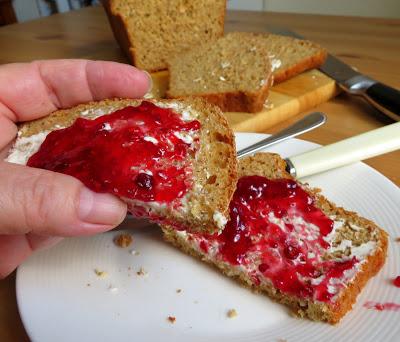 This is worth every minute of discomfort it might cause me later on, and is a rare, rare treat  . . .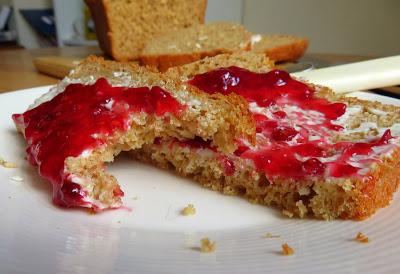 Oh boy  . . . but you just cannot beat a slice of good homemade bread, buttered and spread with a smattering of lovely sweet jam  . . .
Oatmeal Batter Bread
Print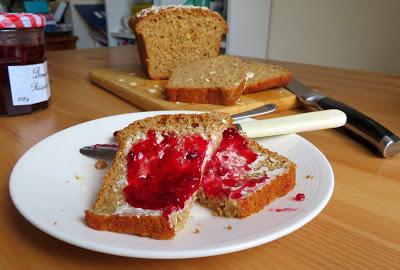 Yield:
Makes one medium loaf
Author:
Marie Rayner
This amazingly tasty bread needs only one rising and bakes up beautifully light.  Its also  incredibly low in fat
Ingredients:
240ml warm milk (whole or 2 %) (1 cup)
60ml honey or molasses (1/4 cup)
1 packet of active dry yeast (2 1/4 tsp)
245g bread flour (1 3/4 cup)
1 large free range egg, lightly beaten
1 TBS vegetable oil
1/2 tsp salt
105g whole wheat flour
50g old fashioned oats, plus more to sprinkle
Instructions:
Combine the warm milk, molasses and yeast in the bowl of a stand mixer. Stir to dissolve the yeast.  Let the mixture rest for five minutes.
Spray an 8 by 4 by 2 inch loaf tin with cooking oil spray.
Add the bread flour, egg, oil and salt to the yeast mixture.  Beat on low for a minute to combine, scraping down the bowl as needed. Increase the speed to high and beat for 3 minutes. The dough will be very sticky.
Using a wooden spoon, stir in the oats and whole wheat flour and work it in until well incorporated.  Spoon into the loaf tin and spread it out evenly.  Sprinkle more oats on top.  Cover lightly with a sheet of buttered cling film and leave to rise for an hour until double in size.
Preheat the oven to 180*D/350*F/ gas mark 4.  Bake the loaf for 15 minutes.  Loosely tent with aluminum foil and bake for a further 20 to 25 minutes until done. The loaf should sound hollow when tapped on the bottom.
This bread will keep for up to three days at room temperature, or you can freeze it for up to a month.
Did you make this recipe?
Tag @marierayner5530 on instagram and hashtag it #EnglishKitchenCreated using
The Recipes Generator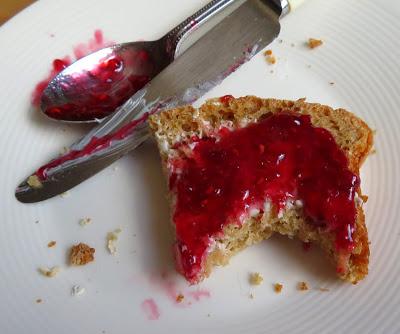 Please, please, PLEASE make this bread!  You are so, so, so going to love it!  Trust me on this.  It is truly amazing! I've truly been waiting for this bread all of my life.

Follow my blog with Bloglovin