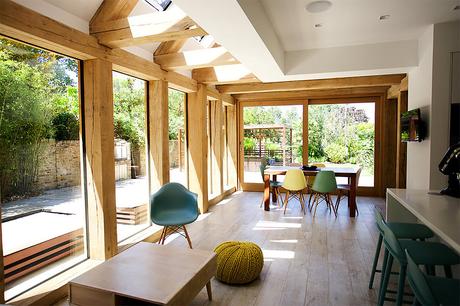 Oak frame extensions are very popular at the moment, so it's not surprising if you are interested in taking the plunge and investing in this style of addition to your existing property. However, before you begin work or planning to work with this type of material, there are some essentials you should be aware of before you start. In the following article, we will look at five that we feel are particularly important.
1. Every Oak Frame Supplier Is Different To The Next
No two oak frame suppliers are the exact same in terms of the services they offer. The decision about which oak frame supplier you want to work with may come down to just how much involvement you want in the project. There are only a small number of oak frame construction companies that offer a full encompassing, 'turnkey' style service. The companies that do, often offer different levels of this type of service too.
For example, one company may just offer the basic service of supplying and erecting your oak frame for you, while others may offer the service of building a weather-tight shell, which will allow you to manage the ground-works before it arrives and the fit-out internally afterwards. As a standard, the majority of oak companies will at the very least supply and erect the frame for you.
2. You Need To Clean Oak Frames Once They Are Erected
Once construction has been completed, oak frames need to be cleaned. This is because of the normal marks you will get from typical building procedures. However, there could also be noticeable watermarks and what is known as blue-ing, when the oak tannins come into contact with steel.
Although you may want to save a penny or two and opt to do the cleaning yourself, it may be in your best interest to let the oak frame supplier clean the frame for you as it can be incredibly time-consuming. When it comes to cleaning oak, there are a number of different options such as sandblasting and oxalic acid. Cleaning oak using oxalic acid is the method of choice for many as it is far less messy than sandblasting and ensures that the natural characteristics of the oak come through, while the detailing of the frame is showcased.
3. Finishing Is Not Required For Oak
One of the main reasons people choose oak frames over other materials is because it doesn't to be finished at all. On the outside, the wood weathers naturally to a silvery grey colour. Sometimes though, particularly if a kitchen or bathroom will be installed within the oak frame and therefore subject to high humidity levels or splashed often with water; it may be worth oiling localised areas to give the wood some protection.
4. Oak Naturally Shrinks
In particular, green oak - or unseasoned timber with a higher level of moisture - shrinks. This is because most green oak has been felled in the previous 18 months to it being used and over the course of around two years or so, it will lose some of its moisture content and shrink. This is not a cause for alarm though, because rather than weakening it, the shrinking and moisture loss actually makes it stronger and harder. As the width shrinks and not the length, there is no risk of tenons slipping out of mortices. Furthermore, splits and cracks (commonly known as shakes) have little to no effect on the structural integrity of an oak frame.
With careful planning, designing and detailing, as well as the proper attention given to the drying out process after the oak frame has been erected, the need for remedial work can be limited.
5. Work With A Designer Who Has Oak Frame Experience
In order for the work on your oak frame extension to be completed successfully, you need to find a designer that has experience working with this type of construction. It is important that they understand oak's limitations and about bays and span. Many builders and architects with more general experience are not as familiar with the detailing and execution involved in working with oak as a construction material. Therefore, if you are looking for lasting quality, you need to hire someone that knows what they are doing when it comes to oak.
An oak frame extension will undoubtedly add a touch of class to an existing home or property while giving you the additional space you need or increasing the value if you are intending on selling. That is, if you keep the tips above in mind, from the planning through to the completion of your project.