As much as I love some of my favorite restaurants, I'll be honest because sometimes I seriously just can't be bothered waiting in line. After 6 pm on a Friday and Saturday night, you will be guaranteed to be lining up outside for a table if you want to have dinner at Madang. Solution? Walk  5 meters to the right of Madang and you will find yourself a 3 level Korean BBQ restaurant, Obaltan where you will be seated and served within minutes.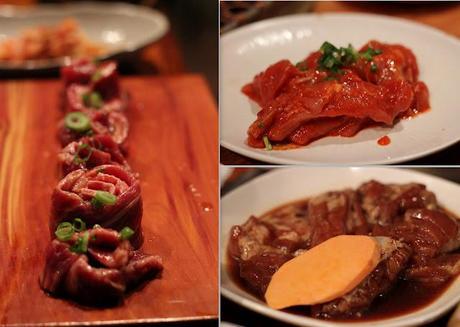 Left: Beef ribs without bones ($17.00)Top right: Marinated chicken with chilli sauce ($17.00)
Bottom right: Marinated pork ribs ($17.00)
O Bal Tan beats Madang on two aspects: 1. There is no queue and 2. They have much better ventilation. It still gets smoky inside but at least all the center smoke gets sucked into those ventilation pipes. Taste wise, I would probably say that are some what similar but you can decide on that one.

Left: Ox tongue ($17.00), Right: Meat on the barbeque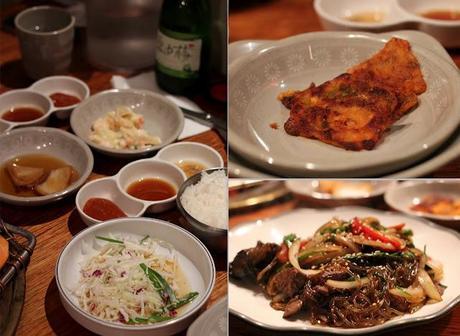 Left: Complementary side dishes, Top right: Complementary pancake (best),
Bottom right: Stir-fried vegetable with potato noodles ($12.00)
Confession time: this is
slightly
embarrassing but for me, the highlight of the night was to find out that they serve kimchi pancake as a side dish, I was seriously amazed.  Korean pancakes are one of my favorite dishes and for it to be free plus unlimited is a double win right there. I was trying to culture some friends of mine that night and the only problem was that none of us could stop asking the waitor to refill those pancakes.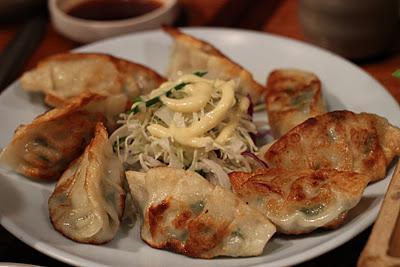 Pan-fried dumplings - $12.00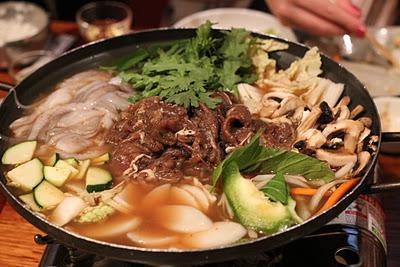 Spicy octopus, beef & vegetables with soup - $42.00
When the hotpot came, for a moment I felt that they must have thought I carnivorous because there was
so
much beef in that stew. I think there was more meat than there were noodles but in saying that, I am definitely not complaining. 
O Bal Tan Restaurant - Korean BBQ
 - 363A Pitt Street, Haymarket
Gotta go eat!!