If you haven't been keeping up with the New York Fashion Week news, then we're here to be you're guide to the season of Fall 2012! It's been an exceptionally chilly fashion week, which has put us even more in the mood for the heavy outerwear, high collars and rich fabrics that have been coming down the runway. The only problem is- we want these pieces now! Designers have pushed the boundaries to bring us unique spins on their individual labels we have not seen before. The colors, silhouettes and themes that have been presented thus far (remember, NYFW isn't over yet!) are extraordinary!
So let's take a look at ten fashion houses and their covetable Fall 2012 collections!
Rodarte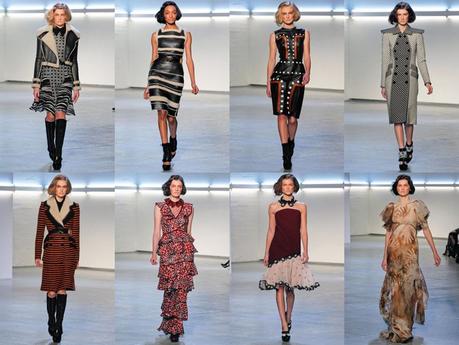 Taking a much more mature approach to their always divine designs, the Mulleavy sisters presented a collection filled with 40′s inspired silhouettes. I have come to expect romantic and feminine aspects from their collections but I absolutely adore the edgy addition of the leather and shearling!
Jill Stuart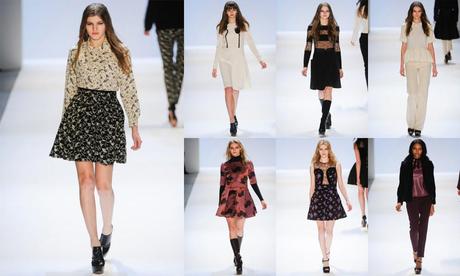 Presenting a rather light approach to fall/winter wear, Jill Stuart still managed to wow with her classically minimal runway looks. Stuart is known for designing with an ultra feminine touch and this collection did not hold back when it came to lace, ruffles, and cute peek-a-boo cutouts. It may not be totally winter weather appropriate but it sure is adorable!
Carolina Herrera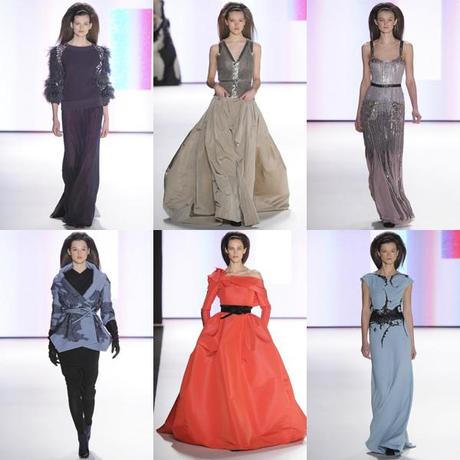 Known for her stunning ballgowns, Carolina Herrera used a cool color palette of navy, robin egg blue, ash and eggplant for her F/W '12 collection. Everything look that came down the runway was lavish and undeniably beautiful! We can see a lot of celebrities rocking these gowns on the red carpets, especially the coral number that closed the show!
Diane von Furstenberg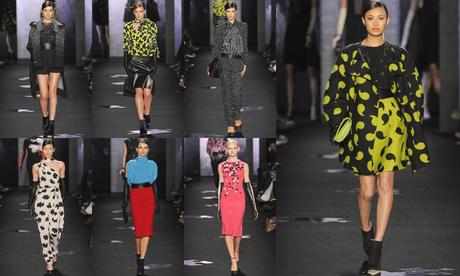 It was all about the patterns and details at the Diane von Furstenberg show in NYC this past week. Vivid colors, leather gloves and belts, and her signature print work created a collection that falls right in between playful and polished. That quotation mark belted coat? To die for!
Preen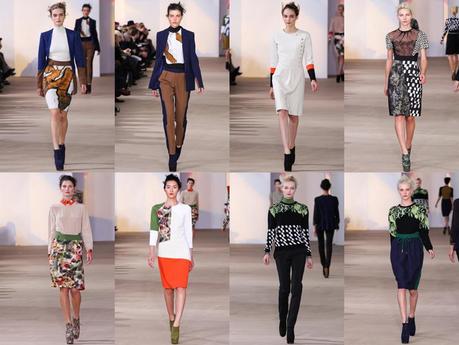 British label Preen went back to nature for their Fall 2012 collection. Inspired by botanical illustrations, the runway was filled with floral patterns, butterfly prints and bold color blocking yet still stuck to their signature minimal tailoring and silhouettes. Their use of colors and mix of florals with typical winter patterns like houndstooth make this a standout collection for me!
Derek Lam

Talk about your perfect example of classic, American sportswear! Designer Derek Lam showcased basics that have never looked better. The suiting was innovative, the dresses had an understate sex appeal, and the details were to die for! My favorite look had to be the white sleeveless chunky knit paired with the long flowing skirt- something about this ensemble feels so non-Fall that it works!
Prabal Gurung
Prabal Gurung is quickly becoming my favorite high-end designer! After presenting what was my absolute favorite collection for Spring 2012, Gurung designed an equally as exciting Fall 2012 collection. As the perfect follow up to his last runway, there was still plenty of use of metallics, psychedelic prints and fashion forward silhouettes. But the deep color palette of electric blue, gold and black made this the dream fall wardrobe!
Alexander Wang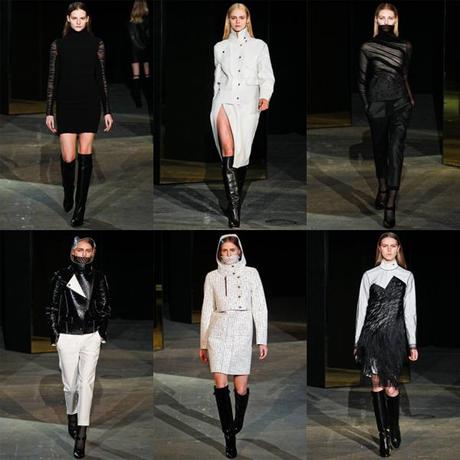 King of "casual chic" and retail favorite Alexander Wang turned out one amazing runway presentation! Going back to his roots of stunning basics, Wang added a bit more polish to this collection. The shirred chiffon details and spectacular outerwear has made my must-have list! Even with mostly black and white on the runway, Alexander Wang has once again proved that less is more!
Marc Jacobs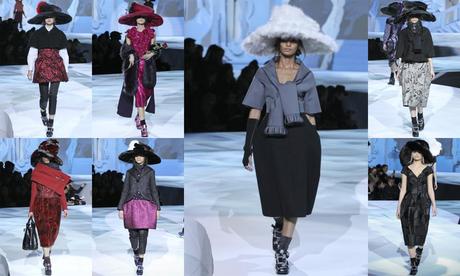 After teaming up with milliner (hat designer) Stephen Jones, Marc Jacobs decided to give his Fall 2012 collection a "Mad Hatter/Alice in Wonderland" theme! The whimsical play on proportions contributed to the fairytale theme and the floral patterns broke up the heavy silhouettes to keep it typically Marc Jacobs.
Oscar de la Renta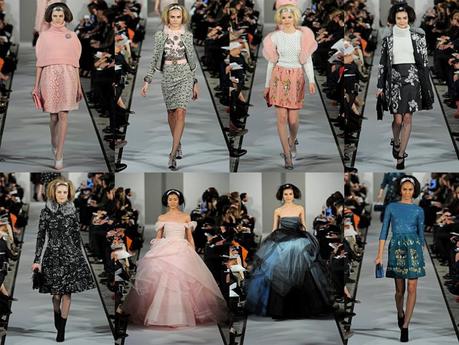 I have always liked Oscar de la Renta, but this collection was by far the most show-stopping, breathtaking moment of NYFW! Known for evening gowns and more mature looks, this season was designed in a jovial color palette of sky blue, powder pink and greys. The layering was done so perfectly, you could easily wear these pieces individually and they all are seasonally appropriate. The two voluminous ballgowns at the end of the show are divine! Fingers crossed someone arrives to the Oscars in one of them!
So what do you think of the Fall 2012 breakdown so far? Keep checking back for more fashion week news, as we still have Paris, London and Milan fashion weeks to look forward to once NYFW is over!