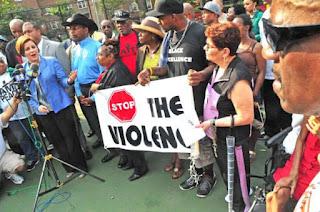 The Daily News reports
In fact, there were fewer shootings in the city this summer than at any time since 2004.
The number of incidents rose from 135 in June to 189 in July — a 10-year high that included multiple shootings on streets and near playgrounds. But then, the count dropped to 147 last month.
Similarly, the number of victims increased from 171 in June to 233 in July, among them 4-year-old Lloyd Morgan, caught in crossfire near a basketball game, and 14-year-old Kemar Brooks, struck by a bullet as he walked home from playing tennis.
But in August, the number dived to 182.
While the number of shooting incidents was unchanged for the first eight months of 2012 as compared with a year ago, the number of victims decreased from 1,294 to 1,265. And so far this year, the number of murders is down 16% from last year, from 365 to 306.
Meaning New York — despite too many tragedies that strike at the hearts of all who live here — is still one of the safest big cities in the country.
What's your opinion? Please leave a comment.