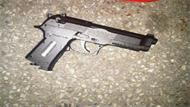 I think I'm starting to get it. It's OK for us to allow our young children to play with guns, but when they get a little older they should stop. Is that about it?
Investigators say they've recovered a fake pistol from the scene of a police-involved shooting in the Bronx early Friday morning.The New York City Police Department says the incident began at around 3 a.m. when officers went to check out a fight near the intersection of Grant Highway and Jerome Avenue in Highbridge.
Upon their arrival, officers saw a man pointing what appeared to be a 9-millimeter hand gun at a crowd of people outside the Cocoa House club.
Police say the man, identified as Mamadou Balde, 21, was shot when he refused to drop the weapon.
He was hit three times. The gun was later found to be a fake.
Here's a question. Does anyone really believe the cops told him to put the gun down? Wouldn't pointing a gun at a crowd of people be enough reason to shoot him without first giving him the chance to change his mind? Wouldn't time be of the essence in a case like that?
I think they blew his ass away, or at least tried to, at the first possible moment. Then, being so adept at covering up their wrong actions with lies, they added that part about his refusing to put the gun down. Don't forget, in other cases it's "reaching into the waistband" or "raising the gun" that is the determining factor in lethal threat. What, in this case he was pointing the gun at people and they tried to negotiate with him?
Here's the only hope I see, since no one wants to ban toy guns and the trigger-happy cops are inveterate. In another year or so they'll come out with a new technology. It'll look like the night-vision goggles but be equipped with that Terminator-type computer scanner. This equipment will tell the cops if they're dealing with a toy gun or a real one. Then there will be no more excuses.
What's your opinion? Please leave a comment.