If this doesn't make you want to start baking your own breads, nothing ever will…close your eyes,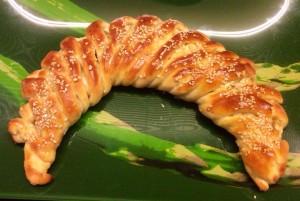 imagine this on your table and now rush into the kitchen..get baking!!
Recipe : 
Ingredients:
For the Dough : 
Flour 250gms
Salt 1 pinch
Butter 4Tbsp
Sugar 4Tbsp
Dry Active Yeast 1Tbsp
Egg Yolk 1
Milk 3/4 Cup or as needed
For the Filling:
Roasted and crushed nuts of your choice and soaked raisins mixed with honey
For the Topping:
Egg Wash,Sesame seeds
Method :
Take a bowl ,add flour, salt , yeast , sugar, butter and egg yolk.
Now slowly add warmed milk and make dough- you may need more or less milk as mentioned in ingredients.Make a soft dough and kneed it with u palm for 10 minutes to make it smooth .
Let it rise for 1 to 1 and half hour, till its doubled in size.
Punch it to take out air . Roll the dough into a rectangular shape .
Spread the filling in center and cut stripes from both the sides leaving center portion. Now start braiding from left to right and right to left ….
Give egg wash and sprinkle sesame seeds and bake it in preheated oven for 12-15 minutes at 180 degree Centigrade.
Note: you can do filling of cheese , spinach, paneer, onion, mushrooms, shredded chicken, fish … Any filling of your choice.
-Courtesy Roopam Baijal