This post may contain affiliate links. Please read my disclosure.
Nutella Donut Acorns are a playful and fun treat that everyone is sure to adore. Decadent donut holes, chocolate sprinkles, pretzels, and rich, creamy Nutella give you an insanely good dessert for any occasion. Easy to make and ready in 15 minutes!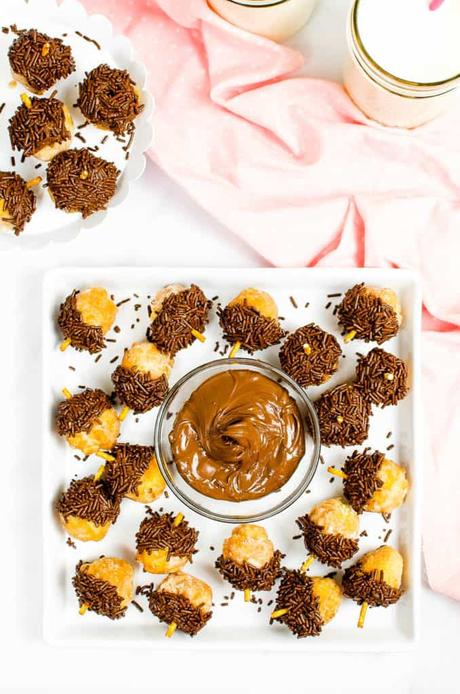 For the most part, we try to eat super healthy, but every once in a while, we will have a tasty indulgence. This is my recent splurge, and let me just say they are magnificent. In addition to satisfying your sweet tooth, they are fun, festive, and great for fall weather.
Fall is an ideal time for sweaters, football games, tailgating, and enjoying yummy food with friends and family. If you take these adorable Nutella donuts to your next get together, it's safe to say everyone is going to rave about them!
Tools and Equipment You'll Need
Ingredients You'll Need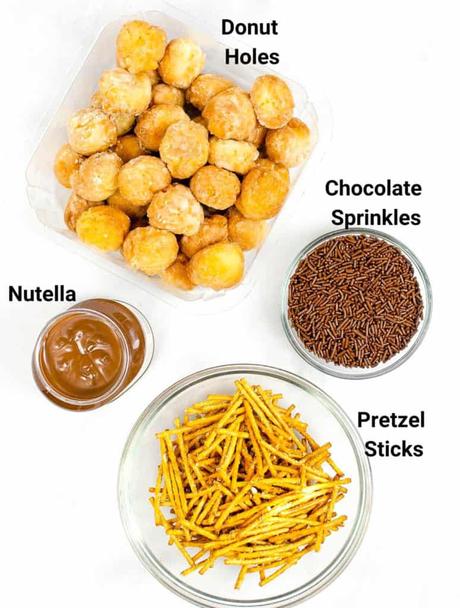 Step By Step Instructions
Step 1: Take a donut, and smear Nutella across the top half of each donut.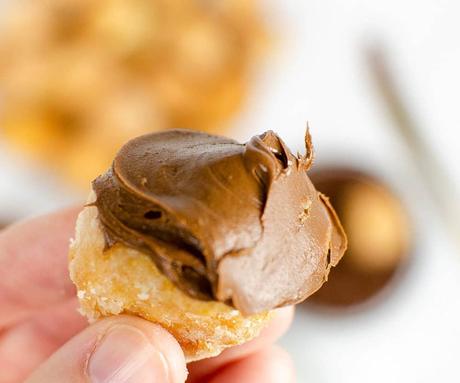 Step 2: Dip in twist in chocolate sprinkles. Make sure the Nutella is covered with the sprinkles.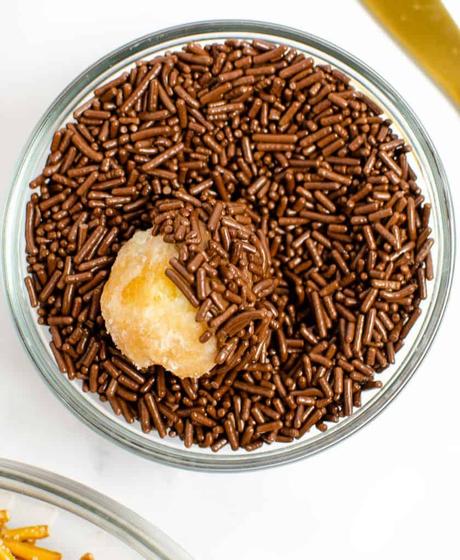 Step 3: Take one of your broken pretzel sticks, and stick in the center of the top of the donut where you have your Nutella and sprinkles.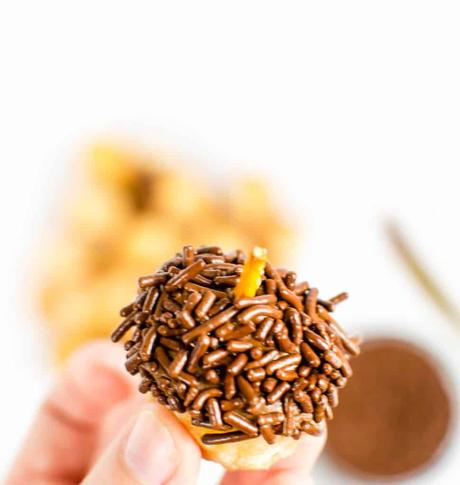 Step 4: Serve and enjoy!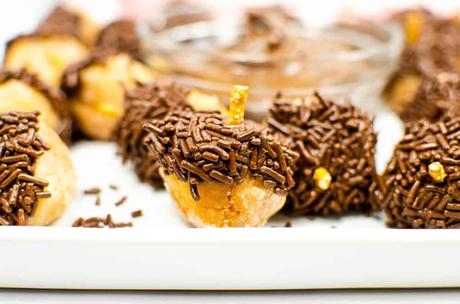 Will Kids Enjoy These Nutella Donut Acorns?
Oh, yes, you will see kids smiling from ear to ear when they lay their eyes on this Nutella donut dessert. They will be fascinated by the fact that they do actually look like little acorns. Their fingers will be happy to start digging into the sweet Nutella on top and chomp on the sprinkles.
Not only will the kids love to eat these Nutella donuts, but they would also enjoy making them. Get them into the kitchen with you, and they are sure to have a blast. Even toddlers can help by adding the chocolate sprinkles or adding Nutella on top of the donuts. Just know it might get a little bit messy, but that is half the fun.
But, you don't have to be a kid to enjoy these Nutella treats! They are impressive to adults too, and they even make you feel like a kid again because they are so fun.
Nutella Donut FAQs
Can You Make These Donut Acorns in Advance?
While they can be made in advance, they aren't going to be as tasty as if you ate them the day they were made. The problem is that the donut holes tend to dry out after they have been prepared. You could make them 24 hours in advance, but understand they may not be as good as they are fresh. I wouldn't go any further than 24 hours though, because they won't be at their best.
How Can I Store Leftovers?
If you do have leftovers or want to make them ahead of time, keep them in an airtight, sealed container. You don't want any moisture, air, or heat to reach them. Keep them out of direct sunlight, away from your steamy dishwasher, and away from your stove for best results.
Do I Need to Heat Up The Nutella?
No, it's not required to heat up the Nutella before making the donut acorns. If you find that the Nutella isn't spreading well, you could put some in a bowl and microwave it for 15-20 seconds. Stir and try to add it to the donuts. You don't want it to be completely melted, or it's going to run down the sides of the donuts and not be as pretty.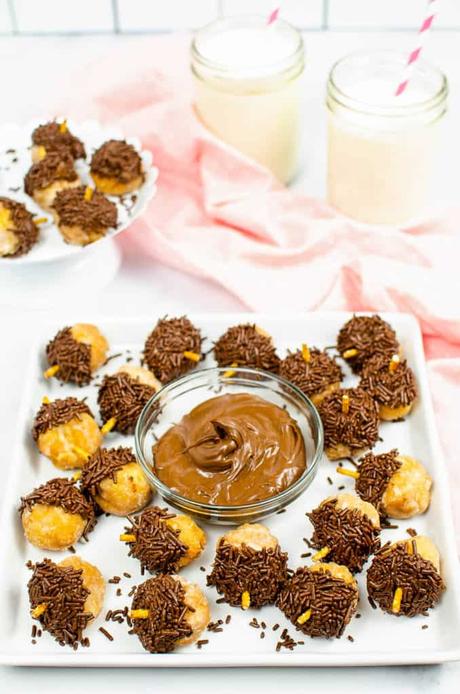 Variations for This Recipe
If you are feeling extra playful, add a layer of peanut butter, just underneath where you put the Nutella. It's a tasty combination and gives you a punch of protein too.
If you are looking for something a little less processed than Nutella, but still has that Nutella-esque flavor, try one of these healthier nutella alternatives)
You can use different candies on top if you don't have chocolate sprinkles. Anything that is small and brown or fall colored would work. Mini-chocolate chips would be a fantastic option and taste great too. Another fun idea would be to use red, orange, and yellow sprinkles or mini M&Ms.
Use any flavor of donut holes to give yourself a variety. You can also make donut holes at home if you want to go the extra mile!
If you love nuts, crush up some peanuts, walnuts, pecans, or pistachios and add them to the acorns. Adorable and delicious too.
Top Tips for Making Nutella Donut Acorns
Never use day-old donut holes. They are going to be dried out before you even start and they simply won't taste as good. Aim for fresh donut holes from your local bakery or you could even make homemade donut holes.
Don't be afraid to add your own spin to the decorating. It's meant to be an amusing treat that is a blast to assemble.
This Nutella donut recipe is also great for gifting to friends and neighbors. Add them to a platter or box with some fall ribbons for a special gift.
If you want to lower the sugar slightly, use 1/2-3/4 cup of Nutella and 1/4 cup of sprinkles instead! You'll still get that "acorn" look, but will be able to save on some of the sugar and calories.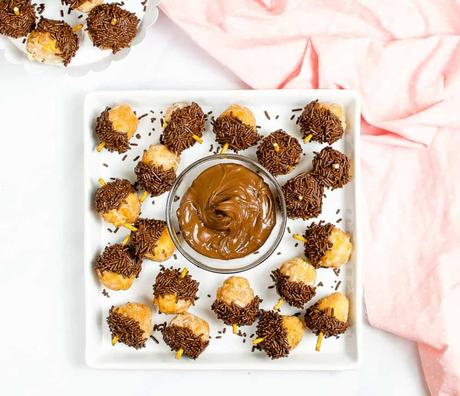 If you have tried this Nutella Donut Acorns recipe or any other recipe on my blog, then please rate it and let me know how it turned out in the comments below! You can also FOLLOW ME on
FACEBOOK
,
TWITTER
, INSTAGRAM and
PINTEREST
to see more delicious, healthy, family friendly food!
Check Out These Other Incredible Dessert Recipes!
Nutella Donut Acorns