Call me blur, but initially I thought there was only maternity dresses. I didn't exactly know that there were nursing dresses in the market (cos in my Mum's time, breast-feeding wasn't the popular option). So when I first knew about nursing dresses, through snooping around websites of cos, I had this cost-saving thought "Could we just have nursing dresses that also double up as maternity dresses?"

I quickly realised the answer was probably no after checking the designs of my nursing dresses. It really depends on the cutting, but most of the time, the priority isn't giving you extra tummy space but the ease of accessing the boobs. By now, I have enough energy to be excited about new clothes again, so here's me flaunting my new shape to the fam!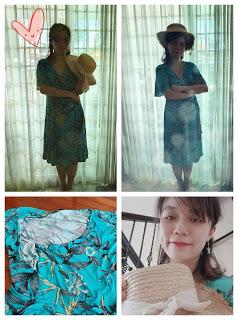 1. Turquoise Wrap Nursing Dress with Buckle (MYR59)
I tried out 2 different type of openings for my nursing dress, this was the wrap version. My Mum is not too big a fan of this cutting cos wardrobe malfunction are more likely to happen if you fail to wrap your top tightly after "milking".  I personally find it quite easy to access both boobs and you can easily adjust the tightness. A boob flash in my opinion is quite an ungrounded fear. 
This dress has a very vacation vibe which is exactly what I need during this lock-down. My cabin fever has been driving me nuts. By right, I should be on my babymoon so I decided to style this as though I was on a vacation. The material is very breezy and if you are looking for a piece you can double up as a maternity dress, this is a good choice!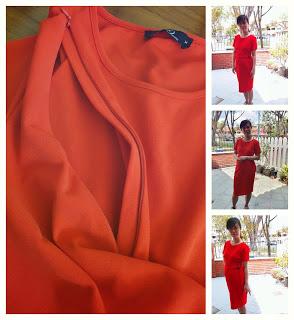 2. Red Draped Nursing Sheath Dress (MYR84.50)The second piece I got was a little bit more corporate like. I wanted a red festive looking piece because you never know when the occassion calls for it. This used a zip opening, which is more secure than the wrap version. But I do find this cutting a little harder to access the other side of the boob. Definitely, this is not a piece for the third trimester. Even though the material is slightly stretchy, it is not meant to accomodate an enlarged tummy. The material is a lot thicker and warmer but I guess if you will be in an air-con room most of the time, it is fine.
So if you are observant about the currency, you will noticed these pieces are in Ringgit. They are from a Malaysian brand - 9 Months Maternity. They are also on Zalora, but the prices are a lot more attractive if you go direct and you also have a better selection of their pieces (which includes nursing bras, maternity dresses etc.). The only down side is that you will have to get your sizing right as returns might be a little more troublesome, but to be fair, their measurements are quite accurate so you can definitely go direct. To make the deal sweeter for you, quote "ChaaYen" and you can get 15% off for the regular items!