Guilty as charged, I'm an over-anxious auntie-to-be!

We just recently found out that my younger brother and his wife are having a boy, and we are so very excited for them! So now comes the fun part: planning the nursery. Of course I wanted to help with it (even if they hadn't asked for it – duh), keeping in mind some key wish list items:
*My sis-in-law was inspired by a nursery on stella & henry to do a wall of large gray/white stripes;
*My brother is insistent on having a fish tank in the room (and I found a very cool mod fish hotel from Crate & Barrel);
*They both wanted to include some element to represent my family's Japanese heritage;
*And I wanted to be sure to include something from our childhood in Hawaii (I lucked out with a customizable 1980′s Hawaii license plate!).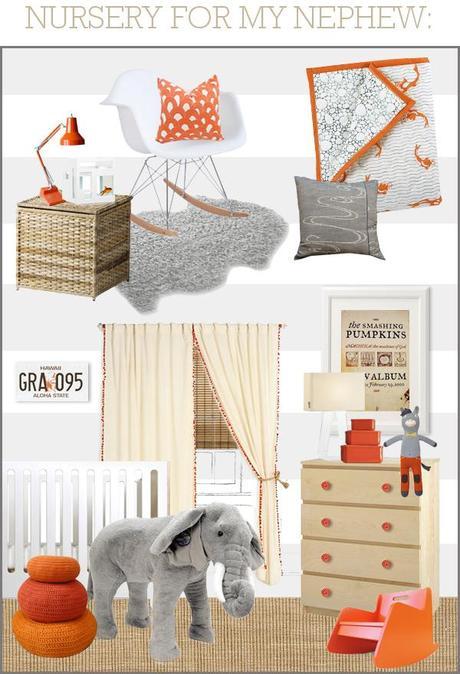 To give it a modern base, I went with a white crib with birch side panels (although any basic white crib would work well), a curved acrylic base lamp from Room & Board, these orange tins from West Elm, a fun orange mini-rocker, a Trina Turk throw pillow (that reminds me of a Japanese mountain pattern), and an old stand-by, the Eames rocker in white (knock-off).
But I'm a big believer in mixing new with old. Here, I've used a vintage orange task lamp, refurbished painted knobs on a standard IKEA dresser, and a pillow made from vintage Japanese Kimono fabric.
I also love to mix softer and more organic elements into a clean contemporary design, such as the orange crochet poufs, the pom pom curtains with standard bamboo blinds, a bla bla doll, a gray sheepskin rug, an oversized stuffed elephant toy, and the banana fiber woven chest that doubles as a side table.
Did you know that fish kites are hung outside the homes of Japanese families on Boys' Day every year (May 5th) to represent the number of boys in the household? I thought an accent such as a fish crib bumper or blanket would be a nice nod to that tradition.
To top it all off, I needed to be sure to include my brother's all-time favorite band somehow, someway. Framing a Smashing Pumpkins concert poster would be perfect to remind them of the countless performances my brother dragged my sis-in-law to through the years.
And stay tuned for the baby shower I'm planning! Lots of fun in store even before the bebe is born.
For those on Pinterest, you can check out my board here for more fun products.
Have a wonderful weekend! I think I'll be catching up on sleep. ;o)