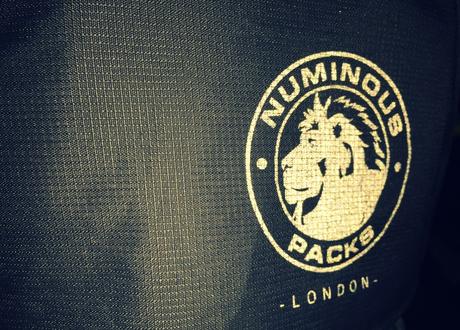 I love packing for trips. Ask anyone who really knows me and they will verify that I spend weeks packing for trips, even more time for really big adventures.
For me, packing is part of the exciting anticipation leading up to trips. Plus, I want to be sure when I hit the road I have everything I need, and definitely never too much. But it can be extremely difficult to find the right luggage, especially when I'm packing for the whole family. We need luggage that is easy to carry, holds a lot, and is durable. Finally, as we begin taking bigger adventures abroad, anti-theft technology is something I've started to look for in luggage.
So when my friends at Earth Easy contacted me about giving their line of new anti-theft travel backpacks a try, I jumped at the opportunity.
The first thing I noticed when taking the packs out of the box is how durable the fabric is. These guys are not messing around.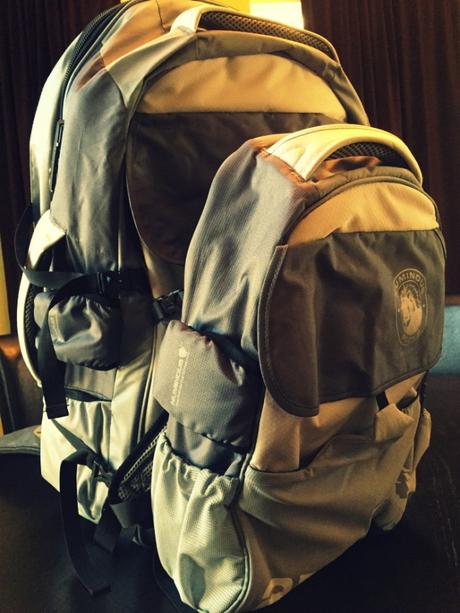 The Numinous anti-theft travel backpacks are specially designed with Kevlar anti-slash fabric and two individual locking devices.
On our recent adventure in Mexico, when we arrived we discovered that our in-room safe wasn't functioning properly. Instead of stressing about leaving passports and electronics unsecured in our room, we stuffed everything into the daypack, locked the pack and then strapped the bag to the frame of the closet. While a very determined thief probably could have figured out a way to get inside the bag, most thieves are simply opportunistic, grabbing what they can if it's available.
Having the ability to secure anything at any time was a great feeling.
Here's how the zipper lock works. First, you set a unique passcode for the zipper lock. Then, simply push the zipper pulls into the lock slots and scramble the passcode. Now, your contents are safe inside of the pack.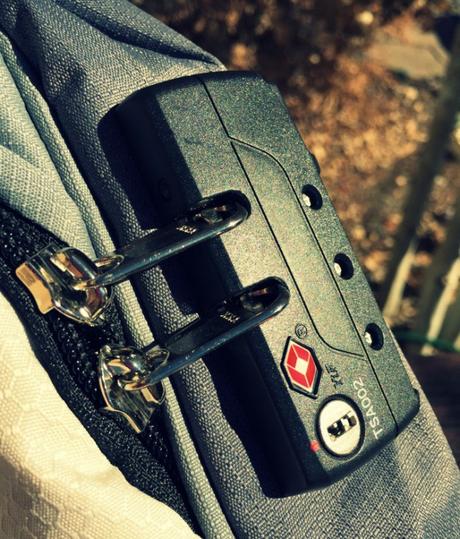 To prevent your pack from being stolen, use the retractable combination lock system. Again, you set the code combination to something easy for you to remember. Now, pull the cord out and loop it around something secure. Now, no one can steal your pack!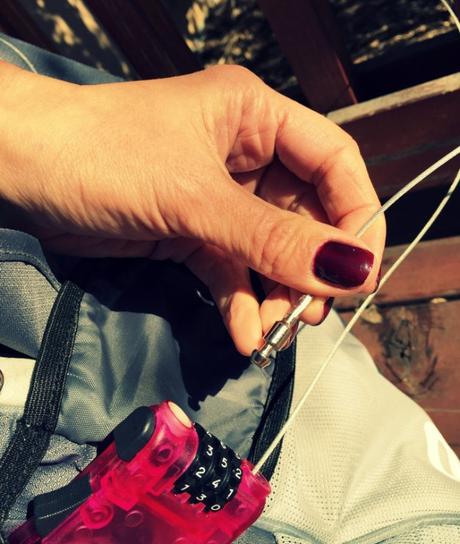 One of my other favorite features of the Numinous anti-theft travel backpack is the mesh pocket on the outside of the bag. This was perfect for storing water bottles and anything else my kids happen to hand to me.
Finally, this small day pack easily straps onto the larger 55L or 65L anti-theft travel backpacks from Numinous. This makes it particularly easy to carry both packs if you happen to be traveling solo. My husband and I are planning on taking two sets of these, one large pack and one day pack, to Central America this summer.
My only complaint was that one of the inside pockets, the one where I was storing passports, ripped after only a few days of use. Given the durable construction of the rest of the pack, I was surprised at this significant tear after only light use. The company tells me this was a known issue and the new packs for sale online have double stitching on this inside pocket to ensure this doesn't happen moving forward. It's clear that Numinous has listened to the needs of travelers and users of their packs over the years. By paying attention to what travelers are looking for, and making continuous improvements along the way, they have crafted an amazing travel bag!
If you're looking for a durable day pack for international travel, be sure to consider the Numinous Day Pack!
Want more? Check out this super-powerful solar-powered travel light!
What is your go-to travel pack? Tell me about it!

Fill out my online form.