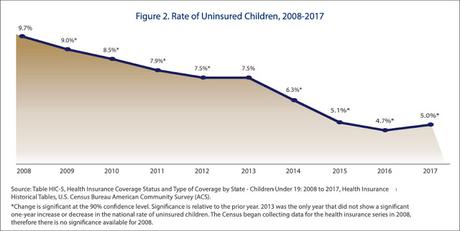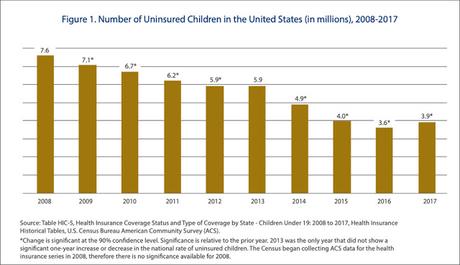 Throughout the years of the Obama administration, the number of uninsured children steadily declined -- from 7.6 million in 2008 to 3.6 million in 2016. This was largely due to the passage of Obamacare, the expansion of Medicaid in many states, and the protection and funding of the CHIP program.
There was no reason why that decline shouldn't have continued. Unfortunately, it did not. In the first year of the Trump administration the number of uninsured children rose significantly -- from 3.6 million to 3.9 million (from 4.7% to 5% of this nation's children). No state had a decline in the number of uninsured children, and three quarters of the increase in uninsured children came in states that have not expanded Medicaid.
The state with the most uninsured children is Texas. Currently 10.7% of Texas children do not have health insurance -- growing by 83,000 in 2017 to a total of about 835,000 children. That's 21% of the nation's total uninsured children -- far more than any other state. Florida and California had 8% each, and Georgia had 5%.
These numbers are from a new report by the
Georgetown University Health Policy Institute.
Why the rise in uninsured children? here's what they said:
The most likely culprits, per the report: 
The Republican pursuit of Obamacare repeal and their success in repealing the individual mandate.

The Trump administration's regulations that undermine the health care law.

Congress allowed an unprecedented lapse in funding authorization for the Children's Health Insurance Program.

President Trump's immigration crackdown: Nearly 1 in 4 children in the US have a parent who is an immigrant, and we have strong evidence that an unwelcoming environment for that population leads them to pull out of public programs similar to CHIP and Medicaid.