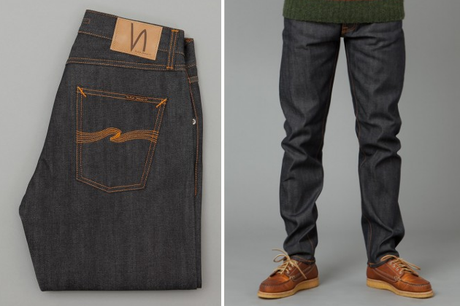 Every man seems to own at least one pair of go-everywhere jeans that they just can't throw away. No matter how frayed the denim is, how tatty the cuffs have become, that staple pair just can't be replaced.  Or perhaps you still haven't found a pair to call 'the one' just yet. Either way, the right jeans are not that easy to find.
The perfect fit may seem like an urban myth but the truth is, a good fitting pair of jeans is usually worn and moulded to your body after several wears. This is the Nudie mentality.  The creators behind Nudie share the emotions of any many who – in their own words – "mourns a worn out pair of jeans like the passing of a close friend". It's definitely no trivial matter.
Whilst they believe that jeans should be worn in to fit and mold to your body, they have also created some Nudie jeans to suit the Jims, Tims and average Joes of this world. The question is: which of the latest Nudie Jeans for men are for you?
It's time to meet the nudists…
Average Joe
The Average Joe denim range from Nudie is hot on comfort; 11.5 oz of stretch denim to keep you as free and comfy as possible. Made to a regular straight leg fit, these jeans are suitable for the Joes of the world, moulding to almost any body shape and leg length.  These jeans are designed to do exactly what it says on the tin and the Nudie designers like it that way.
Grim Tim
This indigo denim is cut to a slim-straight leg, giving a slightly more defined and longer look than the Average Joe.  If Average Joe is just a little too average for your taste, Grim Tim could be a great way to lengthen your body.
Thin Finn
Carrot fit has become one of the trendiest cuts for men in recent years. But it doesn't suit everyone. This slim cut features a tapered leg which suits longer, leaner bodies. If you're a man with stumps rather than ladders, you're much more suited to the Average Joe.
Hank Rey
Now this is far from average but still features the same regular fit as Joe. Tapering down from the knee, this denim adds extra depth to your look and gives a little added 'oomph' to your lower yoke. This jean features give pockets, a button fly and 100% 12.5 oz dry denim.
Check it out
Guest Post Bio: Charles Hammerman is a freelance fashion writer based in the UK, who passion for writing about designer clothing and men's style.