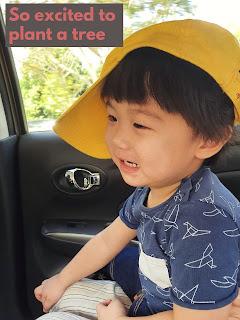 As a family, we were pretty lucky to get a slot to plant a tree under the OneMillion Tree Movement. It was our first time planting and we had no idea what we were in for. All I knew it was pretty cool to bring my toddler to experience it. Here's some tips to make your planting experience better.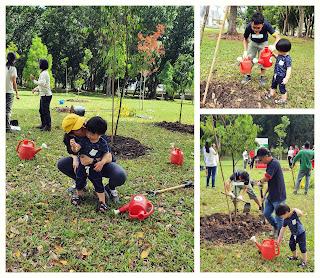 Bring as many people as possible. Tree planting is hard work. Initially Nparks restricted us to 2 pax. As I was expecting and had a toddler in the tow, Nparks was really accommodating on the day itself and allowed us to swap our men in the family to do the hole digging instead. You literally do all the work, this is not a for photos only sort of moment. 


Involve the family. I think it was a lot more meaningful because the family was there. Imagine it was me and my kiddo with the stroller. I don't think I would have made it there and we would definitely have a lot less fun.


Be punctual and present. There was someone who did not turn up in the end because she forgot about it. So there was this tree which was left hanging and the NParks people planted it themself. I dono whether the person was genuine in the excuse but the chance could have been given to someone who would cherish the experience more. 






If you bring a toddler, bring an extra pair of hands. To be honest, this is not entirely child-friendly. There were shovels and my kid watered 6 watering can of water on the grass. My Mum and I basically looked after the kid most of the time. NParks was very welcoming towards him though. He definitely had fun too. 


You can't tie stuff on your tree to identify it in future. I actually brought along 2 ribbons for it. Haha. In the end, I just took a photo of the nearest lamp-post and a few photos to mark our tree. We are definitely coming back to see it in 10 years time to see it tall and sturdy. 


Wear sports wear, covered shoes and a cap. Bring sunblock too. We were lucky the weather was pretty good that day. There were quite a bit of red ants around the grass (nature, what you expect) and my son freaked out a little. But after a while he sort of got used to it and was running wild like a Tarzan. Hehe.