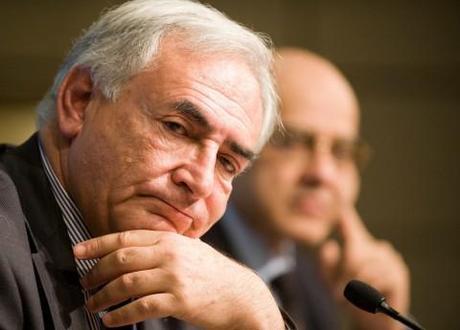 IMF chief Dominque Strauss-Kahn, . Photo Credit: International Monetary Fund
Dominique Strauss-Kahn was the Managing Director of the International Monetary Fund; a man with the ear of French President Nicolas Sarkozy, and one hotly tipped to win the next presidential race in France for the Socialist Party. In May 2011, he was arrested and charged with sexually assaulting an African maid, Nafissatou Diallo, from Guinea, who had entered his hotel suite in New York. He resigned as head of the IMF, and entered a plea of not guilty, denying all charges.
On 22 August, the New York District Attorney moved to withdraw the charges because of the unreliability of Diallo's statements – "she has not been truthful, on matters great and small", said the prosecutors – and the inconclusivity of the physical evidence. The court agreed. Now, in an unequivocal recommendation, all charges have been dropped. The dismissal states that "evidence establishes that the defendant engaged in a hurried sexual encounter with the complainant, but it does not independently establish her claim of a forcible, non-consensual encounter." Diallo had told lies about an earlier rape claim.
Dominique Strauss-Kahn (known universally as DSK), who has been kept under house arrest in Tribeca, has now been given back his liberty, whilst Diallo may face perjury charges.  She still maintains that DSK forced her to perform oral sex, after she'd fought off an attempted rape.
"No man, no matter how much power, money and influence he has, has a right to sexually assault a woman. We are disappointed that District Attorney Vance apparently does not believe in equal justice under the law and has denied an innocent woman a day in court," said Kenneth Thompson, Diallo's attorney.
It won't be easy. It's a drama with "more twists than a French plait," said The Economist. Many are worried it will scare off victims from pressing charges, whilst the French are "scandalised" over the wrecking of DSK's professional life. So what's next for him? In France, he'll meet "a mixed reception." Many French people thought his arrest was a conspiracy: the convenient timing meant he could not enter the Presidential race. He himself had confessed that he was liable to being trapped. With people indignant, too, at seeing DSK do the "perp" walk, sympathy for him could easily revive. But things won't be easy – Diallo's launched a civil case against him, which could "hang over him for months" as, reported Associated Press, it could take two years before it gets to trial.
"This is the end of a terrible and unjust ordeal. I'm eager to return to my country," said DSK.
Trouble at home. There are allegations against him in France, too, continued The Economist. Tristane Banon has accused DSK of attempted rape; her mother has described a "consensual but clearly brutal" encounter in 2000. This may be too much "even for the famously tolerant French." What he'll be most likely to do is play "a sort of elder statesman". But we're likely to see a "frenzy of backroom maneouvring" over DSK's return by the Socialists, to minimise risk to the party.
"He's still a guy who had a sexual encounter with a maid at noon in a luxury suite before having lunch with his daughter and flying back to his wife,"  Sylvie Kauffman, editor of Le Monde, told the New York Times
It's the filthy lucre, not the lusty filth. Don't believe it – DSK won't be able to take up his career again, said Anne-Elisabeth Moutet in The Daily Telegraph.  The French can tolerate a lot, as long as politicians are discreet. But it's not about the sex – it's the lifestyle. The public are hearing about this Socialist's "vast wealth" – his heiress wife, expensive meals and the "$600 pasta dinner (with truffle shavings) at Madonna's favourite Italian bistro". Of couse the sex has "had an impact", and DSK's reputation has "taken a battering", with a series of revelations including DSK's visits to swingers' clubs. The way people have come to his defence, you'd think it was "sponsored by his Socialist rivals", as they portray him as a "'homeles, harsh exile'" playing on his iPad. If they think this will turn public opinion towards him, "it doesn't seem likely."
Terms of engagement. Anne Daguerre in The Guardian said that much remains to be told. But the affair has "changed the terms" when it comes to "acceptable conduct between men and women, especially where there is a structural inequality of power." French women were told to keep quiet "when they felt harassed." France hasn't seen media coverage of a sexual harassment case with a major public figure since 2004, whilst it happens all the time in America. Now we can hope for French politicians to expect similar scrutiny – even though "old Gallic machismo dies hard", with  a left-liberal journalist calling the DSK case "troussage de domestique" – "skirt-lifting with a servant". Feminists are divided too, with some championing Diallo, and others condemning "hasty conclusions." Some fear that the case "may hurt women" – will female accusers "ever be believed?" DSK felt he was never given "a presumption of innocence". But his reputation is in tatters. That he can be a presidential candidate is "fantasy". Sarkozy's luck has held.
The plight of rape victims. Joan Smith in The Independent said it's not surprising that charges against DSK have been dropped: it's surprising that he was charged in the first place. The chances of men accused of rape going to prison are "always low." Department of Justice figures in the US show that only 2 per cent of rapes reported result in imprisonment. The reason is simple: rape victims must have "unimpeachable conduct". At the start, prosecutors "clearly believed" Diallo's story – DSK's semen, and Diallo's distress supported her claim. The prosecutor, Vance, has based his decision on lies that Diallo told on arrival from Guinea. This isn't uncommon amongst asylum claimants. The implications of this are "alarming." Are we to believe that anyone who lies on an application form can't be considered a good witness? Sexual predators often choose women who are vulnerable, and less able to make good witnesses. Double standards are at work, too – how can DSK stand for President without his past being examined equally ruthlessly? It could be that DSK is the victim of slander by two women. Or he could be a sexual predator. We'll never know for certain that "Diallo wasn't the victim of a serious sexual assault."
"Dismissal does not mean he is innocent, simply that the district attorney doesn't believe the case can go to trial," observed a French lawyer, Pierre Hourcade.