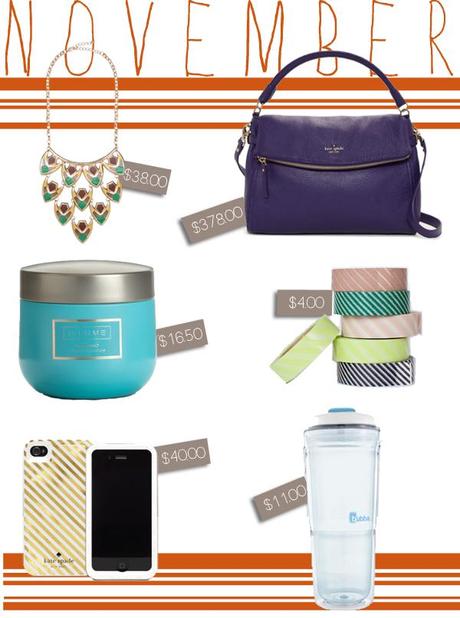 Hey gang…welcome to November! It's my birthday month, so it is only fitting to start the entire thing off with a list of November Necessities, right?
1. Sierra Petal Bib from Bauble Bar ($38.00): Need to treat yourself? Order something from Bauble Bar. The gems are high quality (without the price-tag) and they arrive at your doorstep beautifully packaged. I love this fun statement shape and combination of teal + purple. It's sure to look stunning with all of your holiday dresses.
2. Kate Spade Cobble Hill Little Minka in Dark African Violet ($378.00): Drool. I love the shape of this bag and obviously the color. The best part of buying a brightly colored bag for winter is that it goes with all of your boots—-brown, black, gray, taupe. Go all season with just one bag. One $378.00 bag, but still—-just one bag.
3. Illume Tin in Oceano ($16.50): This candle can create a complete addiction. I've owned it for a few weeks and I've had to start setting ground rules for when I can light it (otherwise I would burn it all day). I anxiously wait until the afternoon to let it's airy, fresh aroma brighten up my office. Best part of the day. (If it's your first time ordering, get 20% off with code WELOVECOLOR).
4. Washi Tape from Pretty Tape on Etsy ($4.00): If you follow me on anything you know I use washi tape compulsively. My favorite place to order it is from the Pretty Tape Shop on Etsy—-always the cutest patterns and with prices starting at just $2.00, you can't go wrong . This gold polka-dot tape is my next victim (so great for the holidays, right?). And P.S. Please help me try not to freak out about these new thin tapes.
5. Kate Spade Striped iPhone Case ($40.00): Clearly this goes with the purse, but I'm just a fan of a little bit of iPhone bling going into the holidays and Kate has nailed it.
6. Bubba Envy ($11.00): This might blow your mind, but I have fallen in love with a new tumbler. My #1 Tumbler for a long time was this Aladdin tumbler, but on a recent Target trip I decided to give this new Bubba version a try, and I'm hooked. It comes with a huge rubber straw (not pictured, don't know why) that seemed to instantly increase my water intake and it's double wall construction keeps my water cold longer than anything I've tried.
Cheers to a fabulous November, dolls!