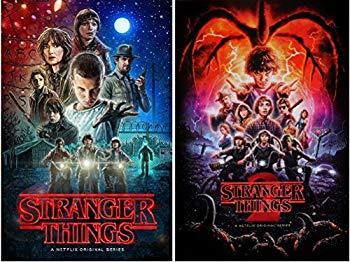 November 6th is...
Stranger Things Day, U.S. General Election Day, National Nachos Day/I love Nachos Day, National Basketball Day/James Naismith's birthday (1861), National Saxophone Day/Adolphe Sax's birthday (1814), International Day for Preventing the Exploitation of the Environment in War and Armed Conflict/World Day to Protect the Environment in War,
The Phil Donahue Show
TV Premiere (1967), Finnish Swedish Heritage Day, Sigd (Israel)
PLUS -
interesting books to read and free printables, paper crafts, kid crafts, activities, and coloring pages.
---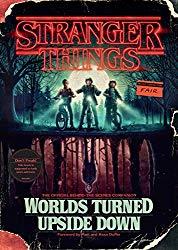 Stranger Things Day
-- Nov. 6, 1983 is the day 12-year-old Will Byers
(Noah Schnapp)
, who lives in the fictional Indiana town of Hawkins, went missing in the first episode of Season 1. When a
body
is discovered in a lake, he's believed to be dead. Today we honor him by dressing up, eating Eggos, sending memes, and watching
Stranger Things
again.
Read: Stranger Things: Worlds Turned Upside Down: The Official Behind-the-Scenes Companio
-- The official behind-the-scenes companion guide to the first two seasons of
Stranger Things
and beyond, featuring exclusive color photos and stunning concept art. When the first season of
Stranger Things
debuted on
Netflix
in the summer of 2016, the show struck a nerve with millions of viewers worldwide and received broad critical acclaim. Now fans can immerse themselves in the world—or worlds—of Hawkins, Indiana, like never before.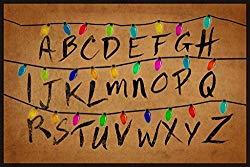 • Christmas Lights Alphabet From Stranger Things --
Cashmere feel flannel blanket, cozy and warm, high quality and durable, anti-pilling.
• Stranger Things Collectible Figures --
From
Stranger Things
, Fall Convention Exclusive 3 pack featuring Eleven, Will and the Demogrogan, as a stylized action figures from Funko! Figure stands 3 3/4 inches and comes in a window display box.
• Stranger Things Netflix Posters --
This set of six prints of the characters from
Stranger Things
are ready to be framed and hung up on any enthusiast's wall. Each 8x10 print will make a great addition to any home theater room. Perfect for the
Stranger Things
fan in your life!
• Stranger Things Coloring Books
Free Printables, Coloring Pages, Activities and Crafts:
• FREE Printable Stranger Things Lights Alphabet Banner Pack
• Free Stranger Things Party Printables
• FREE Stranger Things Planner Sticker Printable
•
Stranger Things: a kit to print turns your tablet into a 1983 TV
• Creating a Vintage Eggos Box from Stranger Things
• Free Stranger Things SVG and Printable
• Stranger Things Word Search
•
atch the free Stranger Things Trailer, and get a free month of Netflix
• Play Free Stranger Things Squad online game | Enjoydressup
• Free Stranger Things Christmas Lights Crochet pattern by Christine Gibson
---
General Election Day
- Many US state and local government elections are held on this day
(1st Tuesday of November),
as well as US presidential and congressional elections in the appropriate years.
National Nachos Day/I love Nachos Day
- Nachos originate from the city of Piedras Negras, Mexico. One night in 1943, the wives of ten U.S. soldiers stationed at Fort Duncan arrived at a restaurant called Victory Club after it had already closed for the evening. Restaurant employee Ignacio
Nacho
Anaya quickly put together whatever he had left in the kitchen for the women, calling them
Nachos Especiales.
Basketball Day
- James Naismith, inventor of basketball, was born in Ontario, Canada on November 6, 1861.
Saxophone Day
- A day to recognize the birth anniversary of Adolphe Sax, Belgian musician, and inventor of the saxophone and the saxotromba. Born at Dinant, Belgium, in 1814, Antoine Joseph Sax, later known as Adolphe, was the eldest of 11 children of a musical instrument builder. Sax contributed an entire family of brass wind instruments for band and orchestra use.
Marooned Without a Compass Day
- How is your sense of direction? Do you often find yourself going around in circles? Do you feel hopelessly lost? Do you know where you are? If any of these questions describe your current state of being, then you are in tune to this special day.
International Day for Preventing the Exploitation of the Environment in War and Armed Conflict
- the damage to the environment in times of armed conflict impairs ecosystems and natural resources long after the period of conflict, often extending beyond the limits of national territories and the present generation.
The Phil Donahue Show TV Premiere
The first talk show with audience participation went on the air on this date in 1967 at Dayton, OH. The first guest interviewed by host Phil Donahue was atheist Madalyn Murray O'Hair.