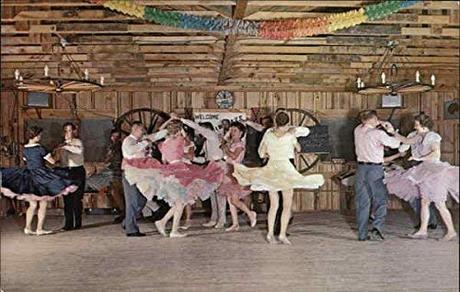 Square Dancing Brevard, North Carolina Original Vintage Postcard
November 29th is...
National Square Dance Day, Electronic Greeting Card Day/Electronic Greetings Day, International Day of Solidarity With The Palestinian People (1977), Newspaper Day, King Tut's Tomb Opened (1922), Czechoslovakia Ends Communist Rule (1989),
Kukla, Fran and Ollie
TV Premiere (1948), Customer is Wrong Day, National Chocolates Day, National Lemon Creme Pie Day, National Rice Cake Day, St. Cuthbert Mayne's Day, St. Saturnius' Day
PLUS -
interesting books to read and free printables, paper crafts, kid crafts, activities, and coloring pages.
---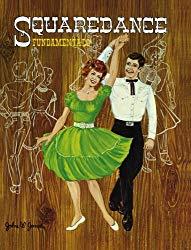 National Square Dance Day
-- In most American forms of square dance, the dancers are prompted or cued through a sequence of steps
(square dance choreography)
by a caller to the beat
(and, in some traditions, the phrasing)
of music. In some forms of traditional square dancing, the caller may be one of the dancers or musicians, but in modern Western square dancing, the caller will be on stage, giving full attention to directing the dancers.
Read: Squaredance Fundamentals
-- Revolutionary illustrations show the dancer's point of view, not just the spectators' viewpoint. Dancers can, without turning on their heads, glean from the detailed illustrations exactly what they need to be doing with their hands, feet, etc. Each dancer can effortlessly grasp the material and easily retain it. Renown master caller/teacher, Marshall Flippo, assiduously assisted the author in establishing the very first guidelines for standardized
Basic Maneuvers
which would enable square dancers to dance gracefully with any group, anywhere. No one shows you better how to execute the maneuvers than John W. Jones with his super simplified instructions and state-of-the-art illustrations in
Squaredance Fundamentals
- the gold standard for over 37 years.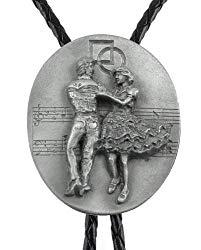 • Square Dancing Bolo Tie --
Sculpted and Enameled Pewter Bolo - Square Dancing. Original bolo ties feature a fully cast metal tie piece on a high quality black tie with metal tips.
• Western Style Square Dance Skirt --
This three-tier solid square dance skirt is a must-have basic for every dancer. Pair this skirt with a matching solid blouse or a complementary color blouse to achieve two different looks. Accent with a belt for a really put-together look.
• Dancing Coloring and Activity Books
---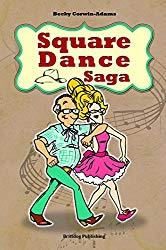 Amazon Freebies:
•
Read ebooks for free
with a
Free Trial of Kindle Unlimited
•
Free Square Dance apps
•
Listen to Square Dancing LPs
with a Free Trial of Amazon Music Unlimited
•
Square Dance Saga
with Amazon Audible, and Get Two Free Audiobooks
•
Free Alexa Skills | Square Dance Hoedown
---
Free Printables, Coloring Pages, Activities and Crafts:
•
Create and print square dance diplomas - Traveling Hoedowners
•
Printable Square Dance Checkers
•
Square Dancing 101 | basic square dancing instructions
•
The Square Dance Radio Network
•
Free Square Dancing Skirt Pattern
• How To: 12 Basic Calls for Square Dancing
• How to Make a Simple Circle Skirt For Square Dancing
•
Square Dance Paper Dolls
• An Australian Square Dancing Story, by Jim Vickers-Willis
• Square Dancing Word Search
---
Electronic Greetings Day
- Save a letter carrier, save a tree, save a stamp! Today is the day to send your greetings the free, electronic way, via the Internet.
International Day of Solidarity With The Palestinian People (1977)
- At the request of the Assembly in 1977, observance is organized by secretary-general in consultation with the Committee on the Exercise of the Inalienable Rights of the Palestinian People. Recommendations include a plan for the return of the Palestinians to their homes and the establishment of an
independent Palestinian entity.
Newspaper Day
- By 2007 there were 6,580 daily newspapers in the world selling 395 million copies a day. The worldwide recession of 2008, combined with the rapid growth of web-based alternatives, caused a serious decline in advertising and circulation, as many papers closed or sharply retrenched operations.
King Tut's Tomb Opened (1922)
- Though several of the foremost excavators over the past century had declared there was nothing left to find in the Valley of the Kings, Howard Carter and his sponsor, Lord Carnarvon, spent a number of years and a lot of money searching for a tomb they weren't sure existed. In November 1922, they found it. Carter had discovered not just an unknown ancient Egyptian tomb, but one which had lain nearly undisturbed for over 3,000 years. What lay within astounded the world.
Czechoslovakia Ends Communist Rule (1989)
- Czechoslovakia ended 41 years of one-party Communist rule in 1989 when the Czechoslovak parliament voted unanimously to repeal the constitutional clauses giving the Communist Party a guaranteed leading role in the country and promoting Marxism-Leninism as the state ideology.
First Army-Navy Game (1890)
- Army played Navy for the first time in football on November 29, 1890, and Navy won, 24–0. Red Emrich scored four touchdowns
(worth four points each)
and kicked two field goals
(worth two points each)
, and Moulton Johnson added the other touchdown to account for all the scoring.
Kukla, Fran and Ollie TV Premiere (1948)
- This popular children's show featured puppets created and handled by Burr Tillstrom and was equally popular with adults. Fran Allison was the only human on the show. Tillstrom's lively and eclectic cast of characters, called the
Kuklapolitans,
included the bald, high-voiced Kukla, the big-toothed Oliver J. Dragon
(Ollie)
, Fletcher Rabbit, Cecil Bill, Beulah the Witch, Colonel Crackie, Madame Ooglepuss and Dolores Dragon.