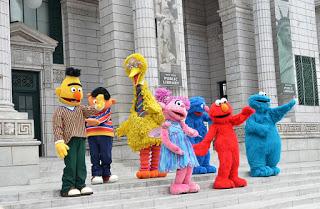 November 10th is...
Sesame Street
TV Premiere (1969), Motorcycle Birthday (1885), National Vanilla Cupcake Day, NET Cancer Awareness Day, Area Codes Birthday (1951), USMC Day/United States Marine Corps Birthday (1775), National Forget-Me-Not Day, Windows Day/Microsoft Releases Windows (1983), Stanley Finds Livingstone (1871), International Accounting Day/International Accountant's Day, USMC Day, Neighborhood Toy Store Day, Toothpaste Appreciation Day, Sleep Dangerously Night, World Science Day for Peace and Development, International Science Center and Science Museum Day, World Immunization Day, Lung Cancer Awareness Day, National Young Readers Day, National Bong Day, Baha'U'Llah, Domino Day, St. Andrew Avellino's Day, St. Martin's Eve (Portugal), Ataturk Memorial Day (Turkey), Toilet Day (Japan),
MORE (2nd Saturday): Wine Tourism Day
PLUS -
interesting books to read and free printables, paper crafts, kid crafts, activities, and coloring pages.
---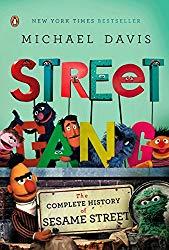 Sesame Street TV Premiere
-- An important, successful, long-running children's show,
Sesame Street
educates children while they have fun. It takes place along a city street, featuring a diverse cast of humans and puppets. Through singing, puppetry, film clips, and skits, children are taught letters, numbers, concepts, and other lessons. Shows are
sponsored
by letters and numbers.
Read: Street Gang: The Complete History of Sesame Street
--
Street Gang
is the compelling, comical, and inspiring story of a media masterpiece and pop-culture landmark. Television reporter and columnist Michael Davis-with the complete participation of Joan Ganz Cooney, one of the show's founders - unveils the idealistic personalities, decades of social and cultural change, stories of compassion and personal sacrifice, and miraculous efforts of writers, producers, directors, and puppeteers who together transformed an empty soundstage into the most recognizable block of real estate in television history.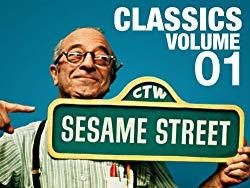 • Sesame Street, Classics | Season 1 --
Take a walk down memory lane with Mr. Hooper, Bob, Susan, Maria, Gordon and all your favorite Sesame Street Muppets as you first saw them. In this collection, you will enjoy four episodes from each of Seasons 1, 10, and 20.
• Sesame Street: 40 Years of Sunny Days --
Relive your favorite Sesame Street moments with this one of a kind Sesame Street Collection! Everyone remembers the familiar words to the Sesame Street theme song and the even more familiar tune, but how much do you really know about the world's most famous street? When did Elmo first begin speaking in his world-famous falsetto? Can you name the musician who sang Slimey into space? Which Muppet was most distraught by Mr. Hooper's passing? Who is the voice behind Abby Cadabby? Can you guess which clip was voted the fan favorite in an online poll? Find the answers and much, much more packed into this special anniversary DVD set, which includes clips from all 40 seasons, interviews with cast and crew, including Jim Henson, as well as amazing behind-the-scenes peeks at how Muppet magic is created.
• Sesame Street: 20 Years and Still Counting --
celebrates the 20th anniversary of the ground-breaking educational series Sesame Street - hosted by Bill Cosby with special star-studded appearances by Jim Henson, the Muppets, Ray Charles, and more!
• Sesame Street Coloring Books
Free Printables, Coloring Pages, Activities and Crafts:
• Art | Sesame Street | PBSKids
• Sesame Street Party Printables | Homemade Parties
• Sesame Street Printables | Making Learning Fun
• Top 15 Sesame Street Coloring Pages
• Word On The Street - Sesame Street | Preschool Games, Videos
• Breathe, Think, Do Cards | Sesame Street
• Printable Travel Activities | Sesame Street
• Sesame Street | Printable Feelings Journal Page
• Printable Water Bottle Wraps Birthday Party Favor Template
• 40 things you didn't know about Sesame Street
---
Motorcycle Birthday
- Gottlieb Daimler was an engineer, industrial designer, and industrialist, born in Schorndorf, in what is now Germany. In 1885 Daimler and his lifelong business partner Wilhelm Maybach designed a precursor of the modern petrol
(gasoline)
engine which they subsequently fitted to a two-wheeler, considered the first motorcycle.
National Vanilla Cupcake Day
- do something to celebrate! Like bake some with your friends, or bake some cupcakes this weekend and bring them into work to share!
NET Cancer Awareness Day
- to raise awareness about cancers called neuroendocrine tumors
(NETs)
and the need for timely detection and diagnosis. More than 90% of all NET patients are incorrectly diagnosed and initially treated for the wrong disease. Misdiagnoses or delayed diagnoses mean that NET patients are treated on average five to seven years for the wrong disease; often the correct diagnosis is not made until the disease has spread
(metastasized).
Area Codes Birthday (1951)
- The 10-digit North American Numbering Plan, which provides area codes for Canada, the US, and many Caribbean nations, was devised in 1947 by AT&T and Bell Labs. Eighty-four area codes were assigned. However, all long-distance calls at that time were operator-assisted. On this date in 1951, the mayor of Englewood, NJ
(area code 201),
direct-dialed the mayor of Alameda, CA.
Marine Corps Birthday (1775)
- Commemorates the Marine Corps's establishment in 1775. Originally part of the navy, it became a separate unit on July 11, 1789. Let's remember those brave men and women of the corps, that serve the US nation faithfully.
Forget-Me-Not Day
- a day to remember family, friends, and loved ones. People use this day to get in touch, especially those they haven't seen in a while. Some have used it to memorialize a loved one who is no longer with us.
Microsoft Releases Windows (1983)
- In 1980 Microsoft signed a contract with IBM to design an operating system, MS-DOS, for a personal computer that IBM was developing. On Nov 10, 1983, Microsoft released Windows, an extension of MS-DOS with a graphical user interface.
Stanley Finds Livingstone (1871)
- Having begun his search the previous March for the then two-years-missing explorer-missionary David Livingstone, explorer Henry M. Stanley found him on this day in 1871 at Ujiji
(Africa)
and uttered those now immortal words,
Dr. Livingstone, I presume?