Nourlangie Rock Art Site in Kakadu National Park is some of the most amazing rock art I've ever seen.  And yet I don't understand most of it.  Nor am I supposed to.  Most non-Aboriginals see Aboriginal art work through the eyes of the child, only grasping the meaning at a very high level, not understanding all the depths and insights it provides into Aboriginal culture.  Aboriginals are reluctant to share the meaning, it's a respect that has to be earned.  Something that is not possible during an hour-long tour.  So with my child-like eyes I show you Aboriginal Rock Art from Nourlangie: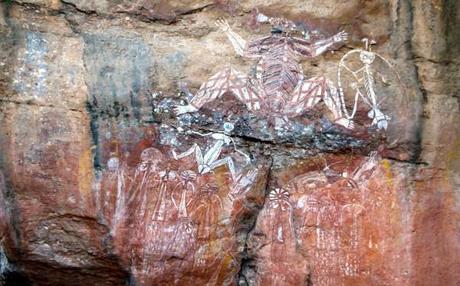 This is one of the most famous rock art paintings at Nourlangie.  The guy in the middle is the Creation Ancestor Namonjok.  The guy on the right is Ancestor Namarrgon – the Lightening Man.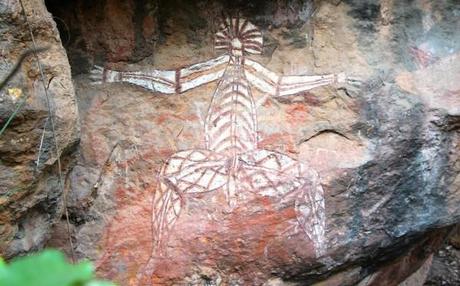 Even with my very limited knowledge about Aboriginal Art, it was clear to see whether a male or female was depicted in the paintings.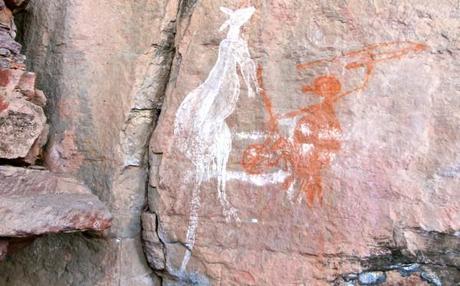 Wallabies and kangaroos are also featured prominently in the art work.  And while I assumed the above 2 paintings were part of the same story, they were painted years apart.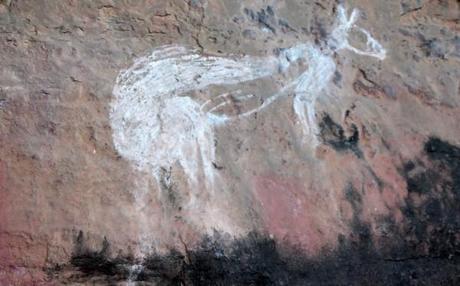 My favorites were of the kangaroos and wallabies.  At least I knew what the story was about – even if it was only on a very surface level.
It was fascinating to get a glimpse into a world that I don't understand, nor am I intended to understand.  In a world where a quick search in Google can help us understand so much, perhaps that's the lesson that non-Aboriginals are supposed to gain from visiting Nourlangie – You will never understand everything, nor are you intended to.
Know Before You Got to Nourlangie Rock Art Site:
Nourlangie Rock Art Site is located ~250km east of Darwin
It's open from 8:00 am – sunset
Guided ranger talks are available April – October (which I would highly recommend – you'll get a lot more out of it)
Self guided tours are available all year long
The path is 1.5km long and takes about an hour
Contact Tourism Northern Territory for further info