notloB once again goes north of the border to present two wonderful rising traditional musians!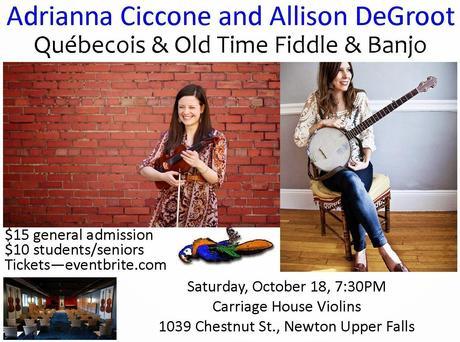 NotloB Music Presents... 
Adrianna Ciccone & Allison DeGroot 
Québecois & Old Time Fiddle & Banjo
Adrianna Ciccone
Fiddler, Stepdancer, Instructor, Tunesmith 
http://www.adriannaciccone.com/
Boston-based fiddler & step dancer Adrianna Ciccone is quickly establishing herself as a distinctive voice in the new-acoustic music scene. Her style, while rooted in the Ottawa Valley & Québecois fiddle traditions, continues to be inspired by the many different regional fiddles styles of Canada and the world including Appalachian, Métis, Cape Breton, Irish, Scottish & Scandinavian music. 
Adrianna's desire to explore new musical languages is reflected in her compositions and arrangements which draw from traditions of the past while forging a unique musical identity.  She has written over 40 fiddle tunes, and her compositions have started to enter the repertoire of traditional musicians throughout North America. 
"What makes her extraordinary is her gift of not just technical virtuosity, but the ability and desire to try new ideas, musical languages and make the instrument truly speak."  
- Bruce Molsky
This distinctive style has brought the Timmins, ON native many awards and achievements.  She is a Maritime Open Fiddle Champion & American Grand Masters Fiddle Championship Finalist.  Adrianna's arrangement of Québecois fiddle tunes for string orchestra was played by Berklee World Strings during their 2014 United States tour, in which she was a featured soloist. 
Adrianna is also an active & experienced instructor.  For nearly a decade she has been passing on Canada's rich musical heritage to students of all ages and levels.  She maintains a lively studio in both Northern Ontario & Boston, as well as throughout North America via Skype Video lessons. 
In May 2014 Adrianna graduated magna cum laude from the Berklee College of Music with a degree in Professional Music & a minor in American Roots Music.  She is recording her debut studio album in January 2015.
Allison DeGroot
http://www.allisondegroot.com/
Allison de Groot is one of Canada's top claw-hammer banjo players.  She combines love and passion for old-time music, technical skill and a creative approach to the banjo forming her own sound – unique and full of personality. In 2008, Allison founded the Canadian country quartet Oh My Darling, which has toured all over the world from Trafalgar Square in London, The Living Room in New York City, to mainstage slots at festivals like the Winnipeg Folk Festival and Tønder Festival in Denmark.  Allison has made pilgrimages to the Appalachians, attending the Old Time Appalachian String Band Festival in West Virginia and immersing herself in old-time communities in North Carolina. Although firmly rooted in old-time and traditional music, Allison has shown her ability to collaborate and create outside this genre, pushing the boundaries of the clawhammer banjo.
In 2012, Allison was awarded the Slaight Family Scholarship to attend Berklee College of Music in Boston, MA. where she has studied intensively with Bruce Molsky and Wes Corbett. Allison is involved in both the American and Canadian music scenes, and splits her time between Boston, MA and Winnipeg, MB.
"Allison de Groot is the kind of emerging artist who's virtuosity is built both on her strength as a player, performer and composer, and on her appetite for new 
(and old) ideas. She's transforming the banjo in a beautiful way, both for herself and for others who enter her musical space."
-Bruce Molsky. Fiddler, banjoist, guitarist & vocalist.
TICKETS now on sale through Eventbrite.
If not sold out,remaining tickets will be sold at the door beginning 7:00pm.
UPCOMING CONCERTS:
Thursday, November 6 - The Katie McNally Trio featuring Neil Pearlman and Shauncey Ali - Newton
Wednesday, November 12 - Nate Sabat and Elise Bouer/Sumaia Jackson and Friends - Cambridge
Wednesday, November 19 - David Grier, Michael Barnett and Dominick Leslie - Somerville
​Sunday, November 30 - Mr. Sun​ w/ Mila Phelps​ - Somerville
Saturday, December 6 - Tony Bird - Brookline