notloB News, May!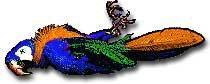 "In this era of pop-driven acoustic music, notloB is keeping the folk tradition alive." 
~ 
Jack Hardy
Thanks to all who came to the The 
MollyTuttleTrio
h
ouse concert in Watertown on April 19. This was the last at the venue, notloB is now homeless. If you own a home that can accommodate 30-35+ and are willing to host and/or if you are associated with a non-profit that would be willing to be a fiscal agent for benefit concerts, please email 

[email protected]

.
UPCOMING NOTLOB CONCERTS AND EVENTS
Sunday, May 18, 2014
 at 
8:00am
Join Team notloB at "Arlo Guthrie's Historic Garbage Trail" Walk to Massacree HD (Huntington's Disease)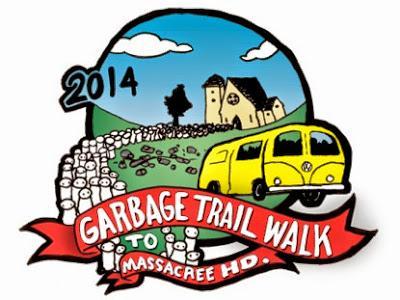 In memory of Pete and Woody, we're forming a team to raise funds to research and massacree HD (Huntington's Disease).
Info at www.garbagetrailwalk.org
To join the team of walkers or arrange ride sharing, please email 

[email protected]




Share the Facebook event - 

https://www.facebook.com/events/620293748042667/
If you cannot attend the walk and wish to make a contribution, see how at 

http://www.garbagetrailwalk.org/GarbageTrailWalk/Sponsor_Forms.html#1

 and designate "Team notloB"




More info at 

http://www.garbagetrailwalk.org/GarbageTrailWalk/Welcome.html
"Our 14th annual "Arlo Guthrie's Historic Garbage Trail" Walk to Massacree HD (Huntington's Disease) is a fun day riding in a VW Microbus to Theresa's Stockbridge Cafe where the 6.3 mile walk begins...not before having a delicious breakfast!


You will begin the walk by going to the "police officers" station and then on to the old town dump where you'll be entertained by the dump divas! Next you'll have some delicious ice cream & shrimp cocktail. Lastly you'll walk by Robby Baier's Soultube Studio & AmeriGas, ending at the Guthrie Center. At the center you will receive a free lunch, compliments of Laurel Lake Center for Health @ Rehabilitation and enjoy some live music :)




Registration begins at 8:30-9:45 at The Guthrie Center, walk begins at 10."


This is a fun day. It begins at Ray and Alice's church with registration, then you're put into VW microbuses for the trip to 

Theresa's Stockbridge Café

 (the original Alice's restaurant) in Great Barrington for a great breakfast. The mostly downhill 6.3 mile walk back to the church is punctuated with rest stops where you'll be treated to foods and antics associated with the epic album. Hope you'll join us, in person or with a donation.
NOTLOB RECOMMENDS
Lady Rogo (Lord Geoffrey Presents, 5/16, see below) will be Sue Edelman's live, in-studio guest Saturday, April 26. "Something About the Women is the longest-running women's music radio show in the United States and possibly the world! Founded in 1973, the show airs on WMFO 91.5 FM in Medford, MA and streams live on www.wmfo.org on Saturdays 11am-1pm. Something About the Women celebrates women artists across all musical genres and gives voice to the issues that are important to women and people who care about them."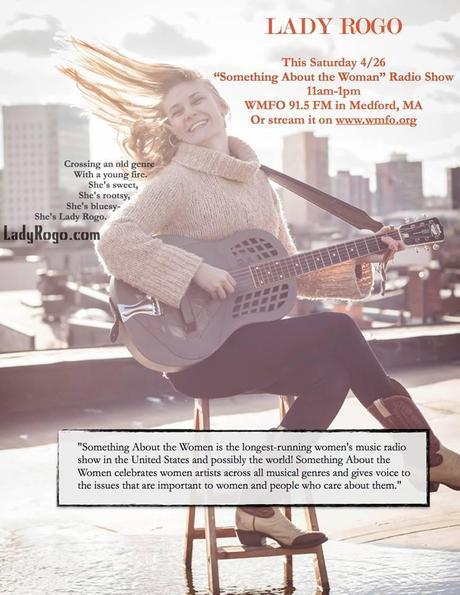 "Crossing an old genre with a young fire.
She's sweet, she's rootsy, she's bluesy -
She's Lady Rogo."
LORD GEOFFREY PRESENTS BERKLEE RISING TALENT & MASTERS SERIES
Now through May
Outpost 186, 186 Hampshire Street, Inman Square, Cambridge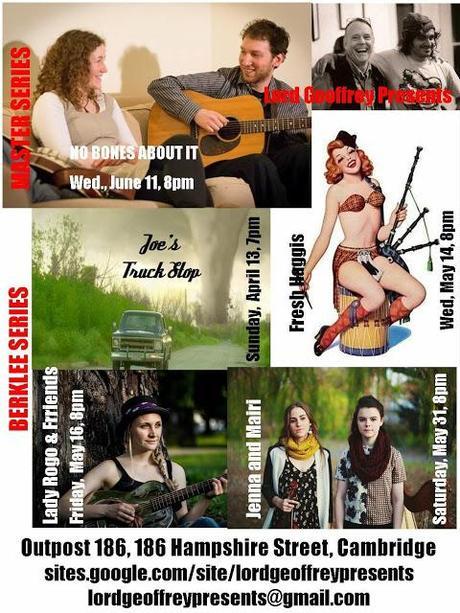 Lord Geoffrey Presents

' 2014 series in Cambridge resumed in March, featuring rising young talent from the 

Berklee College of Music

 as well as established touring professional musicians. These concerts are presented at 

Outpost 186

, 186-1/2 Hampshire Street, Inman Square, Cambridge, an art gallery with great site lines and acoustics -- not a bar where artists are forced to compete with loud conversations and blaring televisions, or a cramped listening room where patrons are packed into a tiny table.
Wednesday, May 14Fresh Haggis
Friday, May 16Lady Rogo and Friends
Saturday, May 31Jenna Moynihan and Mairi Chaimbeul 
Thursday, June 05No Bones About It
Click here for complete information
Outpost 186 is BYOF/BYOB-friendly (21+ for adult beverages, please – IDs will be checked).
The following house concert west of Boston is not a notloB production.
email [email protected]
 for reservations.
"FIDDLING AROUND THE WORLD"
Mari Black, fiddle
with Jake Charron, piano/guitar & Joe Magar, bass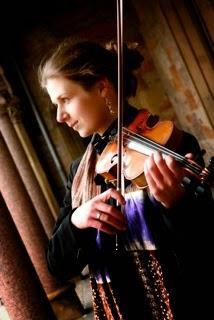 Saturday, May 3rd
7 pm
$15 per person suggested donation
Join us for an intimate evening of music as multistyle violinist and champion fiddler Mari Black takes us on a spirited tour of fiddle music from around the world -- brilliant Scottish dance sets, classic swing tunes, rolling Irish jigs, luscious Argentine tangos, beloved American folk songs, haunting highland airs, and more.
"Superb, inspiring, and unforgettable! Her magic is such that she sweeps audiences along with the sounds she and her instrument make."
-- Willie Ruff, Director of the Ellington Fellowship Series, Yale University
"Particularly impressive"
-- The Boston Globe
Multistyle fiddler MARI BLACK's energetic playing, engaging stage presence, and commitment to bringing people together through music have made her a favorite with audiences across the country and around the world. Equally at home in a wide variety of musical traditions, she creates shows that draw on elements from many different styles including jazz, tango, folk, Western classical, as well as Celtic, American, and Canadian fiddling. Mari is the reigning National U.S. Scottish Fiddle Champion, the 2012 Maritime Fiddle Champion, the 2011 Canadian Open Novelty Fiddle Champion, and first prize winner at the 2011 International American Protégé Competition. You can read more about Mari and listen to her music at her website, Mariblack dot com.
KEEP IN TOUCH!
There are several ways to stay informed of scheduled events:
Thank you for supporting live acoustic music!
Jeff Boudreau
notloB Parlour Concerts et. al.
Website

, 

Facebook

, 

Mailing list