Floyds Row in concert
Saturday, March 26, 7:30pm
Arts at the Armory Cafe
191 Highland Ave, Somerville
Floyds Row
"fuses contemporary classical, Northumbrian traditional, and early music..." Emily Noël - soprano & autoharp 
Asako Takeuchi - fiddle 
Andrew Arceci - viola da gamba, double bass & cittern 
George Lykogiannis - accordion 
George Lernis - percussionhttp://www.floydsrow.com/ Somerville Armory Café serves light fare (soups, salads, sandwiches and deserts), coffee, teas, wine and beer. You can arrive as early as 6pm to enjoy the cafe's offerings. Logistical info here. $10-20 - Purchase tickets here.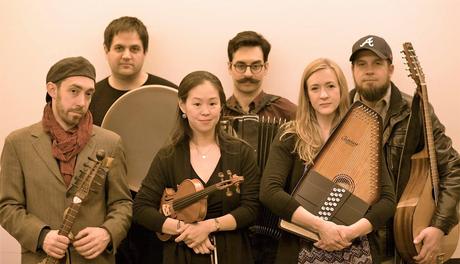 Developing a varied career as performer, composer/arranger, and scholar, Andrew Arceci performs regularly on the viola da gamba (viol), violone, and double bass throughout North America, Europe, and Asia. In the United Kingdom, he has appeared with the Orchestra of the Age of Enlightenment, Cöthen Baroque, and Oxford Baroque. In the United States, he has collaborated with the Boston Camerata, Handel & Haydn Society, the Arcadia Players, Tempesta di Mare - Philadelphia Baroque Orchestra, Harmonious Blacksmith, The Folger Consort, the Washington Bach Consort, and the Washington National Cathedral; he currently serves as principal bassist with Boston's L'Académie Baroque Orchestra and Chicago's Baroque Band. He has given workshops at the University of Oxford (UK), the University of Cambridge (UK), the University of Edinburgh (UK), the Narnia Arts Academy (Narni; Italy), the Taipei National University of the Arts (Taiwan), Burapha University (Thailand), and Bloomsburg University of Pennsylvania (USA). Currently, he directs the Collegium Musicum at Wellesley College, serves on the Winchendon Cultural Council, and works as a freelance artist throughout North America, Europe, and Asia.
George Lernis (drummer, world percussionist) specializes in a number of world percussion instruments such as: Darbuka, Bendir, Daire, Riq, just to name a few. George holds a bachelor's degree from Berklee College of Music in Jazz Performance and a master's degree from Longy Conservatory in Modern American Music. Currently George resides in Boston where he regularly performs and teaches music. Over the last few years, George has recorded and collaborated with prominent figures such as: Dave Liebman, Anat Cohen, Antonio Sanchez, Tiger Okoshi, Jerry Leake, Bertram Lehmann, Mehmet Ali Salnikol, and Robert Labaree. After his master's degree, George released his first album as a bandleader, "Shapes of Nature" featuring the George Lernis Jazz Quartet. George performs regularly around the New England area, New York, as well as touring around the United States and Europe.
Accordionist, George Lykogiannis, works on both accordion and piano. He has performed with Make Music New York's accordion "Mass Appeal", and has played shows with artists throughout the United States. As a pianist, Mr. Lykogiannis performed with the IU Concert Orchestra under the baton of David Effron in February of 2011 as winner of Indiana University's "Totentanz" competition (Bloomington, IN). Mr. Lykogiannis made his orchestral debut with the Orchestra Sinfonica del Festival di Chioggia (Veneto, Italy) in 2000, and appeared in concert with them again in 2007 and 2009. In the fall of 2003, he made his United States orchestral debut with the Plainfield Symphony Orchestra (NJ). Mr. Lykogiannis attended Rowan University (Glassboro, NJ) where he studied under Raffi Besalyan, and graduated Summa Cum Laude in May of 2008 with a Bachelor Degree in Music Performance. In May of 2012, he received a Master of Music degree from Indiana University's Jacobs School of Music, having studied under Professor Emile Naoumoff. Mr. Lykogiannis is currently pursuing a Doctorate of Musical Arts (DMA) in piano at Rutgers University.
Soprano Emily Noël has appeared as a soloist with The Gabrieli Consort, The Folger Consort, The Washington Bach Consort, 21stCentury Consort, Orchestra of the 17th Century, Bach Sinfonia, and Indiana University New Music Ensemble; and was featured as the soprano soloist in CPE Bach's Magnificat at the 2014 American Bach Society Annual Meeting. In recent seasons, she has sung a wide range of operatic roles, notably Gilda in Verdi's Rigoletto with Ente Concerti Città di Iglesias (Sardinia, Italy); Nora in Vaughn Williams' Riders to the Sea at the Amsterdam Grachtenfestival (Netherlands); The Witch in Purcell's The Witch of Endor at the Washington National Cathedral; and Debora in selections from Guglielmi's Debora e Sisara with Modern Musick at the Italian Embassy as part of the 2013 Anno Della Cultura Italiana. Ms. Noël earned her Master of Music in voice from Peabody Conservatory and her Bachelor of Music from the University of Maryland; currently she serves as an Assistant Professor of Music at The Community College of Rhode Island.
Touring extensively as a solo, chamber, and orchestral player throughout Europe, Asia, and North America, violinist Asako Takeuchihas performed with ensembles such as the Wallfisch Band (UK), Collegium Musicum Den Haag (Netherlands), Den Haag Piano Quintet (Netherlands), The Bach Choir & Orchestra of the Netherlands, Arion Baroque Orchestra (Canada), and Handel & Haydn Society (USA). She has performed at numerous festivals, including Festival Oude Muziek Utrecht (Netherlands), Deutsches Mozartfest and Innsbruck Festival (Germany), Festival de Música Antigua de Barcelona (Spain), MUPA International Arts Festival (Thailand), Abbaye aux Dames (France), and Aston Magna Music Festival (USA). Discography includes recordings with The Wallfisch Band (soloist), Arion Baroque Orchestra, and The Bach Choir & Orchestra of the Netherlands. She has given workshops at Burapha University (Thailand), and holds degrees from the Royal Conservatory in the Hague (Netherlands), University of Southern California, and Berklee College of Music.
________________________________________
"Soprano Emily Noël gave sparkling performances of polished Claudio Monteverdi songs, as well as more homespun English ballads in a sort of entr'acte of groundling music." Washington Post
"In addition to the superb instrumentalists (a couple of bagpipes made a delicious appearance along the way), Peabody-trained soprano Emily Noël offered deftly sculpted singing. A classy enterprise all the way." Baltimore Sun
"The opening Grave, with subtle nuances in Andrew Arceci's viola da gamba and overall intricate textures, conveyed the quiet and poised joy of daily thanksgiving." THE BOSTON MUSICAL INTELLIGENCER
"Andrew Arceci was heroic in the wide-ranging solo part..." SEEN AND HEARD INTERNATIONAL
"Andrew Arceci brought a lovely tone to the line and matched the dramatic impulses that propelled the superb ensemble playing." THE NEW YORK TIMES
"...his modernistic approach to drumming, Lernis expands upon the restrictive role of timekeeper, playing a naturally flowing amalgamation of shifting rhythms that distinguishes his work from more typical mainstream jazz while maintaining an appealing sound." Drumhead Magazine.