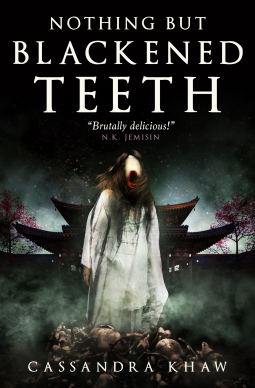 A group of thrill-seeking friends in search of the perfect wedding venue plan to spend the night in a Heian-era mansion. Long abandoned, and unknown to them, this mansion rests on the bones of a bride, and its walls are packed with the remains of the girls sacrificed to keep her company.
Their night of food, drinks, and games quickly spirals into a nightmare, as the house welcomes its new guests. For lurking in the shadows is the ghost bride with a black smile and a hungry heart.
And she gets lonely down there in the dirt.
***
'How the fuck are you this rich?' I took in the old vestibule, the wood ceiling that domed our heads. 1
***
(@TitanBooks, 19 October 2021, ebook, 128 pages, #ARC from the publisher via @NetGalley and voluntarily reviewed)
***
***
This is a new author for me. I really enjoyed Nothing but Blackened Teeth (brilliant title by the way). This is a short book, a novella rather than a full length novel. I could have done with it being a bit longer as I was just getting into the story and starting to know the characters when it ended. This ticks every box for a good horror yarn.