Michael L.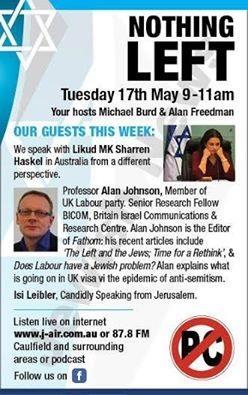 The latest episode, number 99 from yesterday, May 17, features Michael Burd behind the microphone, Mike Lumish filling in for Alan Freedman with a brief editorial on Dershowitz and Obama, as well as conversations with Prof Alan Johnson, Pat Condell, MK Sharren Haskel of Israel, writer and Jewish leader Isi Leibler in Jersualem and guest host Mary Werther.
My segment, which is only about 5 minutes long, begins around the 3:45 mark.
You guys should check out this material, not just my stuff, of course, but Nothing Left, in general.
One of the great things about Nothing Left is that Burd and Freedman have managed to attract the biggest hitters within the pro-Israel / pro-Jewish community.