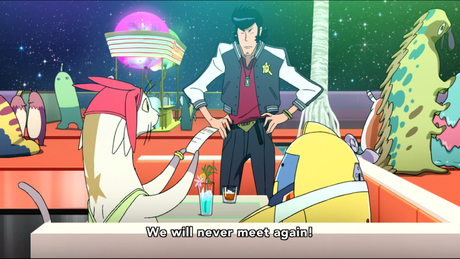 You say that now, Dandy
Last time on Space Dandy Season 2, Dandy and his crew accidentally screwed with time and space, ultimately meeting vast parallel versions of themselves.
Summary of Space Dandy Season 2 Episode 2
Dandy's frustration with his crew has reached the boiling point, and he threatens to leave his crew. He then gets mail to come to a planet to catch a rare alien who he assumes is a beautiful princess. Once he gets to the planet to meet up with the alien by himself, he's shocked to find that the alien is a unique, ukulele-playing marionette doll, aptly called a " Ukuleleman", who has petrified Meow and QT, who came to the planet after Dandy to find him so he could claim a prize. He then plans to petrify Dandy to preserve his stunning smile. Dandy then takes the petrified Meow and QT to the river of time floating above the planet in an attempt to revert them back to a time before they were frozen. Dandy then destroys the Ukuleleman, who then smiled beautifully before he disintegrated.
My Take
Just as expected, more insanity this week in the wild world of Space Dandy. This week, Dandy has to save Meow and QT from a rare alien who wants to preserve Dandy's smile forever by petrifying him. I can't believe that this show can stay this original and downright weird after 14 episodes.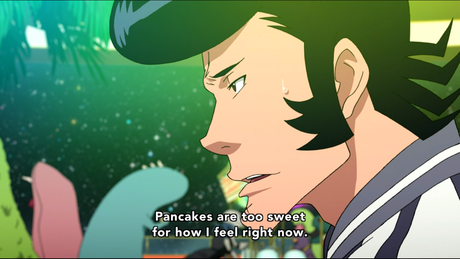 Dandy is slowly becoming Emo Dandy
If it hasn't become blatantly obvious by now, this show does not follow any sort of consistency (well, maybe sometimes it does a bit), so the prospect of Emo Dandy coming back is quite slim. After Dandy declared that he wanted to break up the crew, I honestly thought that Emo Dandy was going to swoop in and save the day. Oh, well. Perhaps some other week.
The premise is pretty neat. I do like the prospect of an alien who, innocently enough, just wants to make people laugh so that he can preserve their fantastic smiles forever. It's different than other episodes in Space Dandy in that it's grounded in some form of reality instead of being totally abstract. Here, it's the equivalent of taking a picture of somebody's hearty smile… only imprisoning them in the process.
Then the episode goes totally abstract and has a "river of time" that disrupts the flow of time. Not only that, but it's flowing backwards due to a planetary pull, so instead of the river propelling things forward in time, it propels them back. This made for some spectacular visuals, especially when random objects found themselves in the river and kept on reverting back to an earlier versions of themselves. This was all because Dandy wanted to save Meow and QT from being petrified, so he launched them into the river in an attempt to revert them back to before they were petrified. The amount of time they were in there would surely have killed them, though.
The river of time lent a hand to an interesting plot point; the Ukuleleman tried to use the river to pull out a previous version of Dandy with his great smile so that the present version of Dandy would disappear.
Oh, and Dr. Gel is back, reprising his role of unexplainably trying to peruse Dandy to no avail. Oh, and dying in every episode.
This is like the third time that Dandy has gone surfing in space. I don't know, every time an episode ends with Dandy surfing, it always seems so right.
I really loved this episode. It's not as crazy as other Space Dandy episodes. In fact, it might be one of the most tame. It didn't have much character development, and it wasn't the funniest episode. In the end, it told a fascinating story, and it told it well.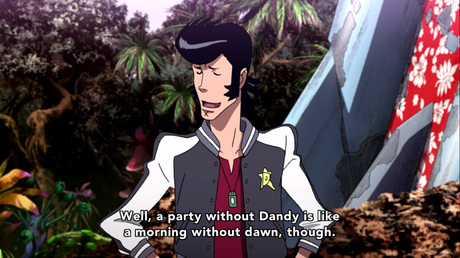 Dandy is such a humble man!
"There's Music in Darkness, Baby" was a great episode. I think it is just as good as last week's debut episode. Again, if the series stays at this speed, then it will be just as good, if not better, than the previous season. With a steady supply of creativity being pumped into this show, I have the feeling that it'll be around for a long time. I hope so, because this show just keeps on getting better and better.
The following two tabs change content below.


Ben
20 year old university student studying economics by day, snooty anime blogger by night! I have high standards for anime, but I also keep an open mind when it comes to shows outside my comfort area, which usually includes dialogue-heavy drama. Always happy to have a discussion.


Latest posts by Ben
(see all)
Notes of Space Dandy Season 2 Episode 2

- July 16, 2014

Summer Anime 2014: Tokyo ESP Impressions

- July 14, 2014

What Ben Learned From Watching Puella Magi Madoka Magica, Part III (Episodes 7-12)

- July 11, 2014

Notes of Space Dandy Season 2 Episode 1

- July 8, 2014

Summer Anime 2014: Sabagebu! Impressions

- July 8, 2014